2019: A Movie Year That Hopped High and Buzzed Loudly.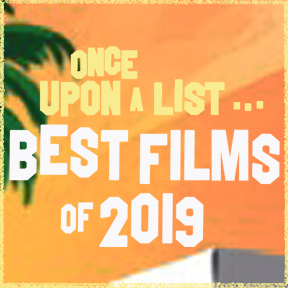 I can't say I am proud of this.
Here I am, waiting until the last conceivable moment to lob this half-invisible Hail Mary pass across the goal line. The reason is not for lack of having seen a plethora of fantastic films bearing a release date of 2019. As is usually the case, there are simply too many terrific movies deserving of consideration. And, I for one did my due diligence, watching a great many of them.
And yet. And yet, and yet, and yet… I must admit a clear and obvious Number One choice eluded me this year. For all my valiant efforts in front of the screen, that singular, obvious, across-the-board diamond in the rough eluded me.
Part of the reason for this list's tardiness is indeed my futile hope to catch up with the handful of acclaimed if under-the-radar titles that might just have changed what you see here. Films like Kent Jones' Diane, Alejandro Landes's Monos, Christian Petzold's Transit, and probably the most glaring and most painful in its omission, Terrence Malick's A Hidden Life. Even as I write this, I particularly mourn A Hidden Life's absence, as I suspect it at least would've placed, if not topped out. But I can only base that possibility on the secondhand accounts of reviewers I trust implicitly. As I type this on the final day of January, the day of ZekeFilm's annual live "Best Films" event, this year being held in St. Louis at Schlafly Bottleworks, I must concede a certain defeat in the face of the busyness of life.
In the meantime, none of this preamble is to in anyway deflate my opinion of the ten outstanding films you see listed below. In their own way, each one inspired me, entertained me, and enlightened me last year. I hold them all dear. I wouldn't do without any. And yes, as always, painful cuts abound in the form of honorable mentions just beyond the top ten itself. Unrealized fantasies of finding "the one" aside, I must choose to look at this as "just one of those years". Meaning, one of those years in which the feast yielded too much, and I was unable to choose my main course until I absolutely was forced to. In other words, as they say, ask me on a different day, and you might get a different list. But for now, I'm happy to share this one. At least I am finding contentment in sharing it.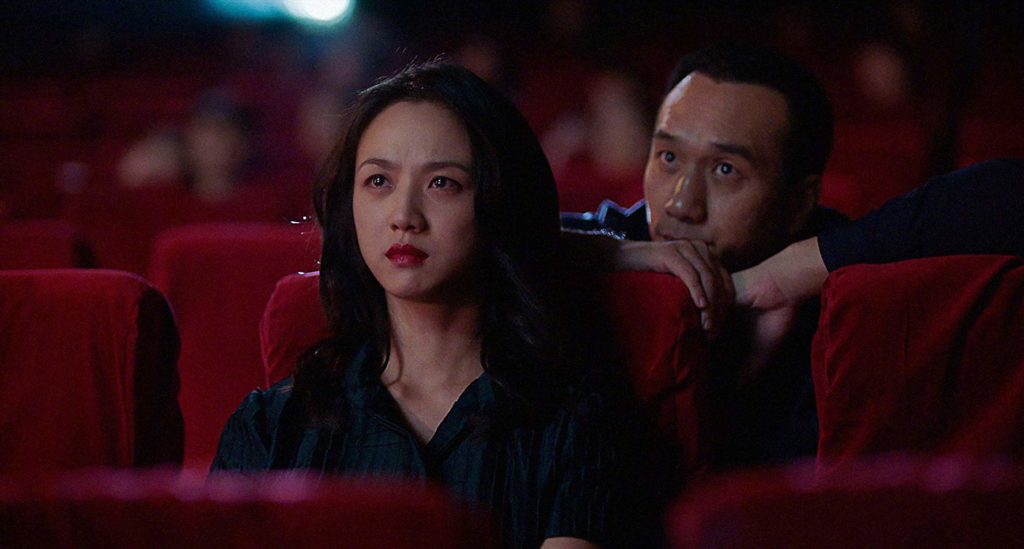 Chinese director Bi Gan's lush puzzle-film Long Day's Journey Into Night is not only the filmic achievement that it's been touted to be, but a cinephile's dream unto itself. A crime-riddled mystery that refuses to be solved.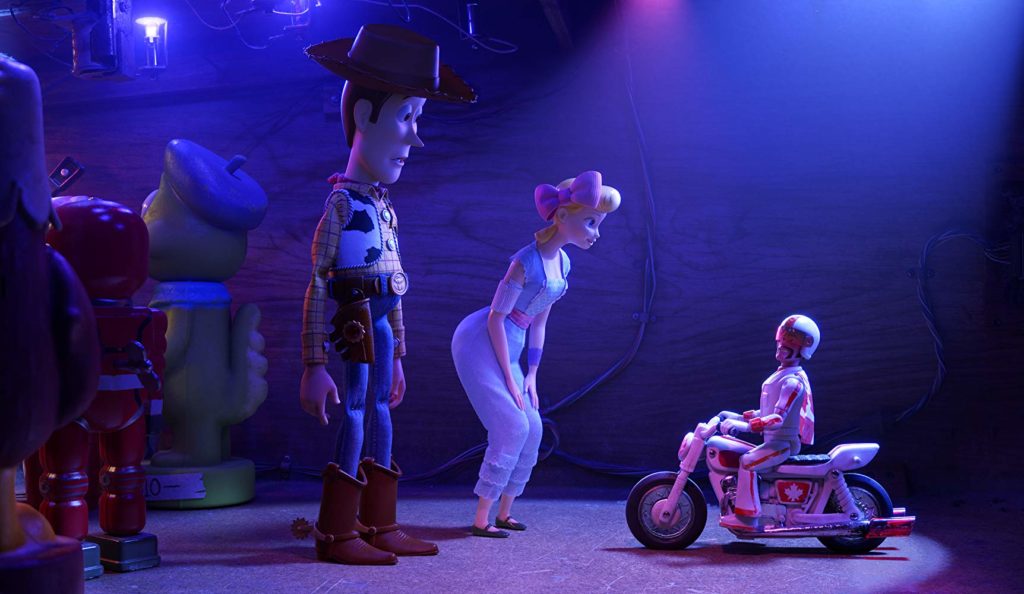 [To quote my review, linked above…] Second Chance Antiques. It's not just a store name, it's not just the primary location of this film, it's what it's about. Second chances- new beginnings- and what we do with them and how we accept them, is a welcome central theme. And antiques… that can pretty much describe the entire on-screen cast at this point. Not only has it been nine years since the previous Toy Story film, it's been twenty-four years since the very first, now-classic film was unboxed in theaters. This film, though, is in easy contention as Pixar's best since Toy Story 3. In any case, it's nice to know that after all these years, and through many changes, the caretakers of this treasured franchise understand the value of what they've got. And even so, when the time is right, they're still more than willing to pull it down off the shelf and play with it… in new and emboldened ways.
Director Sam Mendes's highly-orchestrated tribute to his grandfather's military service in the First World War is both a singularly-focused man-on-a-mission endeavor, as well as an epic rendering of the texture and trauma of warfare. It might not truly be the "one shot" it presents as, but it does not miss its mark.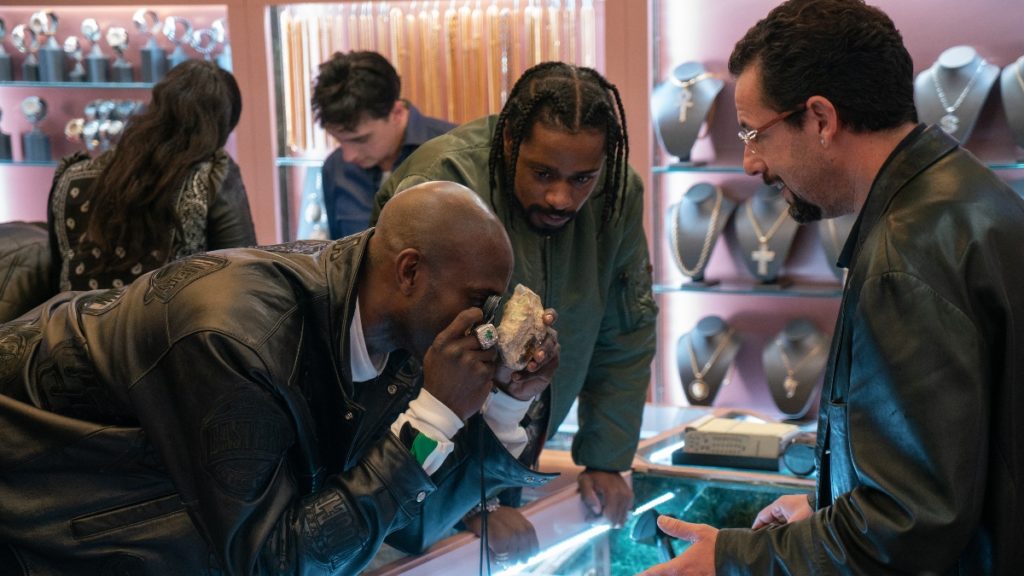 Adam Sandler's manic, tension-inducing downward spiral is, courtesy of those rising star directors the Safdie Brothers (Good Time), no laughing matter. In the hands of these creatives, Uncut Gems plays a as dizzying descent through New York City's diamond district, apparently an environment unto itself. Sandler's career gamble in starring in this against-the-grain drama (ratcheted all the way up) is a winning wager for both adventurous audiences and the longtime veteran of man-child comedy.
6. Honeyland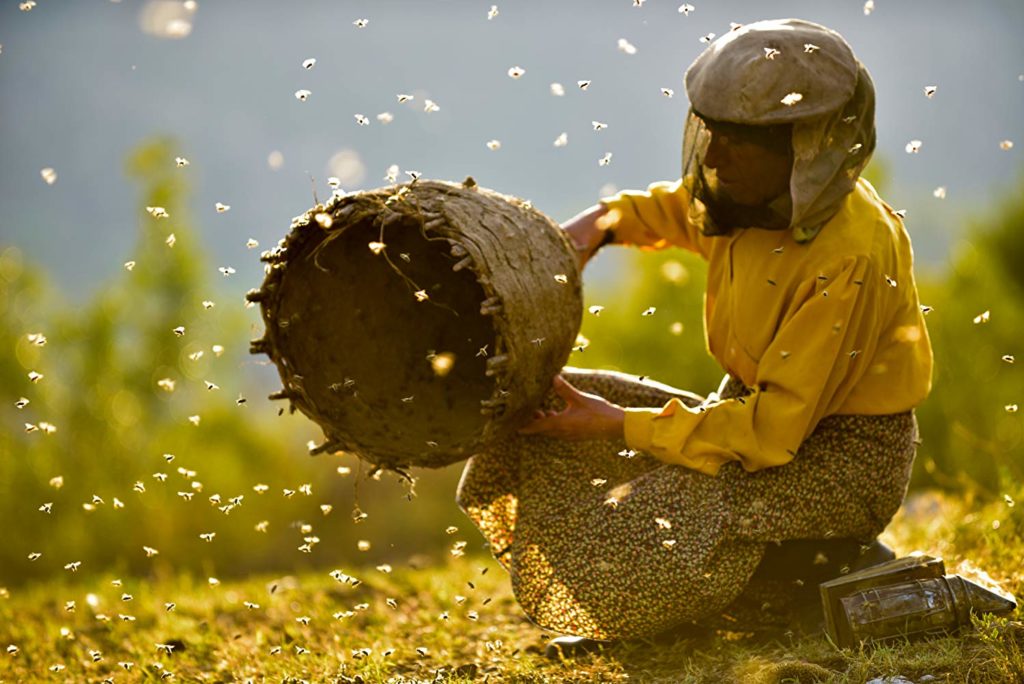 We open on a woman scaling the side of a steep rocky cliff, captured in such a way to induce Free Solo flashbacks. Then, just when you think it can't get any more harrowing, she moves a slab to reveal thousands of buzzing bees. Thousands and thousands of them. And, she sticks her hand in there…!
Hailing from North Macedonia, filmmakers Tamara Kotevska and Ljubomir Stefanov's Honeyland is an achievement unto itself. The fact that it's managed the rarified feat of securing Oscar noms for both Best Documentary Feature and Best International Feature is rightly telling of the film's quality and infectious mystique. The fact of the matter is, this exquisite portrait of a singular aging female beekeeper who's made to split her time between caring for her ailing mother and her chosen, threatened profession is so precise, so ornate in its rendering, so structured in its story, that one wonders whether it's truly a documentary at all. But that doesn't really matter. What matters is that the trip to Honeyland is one that simply must be taken.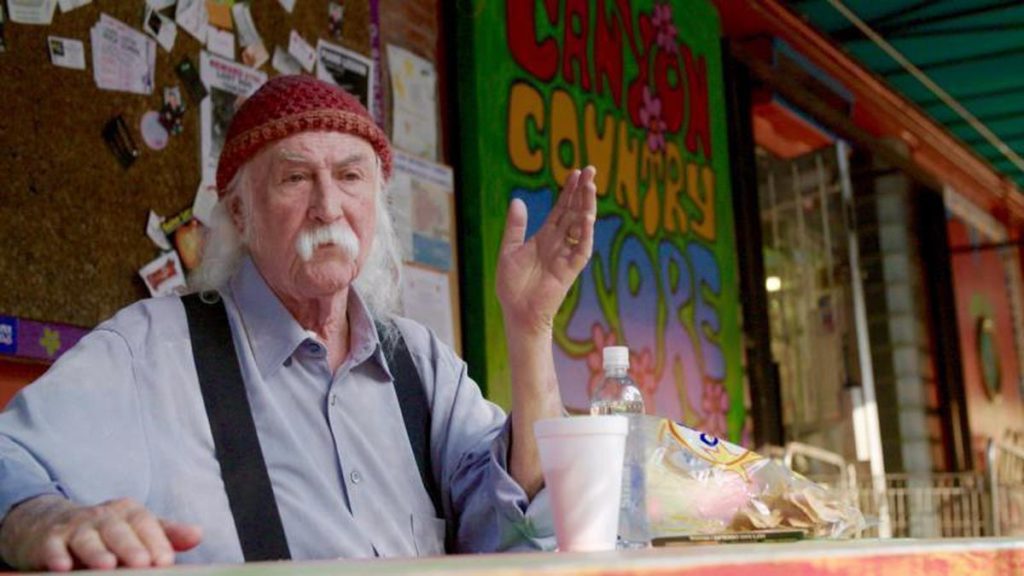 Former rock journalist and filmmaker Cameron Crowe takes on the envious job of conducting the career-defining testament of musical iconoclast David Crosby in this most impactful of entertainer documentaries. The film's director A.J. Eaton does a beautiful if also sadly unsung job of weaving together a film that is at once challenging, endearing, and never not moving. Crosby, for all the stories and rough reputation he's amassed over his many years, exuded all the magnetic forthrightness of a true raconteur. Or is he a con man? Whatever the case, this film ensures that viewers will remember his name just they remember his songs.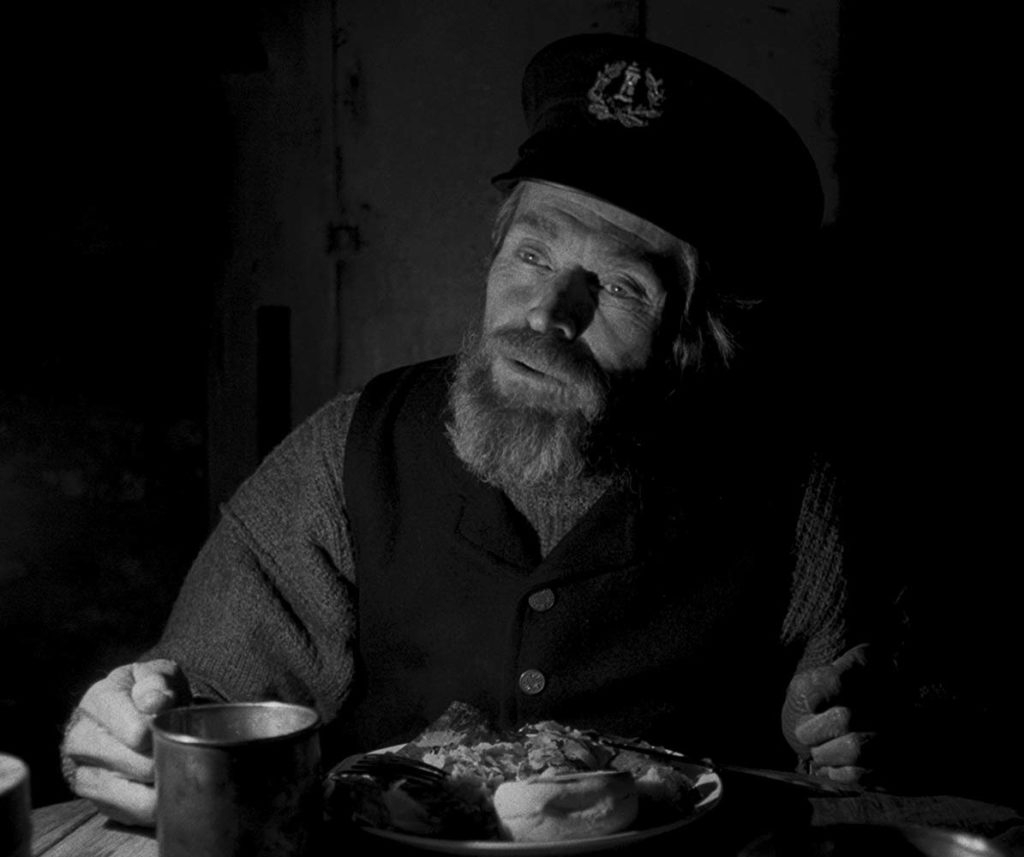 A friend of mine recently inquired about Robert Egger's stunningly perplexing follow-up to his 2016 film, The Witch. His question? "What did I just watch??" A legit question, and more universal amongst viewers of The Lighthouse than most any, I would guess. the difference between us was, when I asked it, I meant it in a good way.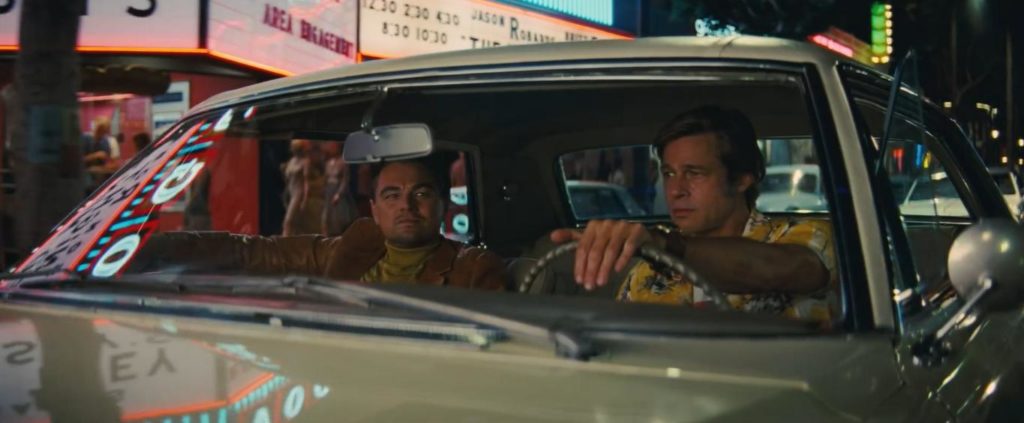 In the months following my lukewarm-to-favorable review of Quentin Tarantino's meandering epic of a meticulously reconstructed (in numerous ways) Los Angeles, a funny thing was happening: The film kept growing in my mind. And by extension, in my heart. I've still only seen it the one time, but if there's such a thing as organic critical inflation, this is a case in point for me. I love this film now, in all it's happily ever afters.
Lament, regret, tragedy, grappling, temper and, in the span of a most unfortunate moment, that which cannot be undone. Trey Edward Shults's saturated tale of a middle class African-American family in crisis and (crucially) post-crisis is, in terms of emotion, almost too much movie to ingest. In a tremendous way.
Yeah, that's right. I've gone and done it- I named Taika Waititi's "Hitler comedy" the Best Film of 2019. I do so knowing that Jojo Rabbit has no shortage of detractors, and right about now they may be demanding that I explain myself. I believe that I can do so more effectively than they, as I've yet to hear a satisfyingly articulate reason for why the haters hate it so. The primary sticking point seems to be that the Third Riech is presented as both stocked with bumbling oafs and as an effectively legitimate evil force, as though bumbling oafs are incapable of doing a lot of damage, or that their oaf-ness is somehow a cushion from harboring core evil ideology.
Watiti's bold blend of contemporary comedy and the surface horrors of Nazi Germany succeeds as one boy's absurdly extreme coming of age despite the ill-advisable high-wire act that it so blatantly is. Maybe the current-day takeaway of "F*** off, Hitler" feels all too 2017 to some folks. But then, there are still those of us who could use a good laugh when we look around and see how lockstep so many factions of our country have become. Watiti delivers those laughs in a contemporary veneer while allowing them to collide uncompromisingly, with a very certain anachronistic rock n' roll zest and panache.
Honorable mentions:
Little Women
Portrait of a Lady on Fire
Missed:
A Hidden Life
Queen & Slim
Richard Jewell
The Nightingale
Monos
Asako I & II