A Hitler Comedy Through the Eyes of a Child, From Taika Waititi.
DIRECTED BY: TAIKA WAITITI/2019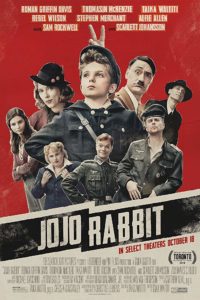 JoJo Rabbit is, on the surface, a very difficult sell: a comedy about Hitler. In the hands of Taika Waititi, however, the film largely succeeds in balancing the humor with a very touching story that exposes the hatred that seems to be all around us, and how that hate can be overcome when we truly have the heart of a child. JoJo Rabbit is a Nazi-based comedy crossed with the quirky beauty of Wes Andersen's Moonrise Kingdom that lets us all see some bigger truths through the eyes of a child.
JoJo (Roman Griffin Davis) is a 10-year old boy who lives with his mother Rosie (Scarlett Johansson). JoJo is excited to attend the greatest weekend ever when he gets to train to be a true Nazi soldier with his fellow Hitler Youth members. He is decked out in his sharp uniform as he stands before the mirror giving himself a motivational speech of the success he will have at this weekend training when his imaginary friend, Adolf Hitler (played by director Taika Waititi), chimes in with his unequivocal support.
Of course this version of Hitler does not emulate the real one as he is the imagined version of a "great leader" as seen through a 10-year old fanboy. This Hitler is funny, sassy, and an imagined father figure that takes the place of JoJo's missing father who went off to fight in the war. This is truly a boy who has bought in to the fervor that Hitler's propaganda machine created as they sought to make Germany great again following the devastation that followed their loss of World War I.
JoJo's enthusiasm is much like a young boy who is following his favorite team or band. The walls are decked out with pictures of his idol, and he can rattle off stats like the best of them. Yet, underneath the Nazi rhetoric he spews, that his mother deftly ignores, lies the heart of a 10-year old boy. He and his mother love to dance and ride bikes, and even in the middle of his Nazi weekend retreat, he still stops to hug his best friend Yorki (Archie Yates) whenever they meet or say goodbye. When an accident at camp keeps him at home and from joining his regiment as they go on assignment in the war effort, he learns a devastating secret: there is a Jewish girl named Elsa (Thomasin McKenzie) living in his walls.
Waititi, who is adapting the book Caging Skies by Christine Leunens, leans heavily into the hateful Jewish stereotypes that have been espoused as JoJo confronts the first Jewish person he has ever met. These stereotypes are of course vile and meant to create an uncomfortable feeling in the audience, but Waititi's script balances this perfectly with humor as it is the young Jewish girl espousing them all to JoJo when he asks her what Jews are "really like". By leaning into these stereotypes, JoJo Rabbit exposes them for what they are, laying the foundation for the heart-filled direction of where the script is headed.
Joining the cast is Sam Rockwell as Capt. Klenzendorf, the leader of this local chapter of Hitler Youth, and Rebel Wilson as Fraulein Rahm, one of his trainers. This would mark Rockwell's third high-profile role as a racist villain. The first role of a racist cop earned him an Oscar with Three Billboards Outside Ebbing Missouri, with the second role giving him the chance to play a Ku Klux Klansman who is forced to work alongside a black civil rights worker in Best of Enemies. His Capt. Klenzendorf is more Col. Klink of Hogan's Heroes without the slapstick, mixed with Walter Mathau's Morris Buttermaker from Bad News Bears (1976), a character Rockwell said he used to prepare for this role.
Finally, the brilliance of Stephen Merchant shows up in full comedic force as he plays Deertz, a Gestapo officer whose smile and easy-going veneer plays up his role for laughs but also delivers a sinister nature lurking beneath the surface that grounds the film to the very real hatred and evil that guided the Nazi ideology. These moments pepper the film as Waititi tries to walk the fine line of humor without minimizing the danger these characters are truly in even for JoJo as a member of the Hitler Youth and especially for Elsa, as a target of this regime.
Like Hunt for the Wilderpeople, What We Do in the Shadows, and even Thor: Ragnarok, Waititi knows how to deliver a much deeper, heart-felt story than he advertises in the humor-filled trailers for his films. This isn't his strongest effort, but it is his most challenging one. I was pleased that he mostly landed it. The film was both hilarious and poignant. Having the entire film told from the vantage point of a young child and an older teen strips away whatever distractions or red-herrings people want to drop into conversations about Nazism, antisemitism, hatred, and more, and immediately exposes this hate-filled ideology for what it truly is.
Children see things much clearer than adults when it comes to right and wrong. The fact is that JoJo is easily seduced by such hate whereby he idolizes Adolf Hitler. It also gives us the path of solving such a problem and that solution lies in the heart of a child. Hate is something that is taught. It isn't something we are born with. The hope we have is that if we have learned to hate, we can also learn to love.
JoJo Rabbit, while not perfect, is another wonderful film from Taika Waititi that earns its comparisons to a film like La Vita e Bella (Life is Beautiful), that used humor against the backdrop of persecution in World War II to bring light into dark times and remind us that evil can be overcome. When asked why the world needed a film like JoJo Rabbit now, Waititi replied something along the lines of "there are many Nazis around". As he cites Charlie Chaplin's The Great Dictator as a film that 80-years ago tried to do the same thing of using humor to expose bigotry and hatred, his own JoJo Rabbit joins a short list of films who attempt to do this and largely get it right.