Eddie Murphy is Back as Rudy Ray Moore, Kickin' it and Taking Names!
DIRECTED BY CRAIG BREWER/2019
"Eddie Murphy is bringing back Eddie Murphy. "
So goes one of the numerous headlines depicting the admittedly compelling narrative expertly cultivated in service of this new comedy, Dolemite Is My Name. It's not the first time a long-overdue Eddie Murphy renaissance has been floated, though this time, it might just come true.
Murphy stars as true-life 1970s underground comedy icon and over-the-top personality Rudy Ray Moore.  The film tells the story of Moore's trajectory from struggling entertainer to record-breaking purveyor of X-rated comedy albums to schlocky filmmaker and niche movie star.  While this critic is unable to provide anything in the way of a comparison/contrast in terms of how well Murphy's performance captures Moore, Murphy's desperate energy and magnetism are wonderfully unrelenting.  If anything can reignite the subversively lovable Eddie Murphy of yore, it would be his handling of this role.  While this is a movie star showcase piece through and through, Murphy also effectively vanishes into the part, granting viewers an organically hilarious (though flawed) individual whom can and will be immediately rooted for.
But Murphy is only one third of Dolemite Is My Name's winning creative combination. The choice of director Craig Brewer (Hustle & Flow, the TV series Empire) is another, and predating Brewer's involvement in this project's long-churning development is the on-target screenplay by Scott Alexander and Larry Karaszewski. Having penned similar true-life tales of outcasts and outliers such as Ed Wood (Tim Burton's Ed Wood), Larry Flynt (Milos Forman's The People vs. Larry Flynt), and Andy Kaufman (Milos Forman's Man on the Moon), the venerable duo has long ago claimed their crowns as kings of the esoteric showbiz biopic.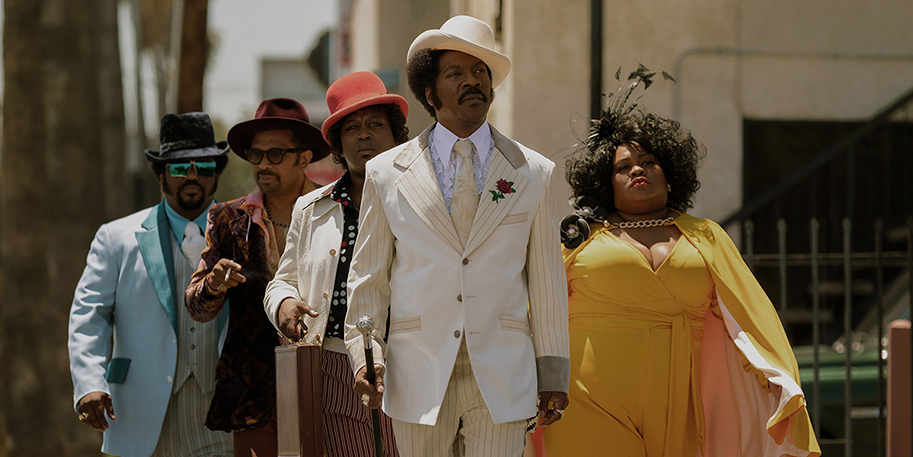 Brewer, though not a household name, is absolutely spot-on for this project. He knows a thing or two about grafting a real-world patina to a winning underdog story, not to mention his flair for urban sensibilities. There's a rhythm and invisible intentionality to what he does. Even when his films leave people feeling unsure (Black Snake Moan), he never comes across as unsure in terms of where to put the camera, or what his actor should do. This film, Dolomite, is absolutely no exception. Here's hoping that its own higher profile leads to even greater things for Brewer.
Although a tonally agreeable crowd pleaser, it should be pointed out that Dolemite Is My Name, being about the life and career of the beyond-risqué Rudy Ray Moore, is, by virtue of its subject matter (or lack thereof), one hard R-rated movie. Keep in mind that this is the tale of a man who looked outdo Redd Foxx in the Redd Foxx department.
Told in glorious chronological order, the film doesn't get around to Moore's film career right away.  Which means that it gets around to detailing the seat-of-the-pants making of this first film, 1975's unclassifiable Dolomite, whenever it gets around to it.  But rest assured, disasterpiece connoisseurs- it most certainly does get around to it.  First, time must be spent establishing Moore's own establishment of his boisterous persona. Between some copped material from an odd drifter on the street to the bewilderment he's left with following a screening of Billy Wilder's The Front Page, we witness the birth of Dolemite. Only then can Moore make a movie out of him.
Like any good film production, the making of Dolemite devours all in its path.  But this is no good film production- this is DOLEMITE!!!  Though Moore is depicted as essentially holding his disjointed non-epic together with good will and duct tape, there's little doubt, even for those who don't know their regional fringe blaxploitation history, that this madcap movie will find its footing somewhere, somehow.
The supporting cast is all-around magnificent, a who's-who of many past and present African-American onscreen personalities. Faces range from the popularly ubiquitous (Keegan-Michael Key as an earnest producer looking to making important films but instead ends up here; Craig Robinson; Tituss Burgess; Mike Epps) to a few very welcome faces from the past (Wesley Snipes as Dolemite's checked-out flamboyant director; Snoop Dogg; and Murphy himself), while still making way for a few new faces and outsiders (Kodi Smit-McPhee as an in-over-his-head film student turned Dolemite cinematographer; Da'Vine Joy Randolph as Moore's rotund stage partner and muse, Lady Reed). Together, they gel as an eccentric unit of weirdos devoted to one another as well as the whacked central vision of the main character.
In other words, their dynamic is not at all unlike the Alexander/Karaszewski masterpiece and unacknowledged template for this film, Ed Wood. If there's a nit to pick at all with Dolemite Is My Name, it's that there's an awful lot of 1994's Ed Wood DNA in it. (Folks with shorter-term memory will point to James Franco's The Disaster Artist. Nuh-uh. This is Ed Wood, almost beat for beat in many places). But, that's perfectly okay. Career-defining source material like that warrants revisiting.
Dolemite Is My Name, in so doing, cozies right on up to its subject matter, almost adopting Rudy Ray Moore's repeated pronouncement that all anyone wants in a movie are "titties, car chases, and kung-fu". Anything else, he says, is for the critics and the critics can go jump in a lake. (Not his exact words). What does it mean, then, that this biopic all about Moore is garnering all kinds of critical love, including right here? Who knows, but Netflix, in finally making this long-in-development-hell Murphy project happen, has stumbled onto something particularly special. If you can laugh at the raunch, you'll love the pimp-suited light-as-a-feather warhorse, Dolemite Is My Name. And that means you'll finally love Eddie Murphy again.