The Grand Narcissist's Lament: Music Legend David Crosby is Brought to Light by Cameron Crowe.
DIRECTED BY: A.J. EATON/2019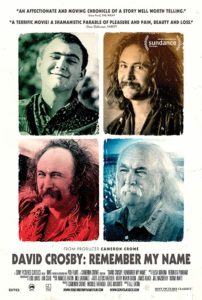 Director A.J. Eaton spent some time prepping and planning for his debut documentary film on the hall of fame musician, David Crosby. His best move was to procure the services of writer/director/producer Cameron Crowe, who has had a 40-year relationship with Crosby, having first interviewed him when Crowe was just a 15-year old rock journalist for Rolling Stone magazine (which was the theme of Crowe's brilliant film Almost Famous). With Crowe's involvement, Eaton was able to capture one of the most honest series of interviews on a rock icon ever put to film.
Earlier this year, Crosby contributed to the fantastic documentary Echo in the Canyon, that took a look at the Laurel Canyon sound. In David Crosby: Remember My Name, he takes us to the Canyon and systematically de-mystifies the place. These days, Crosby has no need to prop up a glorified version of the place. The music stands for itself, but the place where that music was created was just a place. When he and Crowe arrive at the iconic convenience store/grocery store situated in Laurel Canyon, where so many classic artists shopped, he shoots down Crowe's large-scope question of what this place means to him by simply replying, "it means the place where we bought groceries". He is raw, honest, but at the same time possibly pulling all of our legs.
Crosby was certainly a central figure in the Laurel Canyon sound, sort of America's answer to the Beatles and the resulting British Invasion. As a member of the Byrds, they found themselves hanging out with the Fab Four and even influencing some of what they ended up doing stylistically. We see some great footage of Crosby sitting behind The Beatles during a press conference learning how to be a true rock star. After burning his bridges with his Byrds band-mates in just a few years, Crosby finds himself fired from the band he helped start. This would become a theme.
Besides the music, Crosby was just as famous for the massive amounts of drugs he took, the women he loved (including Joni Mitchell), and his destructive behavior that landed him a Texas penitentiary where he was forced to get sober from the effects of cocaine and heroin "without even an aspirin" when he was first incarcerated there. Crosby looks back on it all soberly, admitting to "not being a good lover" to the women who loved him, and yet thankful for the one woman who has stood by his side now for 30 years, his wife Jan.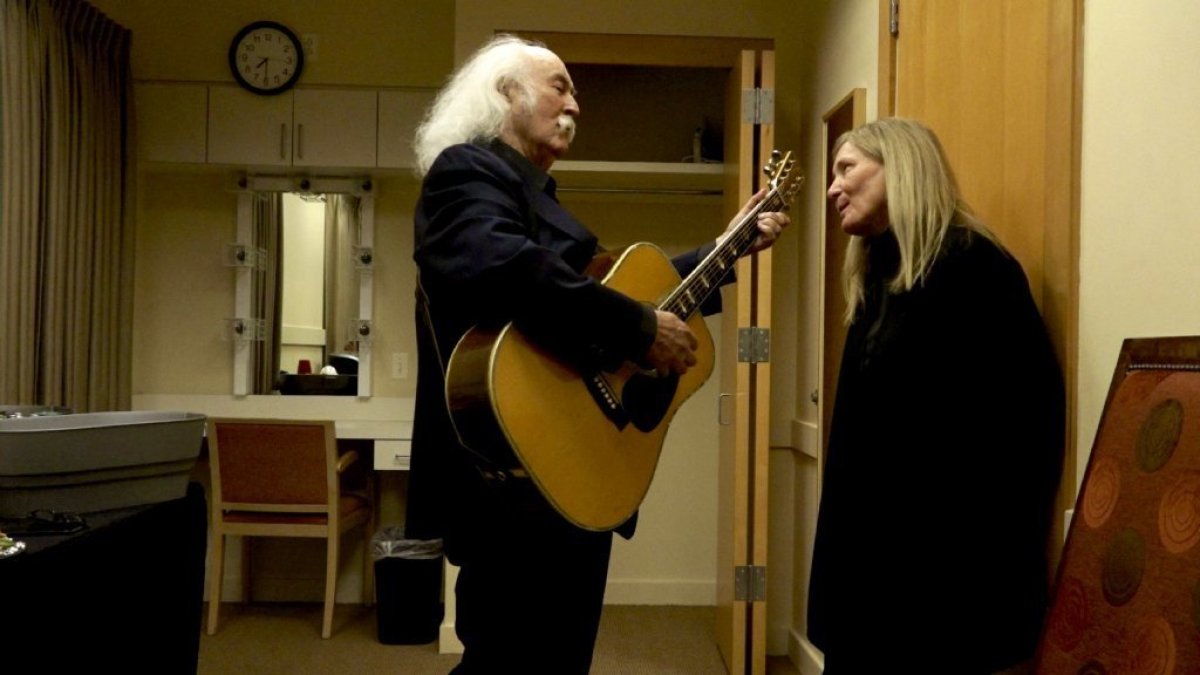 The real draw to this project continues to be the music. Following his firing from The Byrds, Crosby found himself on a sailboat, another passion, writing songs and escaping the hustle and bustle of Los Angeles. Songs like "Wooden Ships" were born there and would find themselves being recorded by Crosby along with his new collaborators, Graham Nash (The Hollies), and Stephen Stills (Buffalo Springfield), in their new group Crosby, Stills, and Nash. This would be a musical marriage that would last over 40 years, with the band joining forces with Neil Young (Buffalo Springfield) to become Crosby, Stills, Nash, and Young.
It was with CSN and CSN&Y that Crosby would find himself able to truly sing the songs he loves, built on 3 and 4-part harmonies, and mix that with his passionate desire to express himself politically. It was their performance at Woodstock (their second gig) that would launch them to new heights, but it was their song "Ohio", about the Kent State shootings that solidified them as a voice for a generation, far beyond the impact of their many hits.
Despite Crosby's many years of sobriety, recovery from multiple heart attacks, having received a liver transplant, and his unlikely musical resurgence at age 74 (he has recorded nearly 5 albums in the last five years), what haunts him most is a theme that runs throughout the film, namely the question: why won't any of his former bandmates have anything to do with him?
The interviews with Graham Nash, Stephen Stills, and Neil Young, were conducted several years ago. 2014 audio of Neil Young talking to Howard Stern is utilized, and very recent footage of Paul Shaffer interviewing Graham Nash for SiriusXM is included, but only Roger McGuinn does a more recent interview. While Crosby laments not being able to play with those guys, he is still quite prolific. His voice is still in top form, and his band seems to be tight.
The stints on the road are killing him, though. We see Crosby energized to go play music and be with his fans, but at the same time lament having to leave his wife and home. The toil of his past lifestyles has him needing to perform to maintain the lifestyle he has, especially without being able to go out with CSN&Y to get the bigger arenas and paydays. His wife confides to the camera that she supports him 100%, but that it is hard to say goodbye to him knowing that with his health, he may never walk back through that door.
David Crosby: Remember My Name doesn't follow the traditional arcs of typical rock-docs. This is by Cameron Crowe's design. Before coming on as a producer and the interviewer throughout the film, Crowe insisted on this. At one point, he pulls out a cassette from his first interview with Crosby from 1974. On it, a teenage Cameron Crowe asks the rock giant about what his measure of success will be years down the road. Crosby talks about having friendships forged in musical collaboration still existing. As the tape ends, Crowe directly asks him the tough question: if that was the measure of success, did he fail? It brings Crosby back to a crossroads where he is still waiting, wondering if he will ever have a chance of fixing what he believes he broke.
After a somber assessment and realization that he might have failed his own standard of success, the gleam in his eye re-ignites, and the lifelong rebel stares into the camera and wonders aloud if he will have the redemption for which he longs. Or, maybe, he says, this is all a con.
And this encapsulates everything that David Crosby was, is, and will continue to be: A likable guy who longs for genuine and authentic relationships, but above all making great music, who is his own worst obstacle in achieving what he longs for. Either way, he continues to dare us to remember his name.