Michael J. Fox Continues to use his Journey of Living with Parkinson's Disease to Inspire Others and Discover those rare Moments where he can Simply be Still, in a solid new Documentary on Apple TV+.
DIRECTED BY DAVIS GUGGENHEIM/2023
I grew up with Michael J. Fox as he entered my house each week in the form of Alex P. Keaton on the hit show, Family Ties. In 1985, Fox's fame exploded with the opening of his film Back to the Future, followed later that year by Teen Wolf. After that, Fox seemed to be in hit after hit, all the while he was also simultaneously filming Family Ties along with these films through 1989. In 1990, however, unbeknownst to the public, Michael J. Fox would find out the news that would define him moving forward. He kept this new private from the public and for nearly 7 years, he soldiered. In this time he worked on finishing the Back to the Future Trilogy, and then trying to replicate his 1980's success in various film projects that had mixed success. It was during his successful television rebirth in the hit sitcom, Spin City, that found himself unable to hide the secret that he had learned about in 1990: that he had Parkinson's Disease.
In a new documentary, based on Michael J. Fox's life, and the books he has written, director Davis Guggenheim uses the 1990 event that led to Fox being diagnosed with Parkinson's as the jumping off point that allows Fox to tell his story. The film covers a good portion of Fox's early life growing up, the early Canadian shows he was on before making the move to Hollywood. We see how he found himself broke and ready to quit the business and head back home. This is when Family Ties came bursting into the picture. We see how Fox went from unknown, undersized, and looking underaged to being the hottest young star on the planet. Still: A Michael J. Fox Movie demonstrates this transformation effectively as we hear Fox describe his opportunity to do Back to the Future for Robert Zemekis and Steven Spielberg, but only if he doesn't miss a single minute of filming for Family Ties. This leads to a very unhealthy work situation where he is nearly working 24-hour days spent filming both projects simultaneously. Through it all, he maintained the pace, the charm, and his trademark optimism.
Fox has always succeeded in playing characters who try to make their reach exceed their grasp. Often, his characters somehow pull it off as they do in Back to the Future, The Secret of My Success, and even Family Ties and Spin City. They are always on the move. In life, Fox is much the same as the characters he portrays. They are always on the move. In some very candid footage, we see Fox's physical therapist imploring him to "slow down" as he walks down the street, limbs tremoring due to his condition. Fox also moves quickly through the house, and during his training exercises. Often he falls due to the effect of the Parkinson's, but also because he is moving so quickly. He sports a very bruised left eye in the recent interviews of the film from a fall. We see him doing his physical therapy, and while he listens to his trainer and tries to course correct, to slow down, the truth is obvious that this constant movement has been Fox's modus operandi from the beginning, and long before his diagnosis: he has always been on the move. This is even supported by the re-created footage of a 2-year old Michael J. Fox as he tears around his childhood home. This has been who he has been from the beginning, and who he still is today.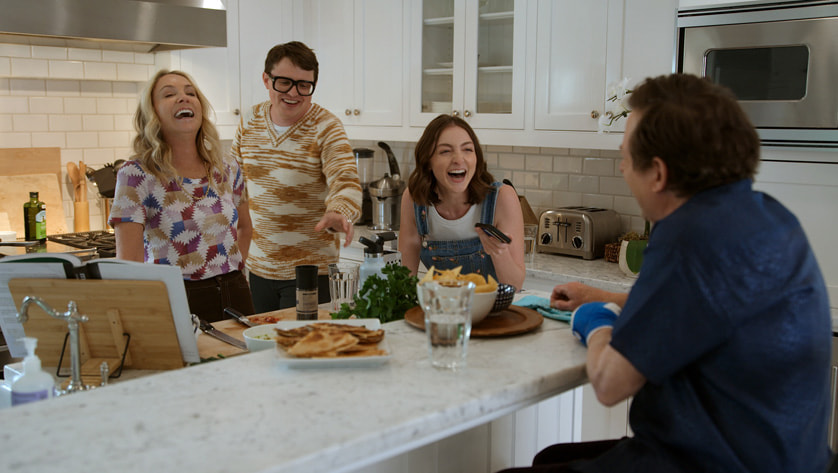 Still: A Michael J. Fox Movie is a mix of personal interviews, archival footage, and some recreation footage with Fox's narration. It is an effective mix and like the protagonist himself, it radiates humor and optimism throughout its story. We truly get a balanced look at his life growing up, and then working both before Parkinson's and after. Fox's method of handling his disease is true heroism at its finest. He candidly discusses his addiction to alcohol, and the importance of his wife and family as he deals with Parkinson's. Also, we learn about how his foundation has worked to raise over $2 Billion dollars for Parkinson's research. He is always gracious to answer interviewers questions honestly, and with enough charming self-deprecating humor to let his optimism emerge, despite the seriousness of what he is experiencing.
Fox continues to work in the industry when he can, and if you saw his turn in ABC's The Good Wife, he uses his Parkinson's as simply another tool to achieve another memorable character, like a method actor would, instead of letting his condition hold him back. His falls, and this results in bruises and breaks, that he explains as simply part of a life with Parkinson's. He doesn't really try to cover it up, and put on a brave face. He says 'this is what its like and I have to keep on moving forward', and does. It was difficult as I watched a moment of Fox describing a time he broke his wrist and then arm due to a fall. I couldn't fathom the pain he must have been feeling while dealing with these breaks as the tremors that come with Parkinson's pull at his arm which is supposed to be set. For Fox to be such a fighter and an optimist through these types of trials is a true inspiration. Through this documentary, it really feels like a true Michael J. Fox movie as his boyish looks and charm still come shining through despite the toll this disease has been taking on him.
The most difficult pursuit for Michael J. Fox is to simply slow down. To be still. Time is racing by, and as he says in the film, he won't live to be 80. If he does, he adds, he'll be a pickle (he then hilariously demonstrates this, much like Robin Williams doing his impersonation of a hot dog in Mrs. Doubtfire). But despite this challenge, Fox is learning how to find the calm in the storm. Often it is accomplished with his wife Tracy Pollan, who he met on the set of Family Ties, and their children. There is laughter and tenderness in his home that serves as a refuge. For a man who can't stop moving due to Parkinson's Disease, it is obvious that Michael J. Fox has learned a little bit of how to find those moments of peace and grace and just be still.
Still: A Michael J. Fox Movie streams on Apple TV+ beginning May 12, 2023.