Life's Nothing but Trouble and Time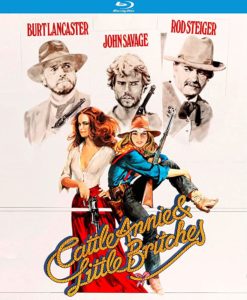 Directed by Lamont Johnson
Starring Amanda Plummer, Diane Lane, Burt Lancaster
Released April 24th, 1981
Rated PG
Cattle Annie and Little Britches starts with a country music ballad that details the story of Annie (Amanda Plummer) and Jennie (Diane Lane), two adventurous young girls in 1890s Oklahoma who are determined to join the infamous Doolin-Dalton gang. The Doolin-Dalton gang is well-known thanks to tales published and read far and wide by townspeople who regard them as celebrities. These stories are more novelistic embellishments than honest reportage of actual events. Annie and Jennie have read these tales of the gang's exploits and are enamored with the outlaw lifestyle that promises excitement and freedom. To their credit, the Doolin-Dalton gang is always respectful when they rob trains. They're always respectful when they rob townsfolk. Always firm, always brandishing guns, but always respectful. This is a time in America when many small towns did not have a sheriff or any kind of lawmen, and if someone did slap a badge on their chest, it didn't mean you could trust them any more than you could trust a bandit. 
Annie and Jennie do not have parents to speak of, or a home, or anything tying them down. Annie is loudmouthed and forceful, Jennis is soft-spoken and sincere. Initially the Doolin-Dalton gang is bemused by the youngster's insistence on joining them, but after they help the outlaws escape their pursuers a few times, the gang begins to warm to them. When a member of the gang tells Annie, "You'd make a good outlaw," you get the feeling that it's the nicest thing anyone has said to her in a long time.
Somehow the law seems to know where the gang will be next and they begin to suspect they have a mole in their ranks. Still, the aging Bill Doolin (Burt Lancaster) wants one last big score, and he plans on finding it at the Empire City bank. Along the way Doolin becomes a paternal figure for the two young girls. Doolin's nickname for Little Britches seems to come out of nowhere, but how Cattle Annie gets her nickname is a whole heck of a lot better than how a certain Corellian smuggler got his last name in Solo. There is plenty of cracking dialogue present, like when the Doolin-Dalton gang is ambushed by the law at the crack of dawn, one of the gang says, "Damn, I hate getting up early in the morning!" A fun scene shows Annie bringing baseball to the gang, which made me think of the vampire baseball game in Catherine Hardwicke's Twilight. The Doolin-Dalton gang isn't as sparkly, however. 
Much like Michael Mann's Heat, the lawman chasing Doolin, Marshall Bill Tilghman (Rod Steiger) has developed a touch of admiration for his quarry. Steiger is just fine as Tilghman but doesn't make as big of an impression as he usually does. Burt Lancaster gives a layered, charming, and memorable performance as Bill Doolin, and Scott Glenn's steely reserve suits his no-nonsense character, the gang's co-leader Bill Dalton, well. Cattle Annie and Little Britches is Amanda Plummer's first film and stands as a testament to her playing unhinged, fiercely independent characters from day one. Diane Lane smartly plays Jennie as Annie's total opposite, shy, quiet, always a bit unsure if they're doing the right thing.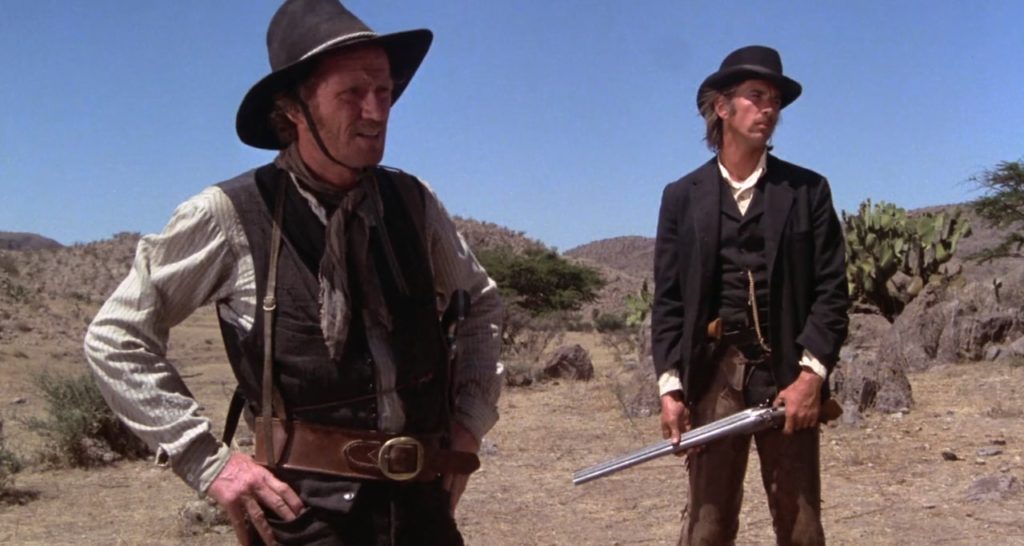 The Kino Lorber Blu-ray release features trailers for films including Valdez is Coming, Needful Things, and The McKenzie Break, along with a five-minute interview with producer Rupert Hitzig. Hitzig explains that he wanted to do a story centering on women in the Old West, and was happy to find Robert Ward's novel, which was based on real people and events. Ward adapted his novel for the big screen, working with co-writer David Eyre. Hitzig says that John Wayne was interested in playing Bill Doolin, but sickness prevented him from taking the part that would eventually go to Burt Lancaster. Hitzig goes on to say that he is still good friends with Diane Lane, who was only fifteen when he met her on set. I never fell hard for the romance of the Old West, but this is an appealing film for those who have an affinity for gorgeous mountain vistas, whiskey, and tumbleweed.