A Burt Lancaster Western Duo
THE KENTUCKIAN (1955)/DIRECTOR: BURT LANCASTER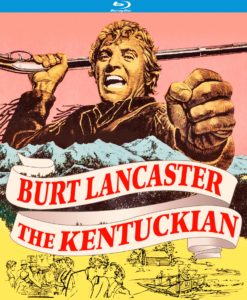 VALDEZ IS COMING (1971)/DIRECTOR: EDWIN SHERIN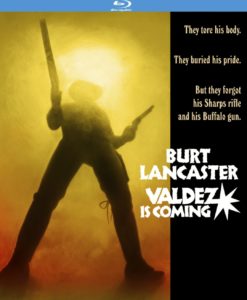 STREET DATE: DECEMBER 19, 2017
Kino Lorber release a pair of Westerns from an actor who embodied many of the qualities associated with the American Frontier: strength, resolve, loyalty, honor. From 1951's Vengeance Valley to 1981's Cattle Annie and Little Britches, the three decades that saw acclaimed performances by Burt Lancaster in Sweet Smell of Success (1957), Elmer Gantry (1960), Birdman of Alcatraz (1962), and culminating in his role as past-his-prime gambler Lou Pascal in 1980's Atlantic City also contained screen-commanding leads in several of the era's greatest Westerns: including John Sturges' Gunfight at the O.K. Corral ('57), John Huston's The Unforgiven ('60), Richard Brooks' The Professionals ('66), and Robert Aldrich's Ulzana's Raid ('72).
If Lancaster had made none of the latter, however, his place in the genre's history would have already been assured with the actor's co-starring role in his third Western, and second with director Robert Aldrich; 1954's Vera Cruz. Opposite genre icon Gary Cooper, Lancaster's mercenary gunslinger and outlaw gangleader Joe Erin, dressed all in black and as smooth and lithe as a dancer, effortlessly seduces the audience with a seemingly from-the-soul, wide-faced grin even as he schemes, steals, and lethally shoots his way through war-ravaged Mexico of the 1870s.
That complexity of role choice along with a deeper exploration of the mythic West is more than evident in the noble bearing of and moral ambiguities faced by the very different though equally conflicted Western heroes in 1955's The Kentuckian and 1971's Valdez is Coming.
The Kentuckian (1955)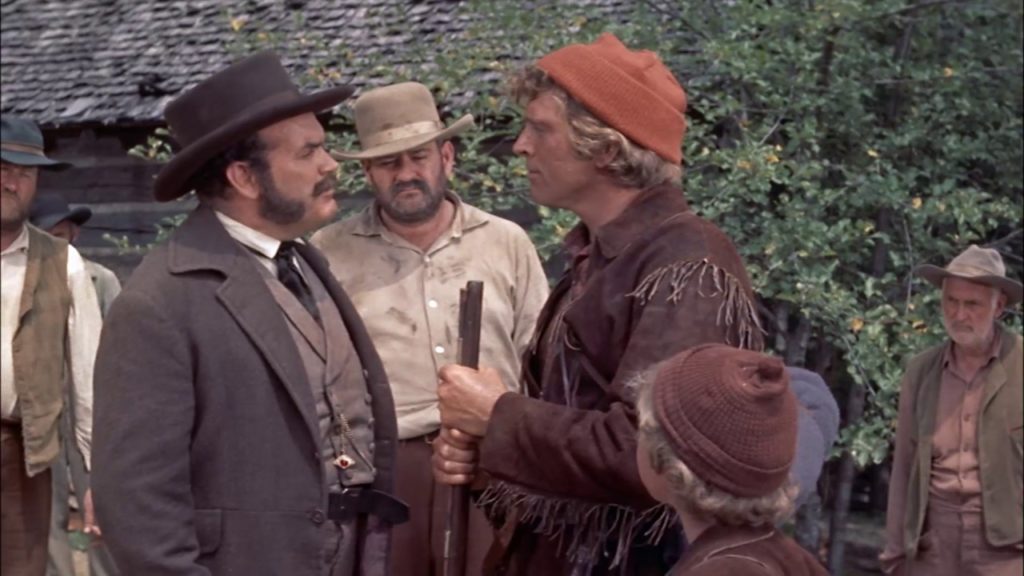 Smack-dab in the decade of the actor's greatest popularity, The Kentuckian exuberantly muddles its way through 104 minutes of screen time with enough energy and aimlessness to satisfy both fans of adventure heroics and lingering character study. The star, who also directed, plays Early American buckskin pioneer Big Eli Wakefield, who with his young son, Little Eli (Donald MacDonald), are on the run from a regional family feud while sharing dreams of lighting out for the uncharted territory of Texas.
Along the way, Big and Little Eli free an indentured bondswoman, Hannah (Dianne Foster), uncomfortably settle downriver with shopkeeper relative Uncle Zack (John McIntire), freshwater fish for deep-river pearls, come to conflict over Big's involvement with proper and refined schoolteacher Susie (Diana Lynn), leap off a gambling riverboat, and eventually have their family past catch up to them in the gaunt and terrifying forms of the backwoods Frome Brothers (Douglas Spencer, Paul Wexler); all while Little tries to blow his father's hunting horn, whose sounded peal through the Kentucky wilderness will apparently announce the young lad's growth to Big. As enjoyably meandering as it sounds, this Technicolor and CinemaScope production is equally Big Fun if caught in the right mood, and with fine character actors like John Carradine and Una Merkel adding shape and dimension to the proceedings, Walter Matthau's first film appearance, as bullwhip-cracking barkeep Stan Bodine, provides one of the more memorable movie fights this viewer has yet seen in a lifetime of classic moviewatching.
More a pre-Western, one further supposes, 1820's Kentucky resonates with both Lancaster the actor and director's Big-screen vision of the frontier's borders being pushed ever-Westward, the expansion of the country's growing borders and rising fortunes of its hard-stock pioneers symbolized in father and son's film-length dream of the Tall T.
Valdez is Coming (1971)
Made 16 years later, and set about 60 years in the Western future, the American Southwest of Big and Little Eli's Kentucky imaginings are frustrated by both the passing of history and the muddled realities of the Texas-Mexico border. Based on a novel by Elmore Leonard, Burt Lancaster becomes a tired, part-time Mexican-American lawman named Bob Valdez who, as the film opens, reluctantly participates in a miscarriage of justice against a falsely accused black soldier at the instigation of powerful rancher Tanner (Jon Cypher). Attempting to collect $200 as compensation for the murdered man's Indian wife, Valdez's efforts are rebuffed continuously until he himself is subject to the persecution and abuse of Tanner and his men. Riding out onto the arid, desolate terrain, and revealed to be a former soldier himself who, before being struck by a crisis of personal conscience, had once "hunted" Apaches during the US-Indian conflicts, the promise of the title becomes abundantly clear as Valdez takes his sharp-shooter's position against Tanner and his small army of hired hands.
With a brutality to match both its era of filmmaking and epoch of American history, Valdez is Coming arrives as a post-The Wild Bunch (1969) Western which evokes a Peckinpah-like sensibility of violence and revisionism. Shot, like the Spaghetti Westerns of the period, in Spain, the rocky landscape and dust-filled imagery creates a burnt-earth atmosphere well in keeping with the revenge-driven, socially- and historically-critical plotline. Benefitting, like The Kentuckian before it, with familiar faces and powerful screen presences in secondary roles – including both Richard Jordan (Interiors [1978]) and Hector Elizondo (Pretty Woman [1990]) in early film appearances – the slump-shouldered, teeth-yellowed, heavy-bellied former screen he-man Burt Lancaster takes a story- and screen legacy-beating that will undoubtedly prove of especial interest to fans of both the actor and his considerable accomplishments in the Western genre.
…
Taken together, The Kentuckian and Valdez is Coming prove an interesting double-bill not only in the context of their respective star's career but also the popular development of the genre. Times change, and so do movies with them, and shifting popular taste is certainly reflected both in an actor's role choice and the types of movies in which he appears. Providing ample demonstration of this assertion, Kino Lorber's usual level of fidelity to their home video releases' original source elements are again on keen visual and aural display; with The Kentuckian appropriately wide and open and boisterous as Valdez is Coming is tight, gritty, and mournful. Like the former's dream unfulfilled, or the latter becoming the nightmare of the former, this Burt Lancaster duo of time- and era-displaced Westerns have much to say to each other: not only about the actor who appears so differently in both but also, again, their respective era's differing artistic presentation of a popular genre.
In this regard, the illuminating film-length commentary accompanying Valdez is Coming by filmmaker and self-described "enthusiast" Jim Hemphill is highly-recommended for anyone interested in either the historical development of the genre or in an in-depth account of this formidable actor's long career. Burt Lancaster's famous smile held an audience's attention to great acclaim over his nearly 50-year film career, but it was, as always, more nuanced and shaded than its glittering brilliance first appeared.