The Spirit of Scrooge Sings a Spirited Set of Songs that Seeks to Save an Unredeemable Soul
DIRECTED BY: SEAN ANDERS/2022
An Apple TV+ original movie seeks to follow Buddy the Elf's advice that "the best way to spread Christmas cheer is singing loud for all to hear". To do this, they have enlisted Buddy the Elf himself, Will Ferrell, along with Ryan Reynolds, to sing loudly the all new original songs of Justin Paul and Benji Pasek from Dear Evan Hansen, on an updated approach to Charles Dickens' classic tale A Christmas Carol, in a new film called Spirited. While its a Spirited twist on the well-known tale, the end result is a little more "humbug" than "God bless us, everyone", but that's not to say that Ferrell and Reynolds don't make a fun pair.
On this take of A Christmas Carol, Marley (Patrick Page) heads up an entire after-life organization that "does A Christmas Carol" for real each year. Starting in January, a mean-spirited grouch is chosen to get the same treatment that Ebenezer Scrooge got in Dickens' tale. The chosen individual, or perp, will be scared by Marley, who will then send the ghosts of Christmas Past (Sunita Mani), Present (Ferrell), and Yet-to-Come (Loren G. Woods, voiced by Tracy Morgan), to help this individual see the error of their current ways and then celebrate when that individual makes a permeant change in their life, becoming the good-natured person that was inside all along.
After we get to see a recent version of this yearly spirit-led production play out with a woman named Ms. Blansky (Rose Byrne), we watch as the ghostly enterprise targets a mean-spirited Canadian hotel owner (are any Canadians mean-spirited?) as their next perp, before the ghost of Christmas present (Ferrell) spots someone he'd rather target instead. Enter Clint Briggs (Reynolds), a Public Relations phenom whose latest client has him helping natural Christmas tree growers take on the artificial Christmas tree manufacturers through a manufactured Christmas cultural war. The only issue with Briggs as the target perp for the "scrooge-treatment" is that he has been labeled an "unredeemable", a person who will never change their ways.
We quickly learn that only one other person who was labeled "unredeemable" has ever changed his ways, and as a result, Marley would rather not waste his firm's year of prep doing op research on, and setting up for, an individual who won't reap the full benefit of the 3 ghosts' Christmas Eve haunting. When they can change someone who is just a hard case, they get joy from what they call the "ripple effect" of how many lives the now redeemed perp can touch given their job/position in life. The hotel manager has hundreds of employees, but you know that Reynolds will get chosen in the end, despite his "unredeemable" status. Joining Ferrell and Reynolds for this holiday musical is Octavia Spencer, as Reynolds' executive assistant Kimberly, as well as Joe Tippett playing Owen, Reynolds' brother, and Wren (Marlow Barkley), his niece.
While Spirited doesn't work as a full-out musical (sometimes less is more), there are some very good musical numbers. These include Reynold's number to the Christmas Tree Growers, as well as he and Ferrell's hilarious 1880's number, "Good Afternoon". Even though we all have a good idea of where this plot is going to go in the end, Director Sean Anders and his co-writer John Morris, do a decent job of finding a unique way to approach this version of Dickens' Christmas staple, by having the point of view be the ghosts of Christmas themselves, instead of just the perp. Reynold's PR-savvy Clint Briggs is then able to turn the tables on the ghosts through his charming cynicism, causing them to doubt what they have been doing for centuries. Since we are seeing it all through the ghost's eyes, seeing the "scrooge" character as the antagonist to their well-meaning ways is fun.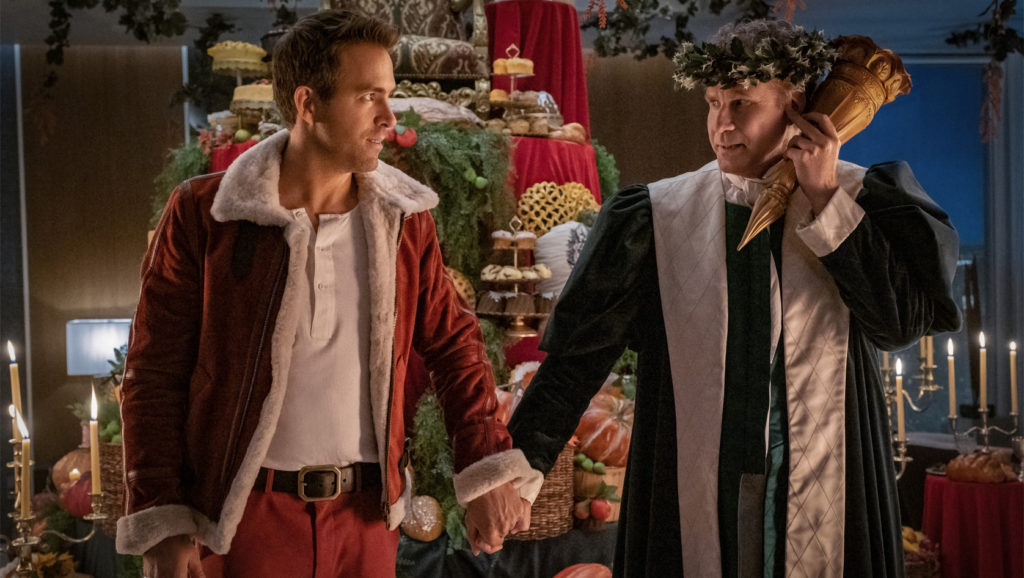 While Spirited aims high, it is not destined to be a holiday staple like A Christmas Carol, or even Ferrell's aforementioned Elf. At 2 hours, the film feels about an hour too long. Ferrell and Reynolds work well together, but their charisma alone can't carry the full weight of Dickens tale put to music. Also, the comedy works to a point but robs some of the heftier emotional moments that the film sets up, but doesn't quite deliver. In different iterations of A Christmas Carol, you truly feel Ebenezer Scrooge's regret and full 180-degree turn by Christmas morning, especially in the George C. Scott version (and even Michael Caine's take in The Muppets Christmas Carol). In Spirited, Anders doesn't allow enough time to truly connect with Reynold's potential transformational moments, and so we never truly buy-in to the grand finale. Instead, Anders seeks to just keep things poppin' from joke to joke, keeping Ryan Reynolds a little too one-note throughout the film. Sure Reynolds can play glib characters, but he can show depth as well. This is one of those times where it would have been better to let him.
Ferrell, unlike his romp in Elf, seems tired and ready to retire from his comedy routine, much like his character, the ghost of Christmas Present. As he ages, Ferrell has shown the ability to balance his zanier moments with more grounded characters like in Stranger Than Fiction. As the Ghost of Christmas Present, we don't get the joy and celebratory version of the ghost that has quick witted retorts to the perp that reveal opportunities for growth for the human they haunt. Here, he is just too one-dimensional for the importance of this character as his role is expanded beyond what Dickens wrote him to be. So, to fill time, we get a sadder take on the joyful ghost who really just longs to have a chance to live a real human life again and settle down and raise a family. It doesn't quite work against the backdrop of A Christmas Carol.
So, Apple TV+ has certainly swung for the fences with this cast, and ambitious attempt to offer up their own Christmas classic. They even convinced Dame Judi Dench to make an appearance!!! However, Spirited ends up eliciting a bit more "humbug" than "God bless us, everyone" type reaction when all is sung and done. Its not as family friendly as it should be to truly have more of a general appeal that you typically want with a holiday-themed film, but there are some good moments that make this a tale you'll at least want to watch once or twice. If you disagree with my take, then "Good Afternoon!".