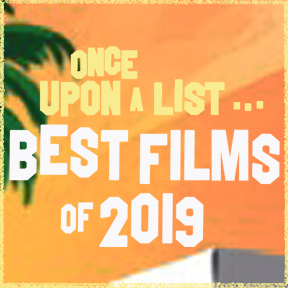 I love going to the theater, with friends or by myself and watching a story on the big screen. It makes my heart ache, tickles my funny bone, I'm terrified beyond belief and my life feels a little less ordinary. It's two hours of being lost in someone else's world, in a story you don't recognize! But this year was kinda weird, I didn't get to the theater that much. Life was busy and when I had spare time I sorted through the abundance of fantastic shows and miniseries streaming at home. (See my favorites below.) I was more of a home body this year… I think a lot of us were or are. I wonder if that's why so many Oscar Nominated films and big names in Hollywood are opting to release their films through Netflix, Amazon and Hulu?
Anywho, for a while I didn't think I would have a "Best of" or favorite list for ZekeFilm this year. But… BUT… Something magical happened, or a magical time of year happened, Oscar Season happened! There's a lot to be said about award nights for Hollywood and the way that studios release films so they're fresh in the minds of voters. And honestly I'm not here to say anything about it except… I LOVE IT!!!! I love Oscar season! I love the awards shows! I love going to the theater for multiple showings at a time! #OscarChallenge is a yearly tradition that I embrace and celebrate. I love the hoopla and the headlines, I love it all! And that "end of the year surge of great films in the theater" was the kick in the pants I needed to get back to the theater and marvel!
So all that said, I do indeed have a list to share! "Raise the roof hands!" I hope that you make it to the theater and watch a good movie soon. The following are my favorite films from 2019! (Click the links to read full reviews for each film.)
For the above scene alone, Avengers: Endgame would have made my top ten! (I'm getting weepy just thinking about those amazing women!) But I love this wonderful world that so many brilliant screen-writers, directors, actors, designers, technicians and the brilliant wonder that is Stan Lee created for us! A decade of work and creativity and hope and wonder for us to enjoy! Avengers: Endgame was indeed a "Marvel" and I can't wait to see where they go from here!
This movie totally FREAKED ME OUT!!! It's such a slow burn, a horrific folk tale of "you get what you deserve" during a Scandinavian mid-summer festival. Midsommar is a horror film and not for the faint of heart but, I loved it so much! And just saying, I'm glad Florence Pugh was nominated by the Academy for Best Supporting Actress for Little Women but… It should have been a Best Actress nomination for Midsommar… Just saying.
Everyone is talking about the performances from Anthony Hopkins and Jonathan Pryce, and they should be, they are both stellar, but it's the conversation, the dialogue, the understanding and the fantastic story that solidified the #8 spot for The Two Popes. This film is an absolute gem and it's one I recommend to just about everyone.
I'm saying this right now, Jordan Peele is one of the directors that makes me excited for film's future. With Get Out and 2019's Us, he is telling complex stories that will be enjoyed for generations to come. So if you're up for some suspense and a little horror and you want to see one of the great performances of 2019, the phenomenal Lupita Nyong'o, then Us would make a great Friday movie night.
6. Honeyland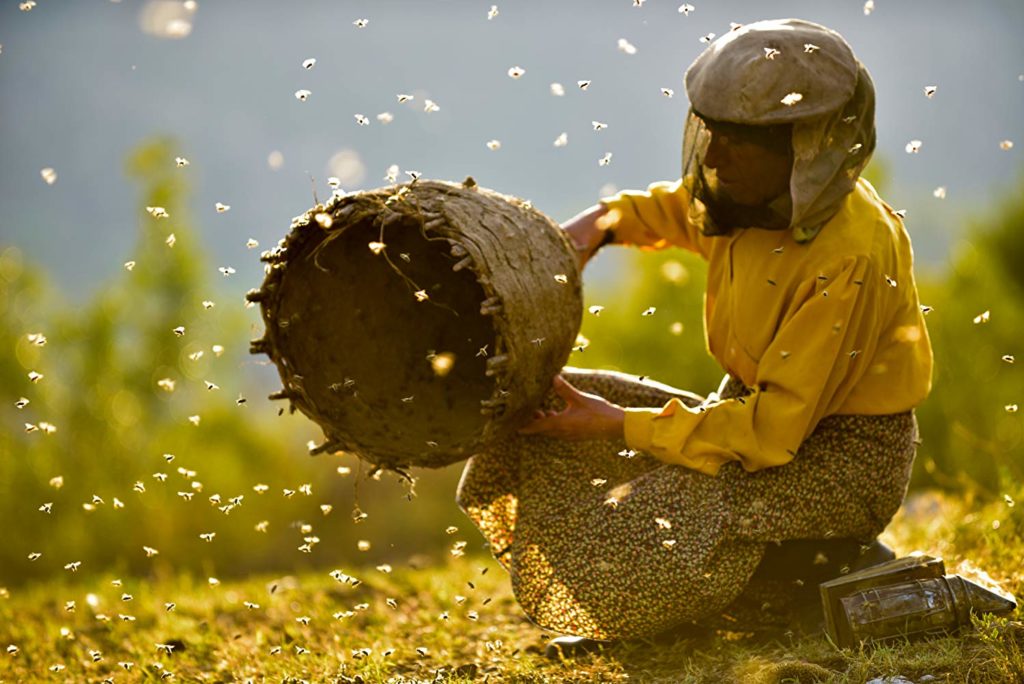 Honeyland is Tamara Kotevska & Ljubomir Stefanov's documentary about a middle-aged single woman living in Macedonia tending to her bees and caring for her dying mother. The camera follows Hatidze as she welcomes a new family onto her land and as she teaches them about the bees. Honeyland reminds you that the world is vast and it's amazing how we are so very different and yet how we all struggle with the same things. Honeyland is beautifully shot and the story is one that will stick with you for weeks afterwards. It has all my votes on Oscar night!
Parasite is one of those films where you are speechless at the end, there are no words, yet you can't stop thinking about it and talking about it for days afterwards. (Probably longer, but remember, I literally watched all these films over the past couple weeks.) Bong Joon Ho is a master story-teller and his cast is phenomenal. So-dam Park gave one of my favorite performances this year. She deserves every award for sitting on that toilet and smoking that cigarette. If you are ready for a discussion on class systems and you're not thrown off by subtitles then Parasite is a MUST!
4. Little Women
So many good things to say about Greta Gerwig's adaptation of Little Women! First of all, I'm so thankful for this wonderful story and that it keeps being made into film every few decades, so praise be to the beautiful mind of Louisa May Alcott. And I'm very excited that Greta Gerwig is making movies, and grand scale movies at that! No longer the indie darling, she is a name that people will know for years to come because of her heart-felt stories. And this cast is pure gold!!! Saoirse Ronan is a power house as Jo March and Florence Pugh is showing Amy March in a whole new light that makes that character so much more relatable and not just a brat that walks away with Laurie. Go and smile and laugh and weep with the March sisters!
I love every tiny detail in JoJo Rabbit! And Taika Waititi, let's just continue to talk about directors I'm super excited about!!!! To make a satire out of a story about a boy in the Nazi youth program that has an imaginary relationship with Hitler himself and his mother is hiding a Jewish teen girl in their home, takes some guts. But Waititi does it all with a laugh, a wink and some amazing style. And lastly if you don't fall in love with the friendship between Jojo and Yorki then you have no heart and you might not be human!
The Farewell is another film I recommend to everyone. Lulu Wang's beautiful film about a Chinese family's plan to say goodbye to an aging grandmother who doesn't realize she has cancer is full of love and care. I left the theater thinking about my own dear family and wanting to talk to my mother. And Awkwafina deserved an Oscar nomination no if's, and's or buts and so did Lulu! There were some amazing strides made by women in 2019 in film and it makes me super hopeful for all they will create in the years to come.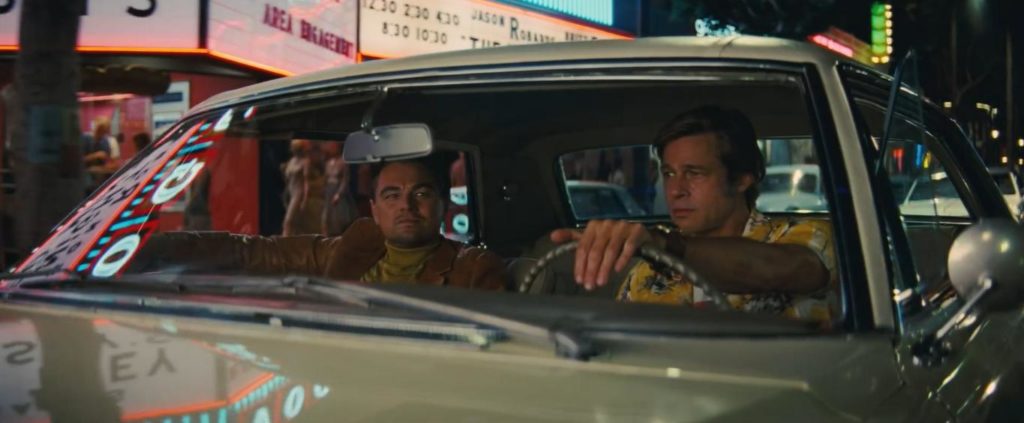 There are exceptions to the "I didn't get to the theater that much" 2019 year and one of the big ones was Quentin Tarantino's Once Upon A Time In Hollywood. (I actually saw it twice on the big screen because it's that good and it made to see that big!) Tarantino's style and passion are at an all time high with OUATIH, it's so lush and gorgeous. Leonardo DiCaprio is in top form, (I love watching him play a spoiled Hollywood has-been!) Margot Robbie is a perfect Sharon Tate and there's no denying the love Brad Pitt is getting for this film. It's my favorite film of 2019 and it might just be my favorite Tarantino!
Rounding out the top 20…
11. Amazing Grace
12. Booksmart
16. A Beautiful Day In The Neighborhood
19. The Beach Bum
So bring on the red carpet, ball gowns and tuxedos. Bring on the speeches especially if they're by Brad Pitt. Bring on the Oscar Nominated Shorts and the animated films. Bring on trips to Red Box, renting movies through Amazon and more trips to the theater! It's Oscar season, it's the movies, it's the big screen, its stories worth telling and hearing! Happy viewings!