The Least Weird "Weird Western" to Ever Haunt Hollywood!
DIRECTED BY WILLIAM BEAUDINE/1966
BLU-RAY STREET DATE: AUGUST 20, 2019/KL STUDIO CLASSICS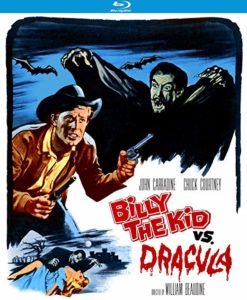 In the relatively stark subcategory of the "weird western", one would have every reason to expect 1966's Billy the Kid versus Dracula to stand out as one of its shining examples.  On the contrary, the film's inherent weirdness quotient is minimal-to-nonexistent once one gets passed the glaringly bold title.  An all too simple premise- in fact one that Bram Stoker himself has basically written before- this is basically a very, very simplified version of the original Dracula tale, taking place in the Old West.
In the telling, ultra-prolific Director William Beaudine (The Ape Man, Voodoo Man) succeeds at taking no risks whatsoever. Shot in eight days in and around the same Hollywood terrain where Adam West's Batmobile drove in and out of, Billy the Kid vs. Dracula marks a closing effort in the long career of its director. It's an almost stunningly straightforward square tale of good versus evil, genres colliding as cleanly as possible.
Whatever Beaudine visibly lacks in terms of a production budget is balanced out by a devoted cast. John Carradine as Dracula is the movie's only recognizable "get", though the slippery gawdawful visual effects that accompany his character do him zero favors in terms of actorly dignity. Also, not once is his stately vampire character referred to by the name "Dracula". Legal technicality? Or was the title's inclusion of "Dracula" a desperate afterthought? "Billy the Kid vs. Dracula" has considerably more panache than "Billy the Kid vs. a Vampire".
In my several years of reviewing obscure films on Blu-ray there's been more than one occasion where one of my biggest takeaways has been "poor John Carradine".  (See my reviews of Star Slammer and Astro Zombies). It's legitimately refreshing, then, that that's somehow not the case here. His turn as "Count Dracula" is one of the films greatest virtues. A selling point, to be sure. After all, Carradine has played Dracula twice previously as part of the beloved classic Universal Monsters series. Granted, it was during the desperate and dying last gasps of that series, but his Dracula, so distinctly different in physicality and nuance than Bela Lugosi's, nonetheless made its mark.  One can scarcely blame a film producer in getting Carradine to reprise the role.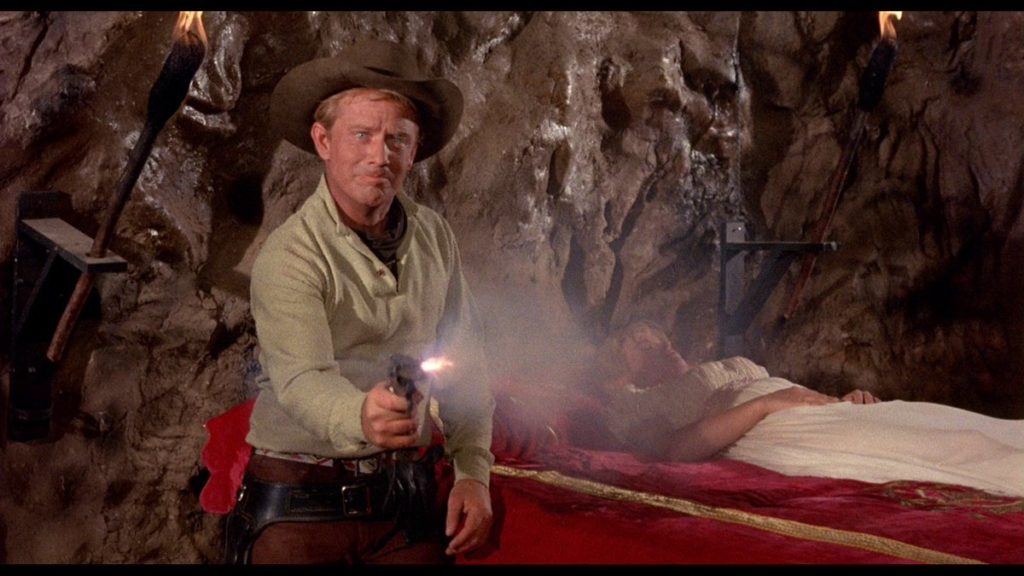 The film's other headliner, Billy the Kid, fares fairly well, as well.  Regarding his own turn as the notorious historic outlaw in a very different film, 1988's Bill and Ted's Excellent Adventure, actor Dan Shor did copious research only to discover that Billy the Kid was, as he put it, "a syphilitic lunatic".  When applying such traits to the character on his first day of filming, Shor was told by the director to knock it off, and "in this movie, you're playing a cowboy."  Perhaps clean-cut Chuck Courtney, who plays Billy the Kid in this film, was told something similar.  Despite the name and the baggage associated with the real-life figure, this is a grown Kid with any hard edges sanded off. 
He's hung up his guns and is now aiming to marry young Elizabeth Bentley, played by Melinda Casey, credited here as Melinda Plowman.  Whatever name she goes by, the point should be made that the camera adores her in the way it adores very few others. She's just about the most adorable "girl next door" ever committed to film, and not without acting chops.  It leaves one to wonder why on earth she didn't have more of a career on screen.  (She did go on to have an extensive career as a Stage Manager for numerous television shows).
In addition to a rather colorful impressive transfer of this film, this disk also offers a commentary track by film historians Lee Gambin and John Harrison. To say that this commentary runneth over would not be to put too fine a point on it. Gambin and Harrison do their very best to cram in every last detail about this film, and any thoughts they have surrounding it. From the very start, they're looking at the clock in full knowledge that they've arrived with too much to say during the film's scant seventy-four minute runtime. No extended filmography or career retrospective goes uncatalogued. Between this high-speed info-dump and their penchant for overpraise of the film itself, the track is frankly a bit exhausting. It's as though Gambin and Harrison looked at this opportunity as their one and only shot to talk at length about Billy the Kid versus Dracula, and made the most of it, times three. And, being that this probably is in fact their only opportunity to talk at length about Billy the Kid versus Dracula, more power to them.
From its rubber bats on wires to its in-camera edits when Dracula vanishes or appears to the wet-paint walls of Dracula's coal mine hideout, Billy the Kid vs. Dracula scrapes by, forsaking any perceived promises of "weird" in exchange for the most low-end conventional (and even kid-friendly) story you ever did see.