Two Obscure Jean Rollin Films Return to the Land of the Living
DIRECTED BY JEAN ROLLIN/2002, 1989
BLU-RAY STREET DATE: FEBRUARY 19, 2019/REDEMPTION FILMS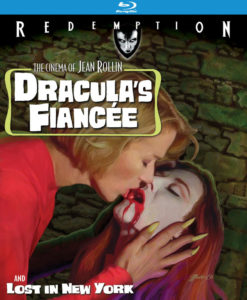 "The Presbytery has not lost its charm, nor the garden its bloom."
…Whatever that means. Dracula himself speaks that line in this film, basically promising that its meaning cannot be known to the non-enlightened. Non-enlightened, though, is exactly what this critic is when it comes to the cinema of French cult horror luminary Jean Rollin. The opportunity to review this film afforded the further opportunity to learn
An avowed student of literature and art far more-so than cinema, Jean Rollin (pronounced "Ro-Lhan", per the film's expert commentator, Samm Deighan) seems to operate in wholly different key than many filmmakers of similar renown and genre. Though vampires are undeniably common in these broader territories of cult Euro-horror, Rollin's take is said to always be unique, infused with an unlikely touch of class. Rollin wrote, directed, and often produced his fair share of them, beginning with 1968's The Rape of the Vampire, and rapidly continuing with similarly risqué titles The Nude Vampire (1970), The Shiver of the Vampires (1971), and Requiem for a Vampire (1971). These, apparently, were the salad years; or at least the start of a respectable (by comparison) run of poetic, oneiric, erotic horror titles.
A dire career slump forced Rollin into directing straight-up pornography under pseudonyms for a while in the late 1970s and early 80s. He bounced back from that with a return to horror of the low-budget variety, though for many fans of his earlier work, this era is replete with disposable titles.
Among these dismissed Rollin films is 2002's Dracula's Fiancée (La fiancée de Dracula). Yanked from obscurity by Redemption Films and Kino Lorber, Dracula's Fiancée is indeed a weirdly fascinating distortion of Bram Stoker's mythos; his Dracula put through a sieve, dragged into a cave, and stripped of logic and morality. The gore quotient is far from what horror hounds even of its day demanded, though a bloody beating heart is ripped from a female victim. Evil nuns, known as The Order of the White Virgins, work to bring back their master, none other than the charming, blooming, and dreaded Dracula himself. A Van Helsing and Harker-style duo (Jacques Orth and Denis Tallaron) make their way through the film targeting the purveyors of this dastardly plot, and once it is achieved, they then must target prince of darkness himself. These are bumbling, cocky heroes in the most non-comedic way, but they're all we've got. They're also fairly dull, upstaged throughout by the far more compelling cast of female costars.
Rollin demonstrates a kind of pure engagement with the notion of the feminine, a kind of beautiful mystic mystery and mystique to be beheld. In step with the history of patriarchal filmmaking, such positive focus arrives through the male gaze; in this case the male gaze of exploitation horror. Yet the women don't lack humanity, even empathy. Several of the actresses give rather impressive performances; more impressive than the performances need be for this sort of thing. (Among them Cyrille Iste, Magalie Aquado, a beguiling Sandrine Thoquet, and Rollin veteran Brigitte Lahaie). Unlike many other directors of chronically female-baring exploitation, the proficient Rollin seems to bring out such devoted efforts in his fairer cast members. There seems to be a performative desire to genuinely please Rollin by going an extra step or two.
On her excellent and highly informative commentary track, film historian Samm Deighan of Diabolique Magazine and editor of the book Lost Girls: The Phantasmagorical Cinema of Jean Rollin agrees with this assessment, detailing at length how the filmmaker's work is, in its own way, a bastion of strongly rendered female characters. Deighan also argues in favor of Rollin's later work, particularly Dracula's Fiancée.
***** 
Moving on to the second film of this Rollin double feature Blu-ray, we have 1989's Lost in New York– though at a mere fifty-nine minutes, it's debatable whether or not this title actually counts as a feature at all. Hazy as if shot through gauze just before the negative got flashed, Lost in New York is intended as a kind of sideways, westernized, modern day Alice in Wonderland. A fairy tale of New York, if you will. Per Rollin's own penchant for the literary and the finer arts, there is no shortage of quasi-literary pontificating and/or reminiscing, book open all the while. An older woman recalls her long ago youth, when she and another were just "two magical little girls", vibrant and adventurous.
Soon enough, the two little girls give way to two young women, aged doppelgängers, dashing about in contemporary NYC. Narrative is light-to-nonexistent, culminating on a pier with the appearance of a strange tribal black female dancer, her face adorned with war paint. Soon enough, she's stark naked and giving 110% to her athletic modern dance performance. Then she's gone… and the whole film is next to done.
Lost in New York has obviously been shot on the fly, as evidenced by the many strolling bystanders who notice Rollin's camera as they realize they've wandered into the shot. Between this factor, the nonreal-yet-real and vibe of detachment, as well as it's overall strange shambolic nature, Lost in New York unmistakably bears the personal fingerprint of a filmmaker's passion project, an un-urbane, urban heart not unlike Ralph Bakshi's 1973 animated and uncompromising Heavy Traffic. In the case of Lost in New York, it's length and sheer lack of traditional selling points (no stars, no scope, no discernible plot) and its awkward running time ensure it's obscurity, rendering it a fine bit of "added value" for something like Dracula's Fiancée. The two film's are unrelated outside of their maker, yet Rollin enthusiasts can be happy to acquire them on Blu-ray in one fell swoop. For most everyone else, Lost in New York is not particularly recommended.
*****
This double feature has arrived as something of an unexpected treat for Rollin devotees, and a gothic head-scratcher for the rest of us. It's hard to recommend Dracula's Fiancée, per se, but this Rollin newbie knows enough to back up Samm Deighan when she says that the filmmaker's intentional distortions to the shopworn Dracula story and character are uniquely fresh within its own horror microcosm. One must also agree with her, though, that for the heretofore non-enlightened, Dracula's Fiancée is not at all an ideal starting place. That said, with fine high definition transfers on both previously obscure films, it's safe to say that Dracula's Fiancée/Lost in New York is an offering that, for fans, will not lose its bloom any time soon.