Jordan Peele's Horror/Comedy Gets Under the Skin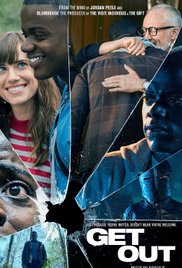 Directed by Jordan Peele
Starring Daniel Kaluuya, Allison Williams, Lil Rel Howery
Released February 24th, 2017
Rated R
Is there anything more awkward than meeting your significant other's parents for the first time? You never quite know what to say or how to behave and you feel like you're in a constant state of being judged. It can be an uncomfortable experience and in the case of Chris Washington (Daniel Kaluuya), possibly life-threatening.
Chris is an amatuer photographer who has been dating Rose Armitage (Allison Williams) for a few months, and the time has come to pilgrimage to her parent's stately manor for a long weekend of stiff conversation and clumsy pleasantries. Chris is extra apprehensive because Rose, who is white, hasn't mentioned to her parents that Chris is black.
Not unlike Django Unchained, Get Out features a bloody, violent finale that will have audiences cheering.
Rose's parents, Missy (Catherine Keener) and Dean (Bradley Whitford), welcome Chris with hugs and reassurance that, had they been able to, they would have voted for a third term for President Obama. Missy is a psychiatrist who specializes in hypnosis. She offers to hypnotize Chris to aid him in kicking his smoking habit. Chris declines. That evening at dinner, Rose's younger brother Jeremy (Caleb Landry Jones) gets drunk and tries to show off his jiu-jitsu moves on Chris, who puts a stop to it.
While at the Armitage house, Chris takes the soft racism he encounters in the stride of someone who has had similar encounters for most of his life. But after meeting the Armitage groundskeeper Walter (Marcus Henderson) and maid Georgina (Betty Gabriel), he begins to suspect something more sinister than casual racism is going on. Walter and Georgina speak in a manner that Chris has never encountered. As he tells Rose, it's not so much what they say, it's how they say it.
It turns out Rose forgot all about the annual friends and family party that her parents throw, and it just so happens it's going to be this very weekend that her and Chris have decided to come for a visit. What are the chances?
At this party Chris meets a blind art dealer named Jim (Stephen Root), who tells him he has a good eye for photography. He also meets Logan (Keith Stansfield), a young black man dating a much older white woman. Logan speaks with the same strange cadence of Walter and Georgina, until Chris takes a photo of him. The flash from Chris' phone snaps Logan out of his trance-like state. His nose bleeds and he screams at Chris, "GET OUT!" From here, the tension and terror that Chris feels grows until it's nigh unbearable.
As Chris, Daniel Kaluuya gives a star-making performance. He's a man in the mold of horror's famous Final Girls, vulnerable yet strong. Catherine Keener and Bradley Whitford are at their creepy best as Rose's parents, and Allison Williams shows she can vacillate between cute and quirky to a cold determination. You're going to come away from this movie talking about Lil Rel Howery, who is hilarious as Chris's best friend, TSA officer Rod Williams. He's going to be an audience favorite.
Get Out is the directorial debut of Jordan Peele, of the comedy duo Key and Peele. He proves himself already a skilled filmmaker, using elements of Halloween, Guess Who's Coming to Dinner, Under the Skin, The Stepford Wives, and even H. P. Lovecraft's story The Thing on the Doorstep, to create an engrossing, entertaining dark comedy.
The film has a lot to say about racism and plays with the audience's (and society's) expectations on where the story and characters will go and what will happen to them. Not unlike Django Unchained, Get Out features a bloody, violent finale that will have audiences cheering.
The comedy and horror genres have a lot in common in how they rely on audiences to react and fill in the gaps, one with laughter, the other with screams. Get Out gives you both. This is a very funny film that will also have you on the edge of your seat.