David Oyelowo, Thandie Newton and Charlize Theron cut up in Amusing Action-Comedy
DIRECTED BY NASH EDGERTON/2018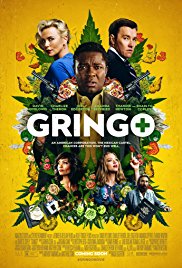 An all-star cast heads Nash Edgerton's new action-comedy crime caper, Gringo.  Like other films of this sort, there's lots of snappy lines, random humor, overly-sexualized dialogue and of course, violence.  Edgerton keeps things moving along  for what ends up being, for the most part, an entertaining trek through Mexico in a story involving pharmaceutical companies, drug cartels, mercenaries, and corporate takeovers.
David Oyelowo (Selma, Queen of Katwe, A United Kingdom) plays Harold Soyinka, a middle-management worker whose wife Bonnie, (Thandie Newton – M:I-2, Crash, The Chronicles of Riddick) and her elaborate lifestyle and failing interior decorating business with one client, are bringing down their financial outlook.  When his accountant tips him off that the company he is working for might be sold, he also finds himself worried for his job.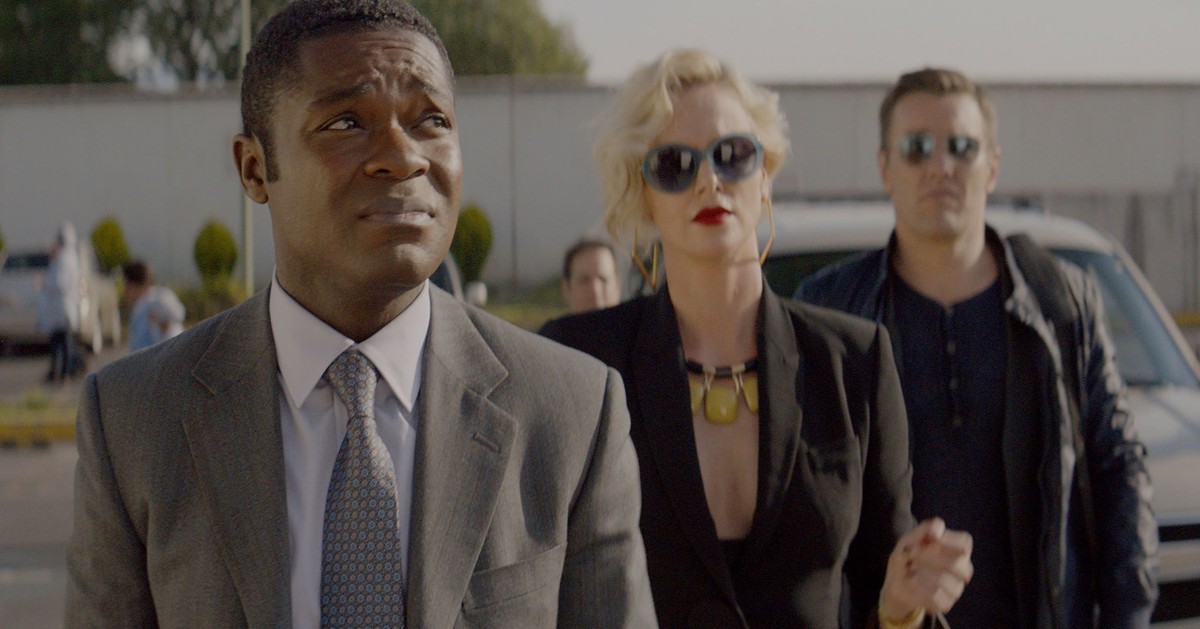 Harold is given every reassurance that his friend, and boss, Richard Rusk (Joel Edgerton – Red Sparrow, It Comes at Night, Warrior), has his back and that he'll be fine.  While Harold has always been a guy who plays by the rules without asking questions, he is starting to distrust those around him… especially Richard, who seems to have some kind of deal cooking behind his back with Elaine Markinson (Charlize Theron – Atomic Blonde, Mad Max: Fury Road, The Fate of the Furious), a fellow executive at the company. When Elaine and Richard announce to Harold that they'll be accompanying him to Mexico to look over their plant operations, he grows even more suspicious.
While this is happening, Miles (Harry Treadaway – The Lone Ranger), a down-and-out guitar shop salesman, is invited by Nelly (Paris Jackson) to do a job in Mexico for her that involves sneaking out a jar of pills from a pharmaceutical company and then trying to replicate the product's chemical make-up.  As cover, Miles brings his fellow co-worker and girlfriend, Sunny (Amanda Seyfried – Mean Girls, Les Miserables, Mama Mia!).
Once they are down in Mexico the film becomes a constant barrage of twists and turns on the same idea of 'who is going to stab who in the back'?  Can Harold trust Richard and Elaine? Can he trust his wife?  Can Elaine and Richard trust each other?  Can anyone trust the local plant manager who has been selling product off-the-books to a local drug cartel kingpin Villegas (Carlos Corona), nicknamed "The Black Panther", at the request of Elaine and Richard?  Now that they want him to stop selling to Villegas, is the plant manager safe?
On the whole, Gringo is a bit of fun, even if it is not a great film.  The cast certainly elevates things, and there is enough humor throughout to entertain.  David Oyelowo is certainly in a much different role here than the more stoic and historical figures he has played in films like Selma or A United Kingdom.  Comedy seems to suit him, and it would be interesting to see him try his hand at it more often.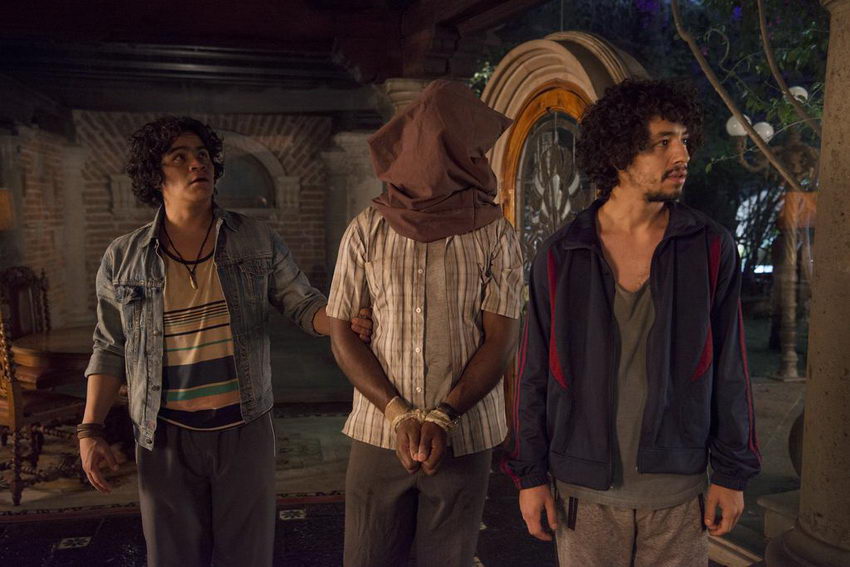 The character of Villegas has a strange running gag of asking people if Sgt. Pepper's is the best Beatles album or not, but it plays for only a couple of laughs.  The character that brings the most fun to the film is Richard's brother, Mitch (Sharlto Copley – District 9, Elysium, Chappie), a special forces mercenary who wants to be helping people in Haiti, but who has a weakness for money.
A sub-plot in which Harold begins to try and flip the tables on Elaine and Richard humorously backfires, and pits him against not only Villegas, but Mitch, Richard, Elaine, and his wife Bonnie.  It also introduces him to two well-meaning hotel owners and Sunny and Miles, with plot threads spreading out all over the place from this narrative arc.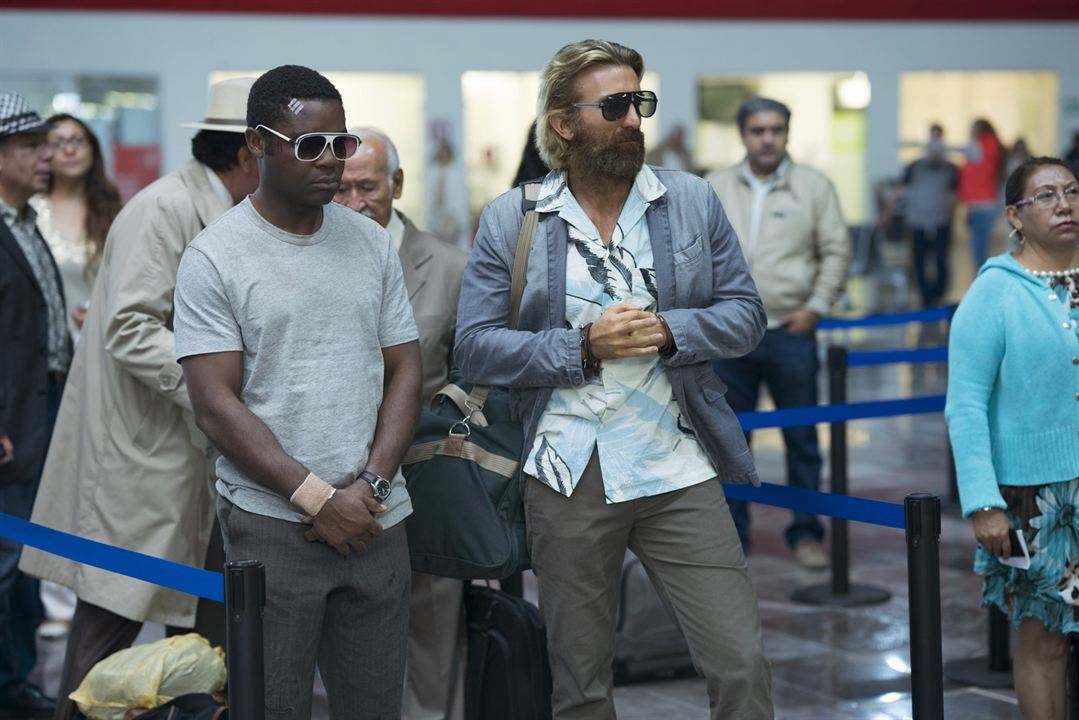 Amanda Seyfried and Thandie Newton are largely regulated to being throwaway characters in this convoluted script.  With so much going on already, there just isn't really much room to develop their characters further, but both actresses are able to elevate the parts that they do have, particularly Newton who gets a funny moment in a fat suit following a devastating turn of events for her character.
Gringo is aimed at being "adult-cool" programming to counterbalance the more family and kid-friendly fare that is out there right now, like Black Panther, Peter Rabbit and A Wrinkle in Time, and even the horror film, The Strangers: Prey at Night, with the latter two both opening up against Gringo this weekend.
Gringo may have a tough time as there are already plenty of films in current release aimed at the same target audience such as Death Wish, Annihilation, Game Night, and Joel Edgerton's other film out right now, Red Sparrow. It might play well enough with its target audience, but more than likely Gringo will get swallowed up by the over-saturation of a market with similar content, continuously dominating larger blockbusters, or simple indifference to the marketing.  Those who do see the film will have a decent enough time and a couple of laughs, but as soon as the film is over, you'll forget you ever saw it.