Lin-Manuel Miranda's Broadway Hit Combines the Best of Musicals Old and New
DIRECTOR: JON M. CHU/2021
Movie theatres are back, baby! And so are musicals?
If the 2010s were the decade of the superhero movie, they were very much not the decade of the musical movie. We saw adaptations of big Broadway shows (Cats, Into the Woods, Les Misérables, The Prom), but quality varied wildly. John Carney made two lovely original films (Begin Again, Sing Street), but they made little splash outside festivals and critics' lists. Only Disney chugged along as per usual with its family-friendly fare, making standouts like Moana, Mary Poppins Returns, and Frozen, which transcended the studio to become a cultural phenomenon.
But Disney wasn't the most important music/movie crossover of the last decade—that honor goes to the non-fiction sector, which saw an explosion of concert films and music documentaries. Social media created a new precedent of intimacy with our favorite musicians—one of the reasons I first joined Twitter—and smart phones made it easy to document every behind-the-scenes moment. In a weird pandemic twist, Taylor Swift released more films in 2020 than Marvel did.
If there's any movie that could revive this genre, In the Heights is one of our best bets.
Meanwhile studios tried to ape that success in feature films, abandoning original screen musicals in favor of jukebox musicals filled with pre-established hits. Biopics about major music icons made big at the box office and won Oscars (Bohemian Rhapsody, Judy, Rocketman, Straight Outta Compton). Pitch Perfect and EuroVision remixed Billboard chart toppers, and Sing enlisted celebrity talent to do the same for kids. Mamma Mia!: Here We Go Again and Yesterday created stories from the catalogs of ABBA and The Beatles, and Baby Driver and Guardians of the Galaxy compiled popular soundtracks to support their storytelling. And remember when Last Christmas found a George Michael angle to a holiday rom-com? Even TV has tried to play this game, reviving live productions of pop musicals (like Grease and The Little Mermaid) and premiering Zoey's Extraordinary Playlist, a jukebox series in the style of Glee.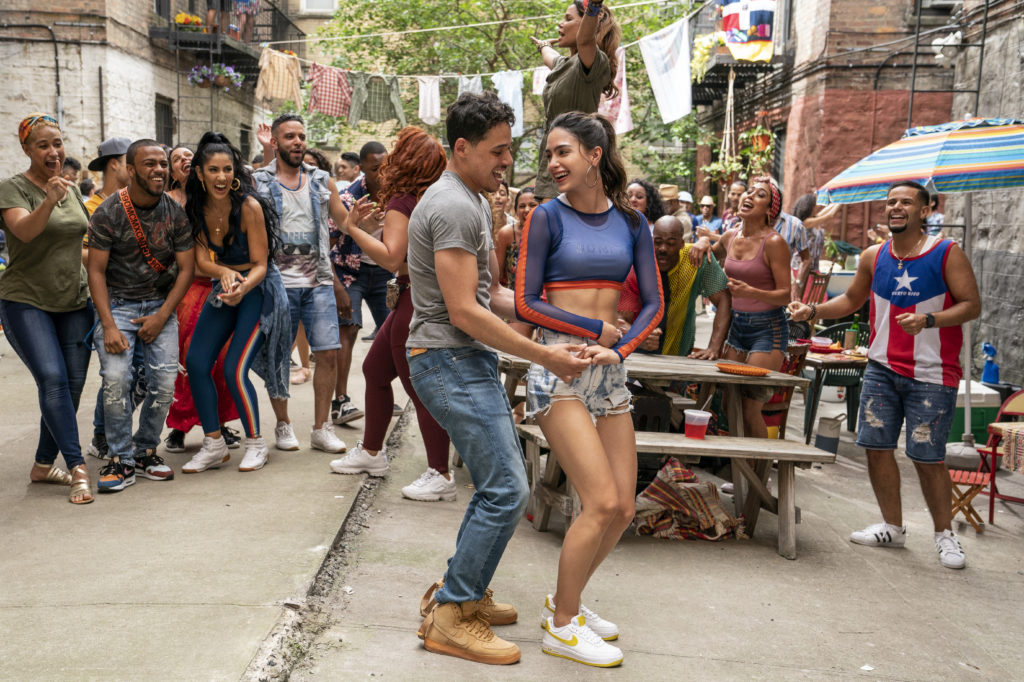 I can think of only three exceptions to this trend: The Greatest Showman, La La Land, and A Star Is Born. All featured original songs (with their soundtracks charting), made box office moolah (between $151 and $215 million domestically), and earned Oscar love (from 1 nom for Showman to 6 wins for La La Land). And if they weren't enough proof there's an audience for this genre, let's not forget one other little title: Hamilton. Lin-Manuel Miranda has become a patron saint for the art form after refreshing Broadway for the next generation with his historical rap opera, not to mention his work involvement with Mary Poppins Returns and Moana. With his earlier work In the Heights, can he do the same for movie musicals?
Without the familiar melodies of a jukebox musical or a roster of A-listers, In the Heights feels risky in our cinematic moment, especially in this new era of simultaneous streaming and theatrical runs muddying how we define a hit. But creatively, every risk pays off, from the memorable songs audiences will want to listen to over and over to the cast selected for talent instead of just their names. (I love Meryl Streep, but I'd be perfectly content if I never saw her in another musical again.) It begins with a killer seven-minute establishing/"I Want" song introducing us to all of our characters and this world's magical realism. From there, director Jon M. Chu and team never lose control over the story, paying homage to classic movie musicals while still feeling modern. The song "96,000" takes inspiration from Busby Berkeley in its public pool setting while characters imagine how winning the lottery would help their gentrifying neighborhood. "Carnaval Del Barrio" echoes West Side Story's "America" with its back-and-forth discussion of the pros and cons of immigrating to the U.S. The staging of "When the Sun Goes Down" mirrors Fred Astaire's ceiling dance in Royal Wedding, but while the '50s musical capped its conflict at romance, these characters spend the film discussing immigration reform and racial profiling. (It is worth noting some have criticized the film for inaccurately portraying the diversity of the Washington Heights neighborhood.) In the Heights fits right in with the tradition of those great movie musicals, even more than La La Land, which skimped on the song-and-dance, and A Star Is Born, which steeped its performances in realism.
Like those original movie musicals, In the Heights does not feel like someone just set up a camera in front of a play. A stage could never hold a cast this size or set pieces at this scale, nor could you make so much world- and character-building detail clear to a crowd holding playbills. There is so much moviemaking expertise in its storytelling Heights already feels like a frontrunner in almost every eligible category at the Oscars, including Best Picture, Director, Editing, and Adapted Screenplay. Best Costume, Makeup/Hairstyling, and Production Design usually favor period films, but they're integral to a film tied to its setting filled with so many characters. Sound? A gimme for musicals. Heck, let's go ahead and add Cinematography and even Visual Effects to the list of noms because Heights is worth seeing on the biggest screen possible, even if you're an HBO Max subscriber. Ironically, its least competitive categories might be Original Score and Song since the only song not featured on Broadway plays over the credits.
As for the cast? Just wow. While many faces are relatively fresh or unknown, there's not a weak link to be found. For Best Supporting Actress, let's nominate Olga Merediz, whose Abuela sneaks out from the shadows to steal the movie with her solo "Pacencia y Fe." Before this summer Anthony Ramos was best known for his multiple roles in Hamilton, but I hope he'll be known in the future for his sweet, awkward, hilarious, passionate turn as Usnavi—that is, until his leading man charisma brings him another part that makes me run out of adjectives. And while Jimmy Smits has a decade's worth of Emmy noms, let's not take him fo granted. He's a performer I'm always glad to see, and he makes his character a conflicted father and neighbor instead of a villain in an angsty '80s teen dramedy.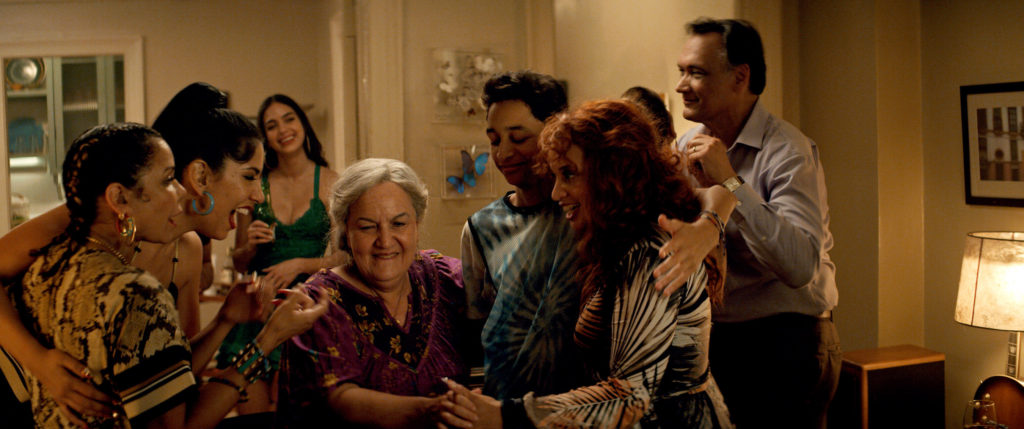 If there's any movie that could revive this genre, Heights is one of our best bets. After a decade of watching the genre flail (even as music documentaries flourish), the translation of a Broadway play to a screen is no sure bet, even if it does come from the guys who brought you Hamilton and Crazy Rich Asians (details the advertising turned into a repetitive chorus). But In the Heights is not an anomaly in 2021. This month the Adam Driver/Marion Cotillard musical Annette opens the Cannes Film Festival. In August, Jennifer Hudson returns to the big screen to play Aretha Franklin in a musical biopic. In September, we'll see a new version of Cinderella featuring a mix of original and existing pop music, as well as a film version of the Broadway hit Dear Evan Hansen. We should see Lin-Manuel Miranda's film directorial debut sometime this fall with the musical tick, tick…BOOM!, and then we finish 2021 with Steven Spielberg's long-awaited remake of West Side Story. Depending on how audiences respond, a movie like In the Heights might look like less of a risk even by this time next year. Here's hoping it's marking the beginning of a new era, one reaching new heights for movie musicals.