A Personal Redemption Story for One Man, and Hopefully the Entire Modern Music Industry
Director: JOHN CARNEY/2014
Mark Ruffalo is Dan, a washed up alcoholic who formally was one of the best A&R men in the music business.  Dan is in a downward spiral. He has moved out of his house, has a strained relationship with his ex-wife and daughter, and is throwing away the music empire he helped to build.  When he mistakenly, and drunkenly, walks into a New York pub, he hears the voice of British singer/songwriter Greta (played by Keira Knightley) who is all but being ignored by the audience.  They are unable to hear what the song could be and treat it simply as white noise, acting as a soundtrack to their rudely audible conversations.  But Dan hears with a producer's ear.  The strings. The piano.  That moment when the drum crash should come in.  He wants to produce her.  She just wants to leave New York, and head back home, when she finds out that her boyfriend of 5 years, an up and coming musician played by Adam Levine of Maroon 5, has been cheating on her while on the road promoting his new record deal.  And so, two hurt and wounded souls begin a journey to make great music and find healing, trying, to Begin Again.
Now while this plot is fairly simple and brings in the traditional elements of redemption with sub-plots involving Dan and the need to reconnect with his wife and daughter, or to find redemption as a music producer making the huge discovery of Greta, it also has many more layers.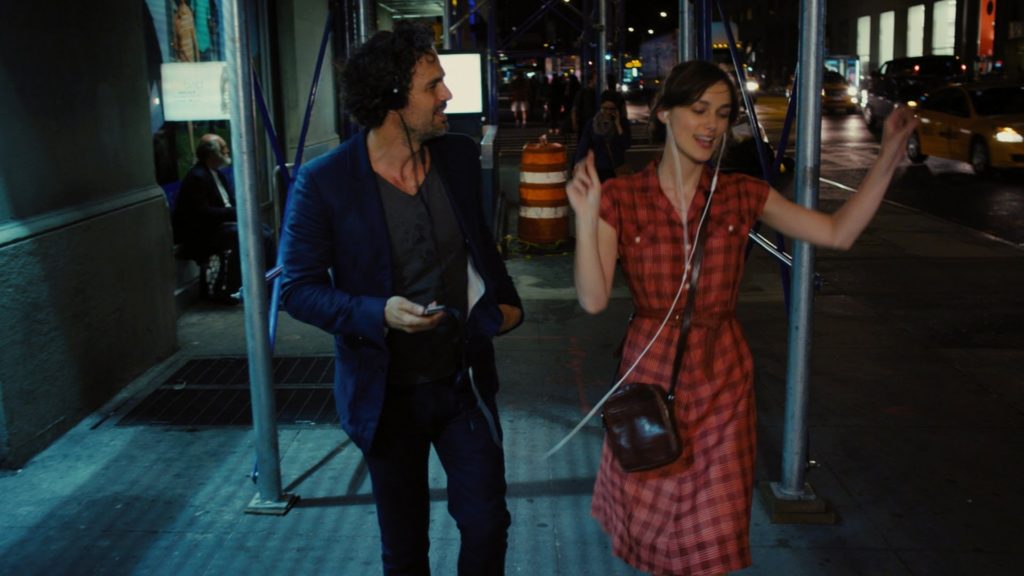 Normally, any movie with Keira Knightley is automatically suspect as being a hidden romance film given her beauty and ability to fit that role in the past.  And we get glimpses that director John Carney might actually take that road.  Thankfully, he does not and instead the real romance in the film is that of the characters and their love for pure art, and music that transcends.
In fact, the whole film could really be a larger statement on today's soulless music industry and their need to pursue style over substance.  We are treated to a walk around New York by Dan and Greta as they listen to each other's iPod playlist seeking to connect to each other's guilty pleasures.  Despite their age difference, they find that their taste in music gravitates to the standards and classics that have stood the test of time.  Their playlists are the substance that style has been trumping.  The soundtrack to this film is a good one as well, and helps showcase the substantive songs of the past with an eye on bringing back such a creative heyday.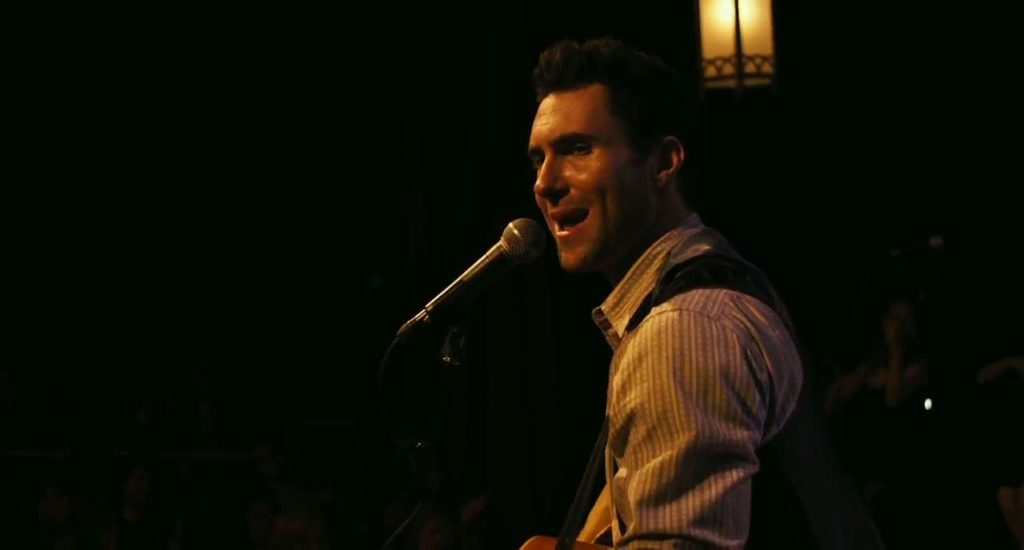 What is more ironic about this larger statement of the current state of music, is that you have two current musical talents that are the epitome of today's soulless music industry, who are playing lead roles that showcase this point.  Adam Levine, of the popular band Maroon 5 and NBC's hit show The Voice, plays Dave, the current flavor of the month who is always looking to sell out his passion for creating good art in order to be liked and accepted by the fans and the industry itself. We get a sense of Dave's talent (and Levine's) in some key moments, but he is constantly challenged by the purity of Greta's vision of what makes true art happen.  Its not in the gimmicks, fresh arrangements and remixes.  It's clearly communicating the emotion and substance behind the song and sharing that with others who can connect their own story to it.
Also featured is Cee Lo Green, another member of The Voice.  Here Cee Lo plays a popular rap artist, but is more of a good guy in that he looks to help Dan and Greta, playing the moral conscience of the music industry when he admonishes us (and them) to never forget what made him successful.  Today's industry has all but closed the door on what has come before and quickly chews up any artist that no longer serves an immediate image-driven purpose.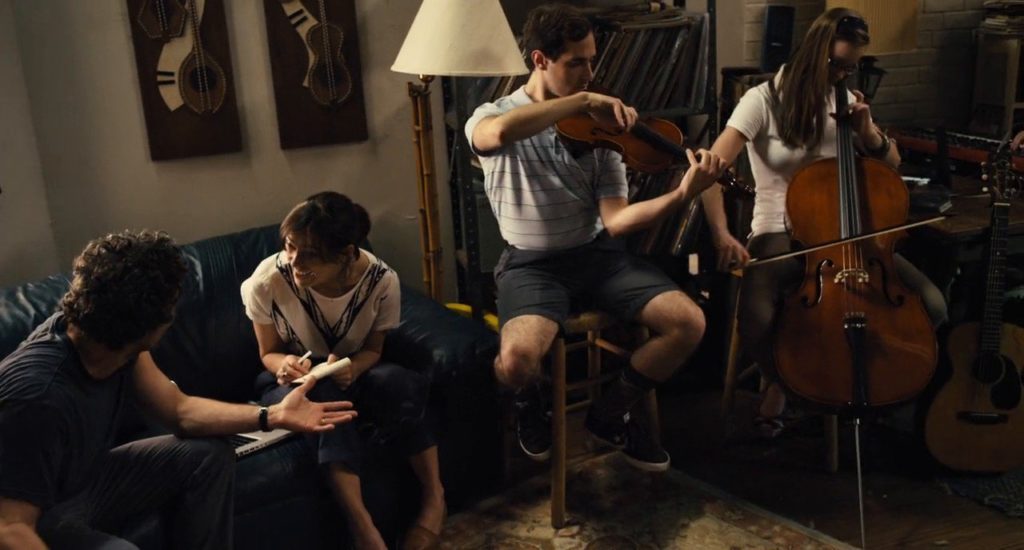 John Carney delivers the film with an eye on a feel-good ending which seems a bit formulaic, but he is able to faithfully deliver it without compromising the authenticity message he is preaching through Dave and Greta's pursuit of making a great album and music that matters.  The musicians that surround Knightley in her make-shift band in New York serve as another lesson on the value of many types of genres of music.  Mos Def makes a welcomed appearance as well, as a man who has gone from passionate industry outsider, to codified, polished insider looking to maintain his lifestyle rather than the continue the pursuit of good artists. Catherine Keener is a solid cast in the role of Dan's ex-wife Miriam.
Begin Again will entertain, but sadly, it will more than likely be lost amidst the pre-fabricated sequel machine of the studio releases in the theaters around them.  But the lessons of this film, albeit in the music industry, is a message for the film industry, that produced this film, as well.  It is also a message to a whole new generation of music listeners that it is possible to turn off the predigested drivel that finds itself to today's modern radio, and instead embrace authenticity, passion, and quality musicianship and songwriting.  And it is for that message alone, that Begin Again is a film worth seeing.