The Front Row Seat to the Broadway Show You've Been Waiting For
Before reading this, there's something you should know: I have never seen Hamilton on stage. I've attempted the lottery and been tempted to drop a chunk of change for it, but neither my luck nor my bank account has been on my side. When I finally found (more) reasonably priced season tickets at a theatre with Hamilton in the lineup, COVID-19 hit two months before opening night. While it seems I threw away my shot to see it in at least until 2021, I have been listening to the soundtrack for years, and for those of you like me with cancelled shows and melodies stuck in your heads, this Hamilton production on Disney+ is the ticket you've been waiting for.
For those of you not acquainted—we don't judge here, but we do have questions—the Broadway rap opera tells the story of Alexander Hamilton (Lin-Manuel Miranda), the $10 Founding Father. He starts at the bottom of New York society, a penniless, orphaned immigrant whose intelligence and conviction help win the Revolutionary War and design the United States government. He and his closest friends—John Laurens (Anthony Ramos), Hercules Mulligan (Okieriete Onaodowan), and the Marquis de Lafayette (Daveed Diggs)—rise the ranks; he serves in the military and as Secretary of the Treasury for George Washington (Christopher Jackson); and he battles with Thomas Jefferson (also Diggs) and James Madison (Onaodowan) for influence over the shape of the new nation. He marries into the posh Schuyler family, and he and his wife Eliza (Phillipa Soo) raise a son (Ramos). But Hamilton's fear of an unimportant life isn't his only shadow—Aaron Burr (Leslie Odom Jr.) is right at his side, competing for the same roles and reputations. Their lives intertwine until one fateful duel, and this play seems destined to intertwine with our memory of both of their stories.
I realize there's a big asterisk with this declaration, but this recording is the best new movie I've watched this year. (If you contend it's not a movie, I challenge you to watch some movies from before 1934 and convince me they're not just stage plays with a camera.) Even if "The Schuyler Sisters" was your top Spotify track in 2017 (guilty!), it's not the same as seeing Soo, Renée Elise Goldsberry, and Jasmine Cephas Jones perform it with their full power. The many plot threads feel clearer and more connected when you see where each individual voice chimes in—call me as clueless as Charles Lee (John Rua), but I hadn't realized several actors play more than one role. On the soundtrack, solos and rap battles get the most attention, but on stage each character has a greater presence because we can see them in the chorus the rest of the time. And now I understand why Jonathan Groff earned a Tony nom for his nine minutes of stage time—King George is hilarious with vocals, but he's in command with an audience.
Hamilton has become one of the brightest spots of my quarantined summer, both as a lover of the stage and of the screen.
Hamilton has always been praised for its wordplay and innovative musical themes, but the production gives careful attention to its set and choreography, even if they're not as showy. The set is stark, with only props serving as the way to change the locale. The choreography won't wow you like a Gene Kelly tap dance, but the dancers create battle scenes and a hurricane you wouldn't imagine otherwise. Plot-heavy tracks I frequently skip (sorry, "Farmer Refuted") come alive, and every scene feels crowded with the energy of 21 moving bodies. You also can't enjoy the comedic relief that is Thomas Jefferson without seeing Diggs gyrate his body in pompous glee, perhaps the funniest historical liberty in this 160-minute pursuit of happiness.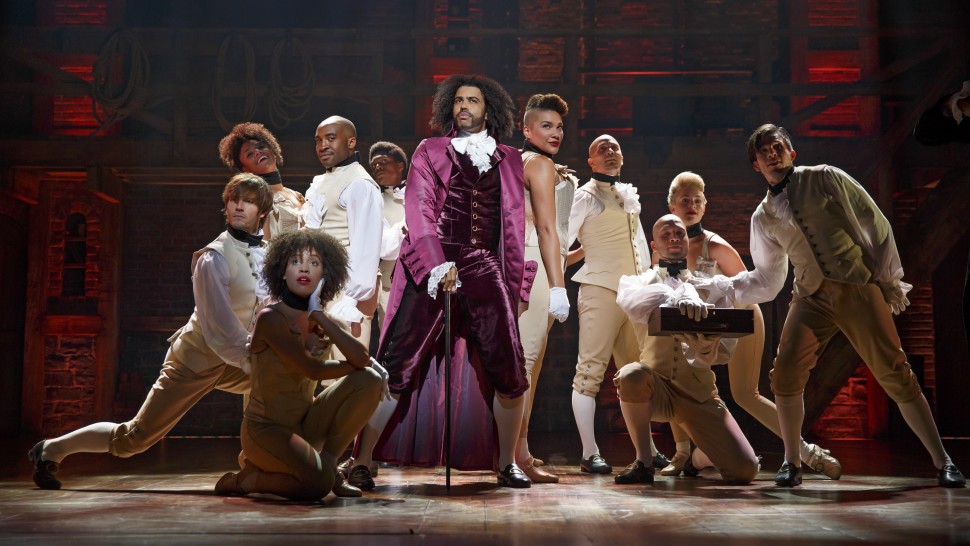 If that seems long, remember 4 of Christopher Nolan's last 5 features clock in within a 12-minute difference, and his movies don't come with intermissions. But for a more apt comparison, just think of a four-episode binge of The West Wing, an afternoon you may have already chosen several times. The connection between the word-dense political dramas is both intentional and well-documented, and Hamilton has the added bonus of completing its story arc in that time. At a pace of 144 words a minute, it bests even Aaron Sorkin's efforts by more than 20 words a minute. For that reason, if you aren't already familiar with the show, you may consider putting on subtitles to keep up with the speedy wordsmithing, though another bonus of watching at home is the performers will never know if you do a quick Google search to brush up on your history. You could also listen beforehand since the album mix puts the most emphasis on the vocals while the film balances them with the music and sound effects.
Hamilton has become one of the brightest spots of my quarantined summer, both as a lover of the stage and of the screen. The storytelling is the richest and most focused I've watched in 2020, and the multi-cam direction doesn't let you feel like you're missing anything on stage. That said, I'll still be lining up to see it at a theatre once they reopen—while I have to rely on Burr's word for this one, I'm sure it's not the same as being in the room where it happens.