The Maestro of Hundreds of Dynamic Film Scores, 1928-2020.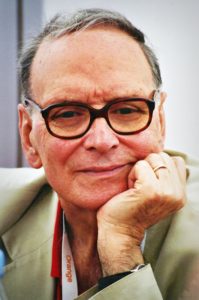 Possibles. This was the grand lesson of Ennio Morricone.
Years ago, a singer/songwriter friend of mine was looking for ways to pep up his latest work. Not being a musician myself, I started to think on his behalf of musicians who operate outside of the box. I suggested he check out the film scores of Ennio Morricone.
Blank stare.
A few CD swaps and film viewings later, the reasoning behind my mentioning of Morricone was thankfully making some sense. My point, if perhaps too broad in retrospect, was that Morricone's work is indicative of embracing bold external possibilities. Things that wouldn't even register in the thought process of most any other musician. Although Morricone scored over 500 films in his long career, his sound is unmistakable. This is partially for his unique but always motivated implementations of non-musical and unconventional instruments in his highly dynamic work.
As the Hollywood Reporter put in their obituary, "The composer loved the sound of the electric guitar and the Jew's harp and employed whistles, church bells, whips, coyote howls, chirping birds, ticking clocks, gunshots and women's voices to add textures to scores not associated with the typical studio arrangement".
ZekeFilm's Paul Hibbard has this to say:
"Obviously The Good, The Bad and The Ugly is a masterpiece, but want to take a moment to just talk about Morricone's iconic score. The music always felt like an extension of the characters. Much in the way you had ruthless characters who would use anything as a weapon, the music also freely and widely picked from any sounds. It almost felt like a character on the ground grabbing for a rock or anything to win.
You had traditional instruments like the flute mixed in with more nontraditional instruments like the arghilofono (ocarina). But he also used human screaming, whistling and gunfire to add to the rhythm. He said he wanted the music to sound like two coyotes fighting, and at that he succeeded, as it was as chaotic and beautiful as the movie, and without that score, this movie would not be the same.
RIP Ennio Morricone"
*****
Morricone scored almost all of Sergio Leone's other films, as well. Among them are what he considered their pinnacle, Once Upon a Time in America, and what I think of as his most beautiful score, Once Upon a Time in the West. Outside of the Leone oeuvre, many consider his work on Roland Joffé's 1986 film The Mission to get his finest. Still others go for Giuseppe Tornatore's Cinema Paradiso. And then there's the highly justified contingency of fans of the Italian horror and exploitation titles that make up so much of his resume.
This rattling-off of titles is by no means intended nor able to be extensive. If I may, though I'll take this moment to suggest a couple of his oft-overlooked "Hollywood" scores, Brian De Palma's The Untouchables and Oliver Stone's U Turn. Those just happen to spring to mind in this moment. There's plenty more where they came from. Of course, it must be mentioned that after a ridiculous number of victory-free Oscar nominations, Morricone finally won Best Original Score in 2016 for Quentin Tarantino's The Hateful Eight.
In any case, with so much distinct work left behind, film viewers can look forward to plenty more years of discovering Morricone's name in the credits. And with that, the spark of creative possibility ignites anew, every time.