Still Falls the Rain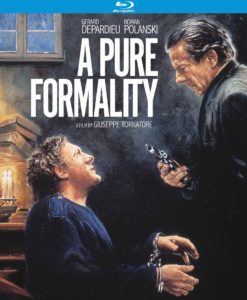 Directed by Giuseppe Tornatore
Starring Gerard Depardieu, Roman Polanski, Sergio Rubini
Released May 18th, 1994
Rated PG-13
A bloody shirt. A bad attitude. No identification. This is the state of a man (Gerard Depardieu) the police find disheveled and running frantically through the woods in the rain. They take him to an isolated farmhouse police station, where he learns a murder has recently taken place, and he may be a suspect. Trouble is, he's having a hard time remembering anything at all.
To say the station is in disrepair would be a gross understatement. Water leaks from the neglected ceiling in a seemingly continuous flow. The officers seem used to it. Our man begins to regain his memory, claiming to be a writer named Onoff. Soon the Inspector (Roman Polanski) arrives, a short man in a nice suit, soft spoken and reassuring to Onoff that he will be able to leave after answering a few questions. This, of course, is not the case.
For what is primarily a two-person show, A Pure Formality boasts very strong performances. Most of the film revolves around Onoff and the Inspector. Depardieu is compelling as the captured, and Polanski politely menacing as the captor.
A hard drinking writer who may be involved in a murder is always a good set up for a story, but this isn't your standard whodunit. A Pure Formality asks us to examine how we see ourselves and asks if we like what we see. In the opening POV scenes, the audience is Onoff, trying to escape something awful. We don't trust Onoff because we don't trust ourselves.
For a film that is basically one long conversation, it has an otherworldly quality, thanks to the memorable farmhouse set and Ennio Morricone's haunting score. Morricone places violins front and center, a delicate pillow to cradle the tense conversation. Directed, edited, and co-written by Giuseppe Tornatore, the filmmaker behind the extraordinary Cinema Paradiso, the screenplay boasts many memorable lines, including:
He would have been an excellent writer, if only he'd stuck to scenery.
I'll follow your advice and keep quiet.
You don't write because you have an idea, but because you can't do anything else.
The conclusion is arguably the weakest element, as it is easily guessed and not very satisfying. Still, I find a lot to enjoy about this film and have watched it a handful of times over the years. The Kino Lorber Blu-ray features a crisp picture, film trailers, and a new commentary by journalist Bryan Reesman.