Catching up With the Dancing Director's Musical and Not-so-Musical Major Career
When you talk about Stanley Donen, it's hard not to talk about musicals, and not just because musicals make more than 40% of his directing canon.  Seven Brides for Seven Brothers, Funny Face, The Pajama Game, Damn Yankees, Royal Wedding— maybe you've heard of a few these? Oh, and let's not forget the crème de la crème, Singin' in the Rain, which you've probably heard one person or another say is the greatest musical ever made. With a directorial debut like On the Town, it's no surprise he went on to become a legend in the genre.  
What that doesn't tell you: Stanley Donen was also an accomplished director of dramas and comedies, including Charade, Two for the Road, and Indiscreet. (Okay, and Blame It on Rio, which may be called many things, but few would say "accomplished.") The only Oscar with his name on it may have been honorary (see his acceptance speech below), but his films earned a combined 2 wins and an additional 18 nominations, including 10 in technical, story, and performance categories, as well as one for Best Picture. His skill can't just be judged on a musical scale.
Across the best of his films, there's a certain Donen je ne sais quoi. You might call it a light touch or breeziness
When you talk about Stanley Donen, it's also hard not to talk about Gene Kelly. Their careers were joined at their swiveling hips for 15 years. Kelly got him to Hollywood, and they ended up co-directing three films and co-choreographing four more. They both married dancer Jeanne Coyne, too, but that seems like a story for another day.
What that doesn't tell you: Donen worked with practically every major film star of a generation. Fred Astaire, Ingrid Bergman, Cyd Charisse, Rosemary Clooney, Doris Day, Cary Grant, Rex Harrison, Audrey Hepburn, Howard Keel, Deborah Kerr, Sophia Loren, Jayne Mansfield, Liza Minnelli, Peter O'Toole, Gregory Peck, Debbie Reynolds, Frank Sinatra, Elizabeth Taylor, and Gene Wilder all graced his reels, many more than once.
And across the best of his films, there's a certain Donen je ne sais quoi. You might call it a light touch or breeziness—Jim Tudor describes it as "airiness." Across the eight films of his I've watched, I've seen it in his characters' dry wit, in their simple but sharp dialogue as they bicker or flirt (sometimes both at once). I've seen it in his long takes that let his actors (particularly, his dancers) show off. It's in the way the plot wraps up to tie all emotional loose ends together, even if the audience still has questions after the film ends. While not every one has aged well, the good ones are timeless. These are a few of those films you may want to catch.
P.S. If you leave near any Marcus Theatres, they are showing Charade (1963) on October 7, 8, and 10. I recommend you catch this one—we might even see each other as we take our seats!
– Taylor Blake 
Royal Wedding
1951, MGM, dir. Stanley Donen
by Taylor Blake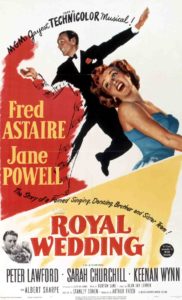 For those of you who woke up early to watch Harry and Meghan's big day in May, Royal Wedding may just be your cup of Earl Grey. 
Fred Astaire and Jane Powell play Tom and Ellen Bowen, a brother and sister song-and-dance duo. They cross the Pond to perform in the tourist season leading up to the wedding of Princess Elizabeth and Philip, the Duke of Edinburgh. Both are hopeless flirts (fortunately, not with each other), and they both dread the idea of the old ball and chain. Oh, the irony! You can guess if the setting won't melt their cynical hearts, the musical genre would be enough to do that before the final notes swell. It helps that an English Lord John (Peter Lawford) is wooing Ellen and that Tom has found chemistry with another dancer in the show, Anne (Sarah Churchill.) 
In case you couldn't tell, Royal Wedding isn't the kind of movie you watch for the plot. (If you're hoping for a bonus episode of The Crown, you'll be disappointed.) But when Fred Astaire is as charming as ever and the dance numbers are so innovative, it doesn't really matter. Every routine is out-of-the-box in some fashion: Tom dances with a coat rack in one scene, he and Ellen attempt to keep their balance on a swaying ship in another. The most impressive, though, is inside the box—a rotating box, to put it literally. When Tom sings of his love for Anne in "You're All the World to Me," he taps `up and down the walls and across the ceiling. It was so memorable Donen went on to recreate this same trick at a much faster pace for Lionel Richie's "Dancing on the Ceiling" video.
Every choreographed movie is used for storytelling, and every musical number reflects the same theme: Our characters are out of sync with the world around them. Even the songs that exist in Tom and Ellen's show fit this bill: They're stifled by the hot summer weather, they play characters in a foreign country, or they depict a fractured romantic relationship. The script is too thin to support that same level of depth, but the dances earn your full attention, confirming your suspicions that yes, in fact, Fred Astaire is a very good dancer.
Royal Wedding also feels timely because it captures the fervor and fever both Brits and Americans practice when the House of Windsor celebrates any major milestone. (Fun facts for you other Anglophiles: Some of the wedding day footage was shot during the real royal wedding, and actress Sarah Churchill is none other than the daughter of a certain Prime Minister.) And because those dance sequences elevate everything else in the movie, it's easy to overlook the predictable story and that Astaire is three decades older than his screen sister. Though it's not worth waking up early for, Royal Wedding is another worthy, romantic excuse to whip up another batch of scones.
Indiscreet
1958, Warner Bros., dir. Stanley Donen
by Jeffrey Knight
Indiscreet's central conceit is… well, it's really stupid. It's hard to imagine that any socially adept human thought it up and then said: "Yeah, that's good!" But the story is hardly the point here. Based on the stage play "Kind Sir", the movie did quite well. It's not that when Norman Krasna adapted his play for the big screen he changed very much- aside from moving the central location from New York to London. No, the biggest factor in the movie's success is that Stanley Donen produced and directed it.  He then got Cary Grant and Ingrid Bergman to star in it.
The movie's story concerns Anna Kalman, a famous actress played by Bergman. Anna is in the dumps because a recent love affair did not work out, and she's despairing of ever finding a man to marry. But then who should come into her life but economic expert Philip Adams! An economic expert doesn't sound like the most glamorous sort, but luckily he's played by Cary Grant! That's good! But Adams wants to take a job in Mexico, far away from London! That's bad. But he decides to take a position with NATO in Paris! That's good! But- and here's the real kicker- he's married! (That's bad.)
Adams doesn't hide his marital status- he declares it right at the outset when Anna asks him to go with her to the ballet. But Anna and Phillip are so taken with one another that they won't let that stand in their way. They begin a relationship, with Adams flying into London to see her so often, he's on a first name basis with customs. Now for this relationship to have any sort of future, something's going to have to give, and indeed it does. You see, it turns out that- get this!- Adams is not really married! He just tells women he is so that they won't pressure him into marriage- which is icky (50's sexual politics is weird)! When Anna discovers the truth, she's furious that Phillip has been lying to her and she plots her revenge.
The actual plot machinations in Indiscreet take up a very small chunk of its 100-minute run time. The rest of the movie has Cary Grant and Ingrid Bergman being very attractive and charming with one another- and there, dear reader, is the true secret to the movie's success. Kids these days might not know this, but Cary Grant and Ingrid Bergman were both hella attractive and hella charming. Watch Grant do his jig during the ball in the third act. For all his debonair sophistication, Archie Leach is still a cockney vaudevillian winning the crowd over whichever way he can. Spending 100 minutes in their company- even when they're saddled with material this juvenile- is 100 minutes well spent. They both belong to the blue supergiant class of star, a sort very rarely seen anymore these days. 
And Donen takes these two and puts them on screen in sets and fashions photographed in dazzling technicolor (love, love, love Anna's apartment, decorated with prints framed in candy-colored mats). They could be reading the phone book, and we'd watch enraptured. Happily, Donen has more wit than the material he's working with. Witness the split screen he uses to get around old Hollywood production codes. He creates the illusion that Grant and Bergman are *gasp* sharing the same bed! Donen even makes it look like Grant gives Bergman a playful slap on her rear. 
I hadn't heard of Indiscreet before ZekeFilm announced Donen as this month's topic. I had already seen several of his biggest films, and Saturn 3 was already claimed. But Indiscreet jumped out at me merely because Grant and Bergman were on the poster. Indiscreet delivered perfectly on that promise. It's a silly, slight piece of what would otherwise be a forgettable film, if not for the charisma of its stars and its playful souciance of director/producer Donen.
Two for the Road
1967, Stanley Donen Films, dir. Stanley Donen
by Jim Tudor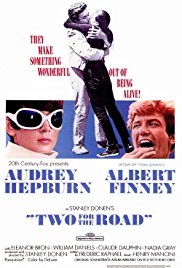 Misplaced passports give way to a comical run of cars rolling off the road and people winding up in the water.  The party primarily involved in these laughable escapades are Audrey Hepburn and Albert Finney, the stars of this dramatic-comedy from director Stanley Donen.  Two for the Road, though, is not all wacky shenanigans; in fact, what wacky shenanigans there are play as part of the main characters' meet-cute, or make-up-cutes.  
Two for the Road looks great in its CinemaScope presentation, spooling out over picturesque European locales.  In fact, Albert Finney's character, an architect studying buildings, actually snaps a few pictures of his own.  But truly, the focus he and Hepburn's character's relationship ups and downs.  They meet on the road, and then proceed to find each other irresistible on the road.  Although years pass as they are married and become parents, it all plays out on screen, indeed on the road (lite metaphor, anyone?), in the south of France.  Clearly, these people are drawn to the area.  And who could blame them?
Told in a bold non-linear style, cleverly hoping across multiple time periods (delineated primarily via hairstyles, wardrobe and demeanor) credit for much of the film's success must go to screenwriter Frederic Raphael, who would go on to write the not-dissimilar Eyes Wide Shut for that other moviemaking Stanley, Stanley Kubrick, decades later.  Two for the Road hops about from year to year, demonstrating the full arc of the central relationship plus several other dynamic moments that bear inclusion.  With its very 1960s rhythms, cutting, occasional obtrusive telephoto zooms, and top-notch Henry Mancini score, Two for the Road is forever firmly nestled in its own distinct kinda-dreamy time and place.
Without the benefit of having examined Stanley Donen's complete filmography, Two for the Road nevertheless strikes this critic as a boldly transitional film for the director.  Hepburn (back for a Donen return engagement following the greatness that is 1962's Hitchcock-in put-on, Charade) and Finney (commanding, to say the least) evokes a certain Seberg/Belmondo vibe; just one of several elements signaling the unmistakable influence of the French New Wave on Two for the Road.  Donen's interest in sex and relationships would be far from new for moviegoers of the time, but with this film, there's an unexpectedly mature, even frank, quality about it, manifesting as underlying melancholy- even in the good times.  So many future serious Donen endeavors seem to lack something, be it satisfaction, authenticity, or plain old magnetism.  Two for the Road manages all of it, making it a good one to finally catch up with.
Saturn 3
1980, ITC Films, dir. Stanley Donen
by Robert Hornak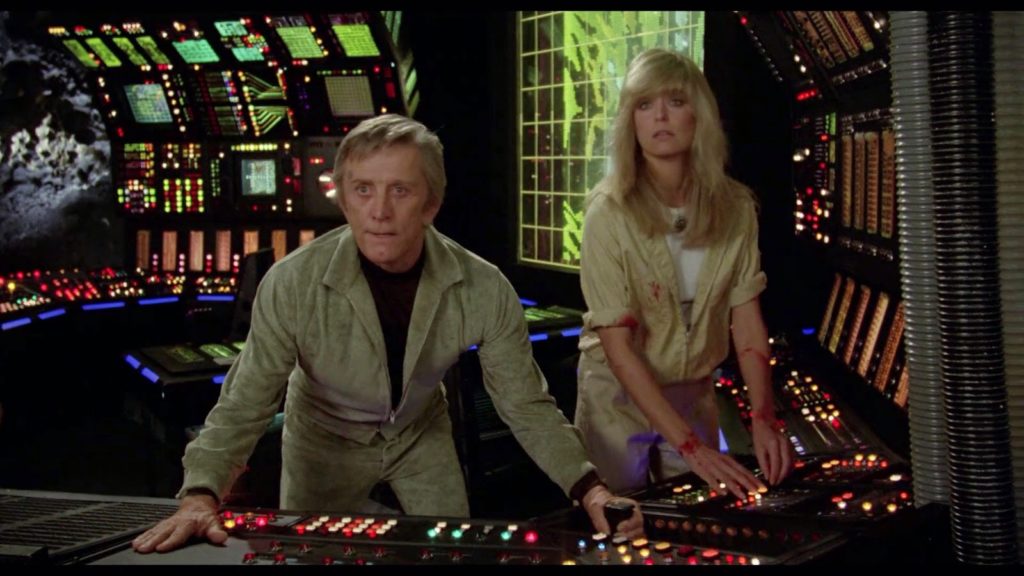 Donen was hitting the rock bottom of his career when he was tasked to produce this torpid little clunker of a sci-fi.  He's wildly far-flung from his glittery, romantic wheelhouse, but he's not alone – everyone here seems pretty far from home. Sixty-three-year-old Kirk Douglas is shacking up with Farrah Fawcett at a barren hydroponic research station on one of Saturn's moons, their mission to provide dying Earth with food – though their culinary experiments are never shown, we're at least privy to what they're cooking up in the sleep chamber… Until their Eden-like bliss is squelched by the arrival of a bureaucratic serpent, played by Harvey Keitel, sporting the dubbed English accent of character actor Roy Dotrice, and wielding an 8-foot robot named Hector, whose actions eventually become an extension of Keitel's not-quite-concealed lust for Fawcett.
Everything that follows is decidedly intended for adults, with its brief but bold nudity (and not just Fawcett, either – we get a fairly long study of Douglas's own bright moon), its bizarre brutality (Keitel's hand gets lopped off a full six months before The Empire Strikes Back; Hector eventually melds with slain Keitel by wearing his face), and its through-line of overtly sexual motivations. But the depth of it all remains unexplored in Donen's hands, never really moving past beat-sheet simplicity and meager soap opera, despite Keitel's glare and Kirk's clenched teeth. The breezy tone of Donen's main body of work is flipped for a strange, late-career foray into dark but slumming intergalactic machismo.
But it may not be entirely Donen's fault. The film's director was to be first-timer John Barry – not the famous composer of the James Bond theme, but the not-so-famous production designer of A Clockwork Orange, Star Wars, and Superman – but Douglas had him tossed out the airlock a week into shooting, and Donen claimed the chair. What came of all the tumult is not a film that is strictly an admission…no one needs to see Saturn 3…few want to see it. But I did, and I'm glad I did, for there may not be a better example of the earnest detritus that washed ashore in the aftermath of the Star Wars-then-Alien explosion. All the usual nods to the newly-coined ultra-genre are there: the slow, rumbling spacecraft entering frame-top in the opening moments, the sparse, future-but-lived-in mise-en-scene, the menacing outside alien and/or robot. What's missing is a point. Donen's decades-honed craft can be found fleetingly in some scenes, noodling through the thin air up there, trying to find a romance to bracket the movie with. Absent any version of a spark amongst the leads – including sulking, skulking Hector – the Donen airiness is depleted. Upon entering this film, it's advised to suit up with an extra air tank.
And now, a story with a happy ending…