Director Stanley Donen Crosses Lines With This Michael Caine/Demi Moore Sex Farce
DIRECTED BY STANLEY DONEN/1984
STREET DATE: JANUARY 2, 2018/KINO LORBER STUDIO CLASSICS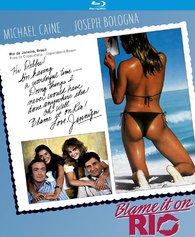 I remember when Blame It on Rio came out. I was ten years old, and probably saw a commercial for it on television. Based solely upon that, I recall being strangely certain that a comedy with that title must be about a mischievous imp named Rio who ran around the beach playing pranks on unsuspecting stiffly stiffersons and pretty girls. By the time I was fourteen, I was just savvy enough to know that that wasn't it at all. This mattered then, because that was when a local television station began showing Blame It on Rio semi-regularly.
With no cable, no VCR, and no pay-per-view, I had no choice but to keep myself awake very late in order to experience an edited for television version of this already vague notion of a film. At that age, I was quite thrilled that it was not, in fact, the silly version I imagined when the film came out. I remember thinking Blame It on Rio was a bit scandalous maybe, but mainly, it was just so polished and pretty, that, on a speculatively sophisticated level, it simply had to be okay to enjoy. Revisiting the movie now, it is not only painfully obvious that this is not the case, it also made me wonder if the great talents involved in making this film were pulling a prank on moviegoers.
In the pantheon of "What were they thinking?!?" movies, this one both stands tall and goes down easy. (Too easy?) Blame the cast, most of whom elevate this torrid material.
Now, at exactly the wrong cultural moment, Blame It on Rio has dropped to blu-ray. Notably and notoriously, it is the final theatrical feature film by golden age musical filmmaking legend, Stanley Donen. Rio is laid out as a 1980's midlife crisis screwball comedy with a comely naughty streak. What we get is an uneasy blend of female objectification comedy hinging on an affair between a man in his mid-forties and his best friend's raging-hormonal teenage daughter. Never mind #MeToo and/or Time's Up – the amount of mental gymnastics required to fathom that the guy who once brought us Singin' in the Rain went out with this horny old man movie does not exactly conjure a glorious feeling.
In short, Blame it on Rio is intended as a lightweight sex farce that takes full advantage of its having been conceived at the twilight of what some have called "The Golden Age of Hollywood Movie Nudity". Never having been one to deny beautiful young starlets their first shot at a starring role (think Debbie Reynolds), Donen reached out to then-still-seventeen year old Michelle Johnson to play Jennifer, the object of the flailing-in-life Matthew, played by Michael Caine and his enormous glasses.
Leaving nothing much to the imagination, there's no question that Johnson had it where it counts in terms of why Donen cast her. A model that the director noticed then hired based upon seeing her in W magazine, Johnson plays her salacious part with all the method and expectation of a Playmate of the Month. Obviously Johnson herself was down for this opportunity, but if it's true that she was in fact still barely underage at the time of filming, one wonders what her parents, who would've had to have signed off on this gig, were thinking. For her efforts, Johnson earned a Worst Actress nomination at the 1985 Razzie Awards. Apparently, no one had a category for Most Inappropriate Wooden Male Masturbation Fantasy.  In any case, let's not blame it on Ms. Johnson.
Which brings us to Johnson's costars, Michael Caine and Joseph Bologna, playing a pair of johnson-obsessed dads in failing marriages. Bologna as Victor, the gruff divorcée-in-the-making, has no qualms about being on the prowl the moment they land. Caine's dense and nebbish Matthew is far more skittish, considering that he was only recently informed by his wife (Valarie Harper) that their marriage was on the rocks. She opted to go on her own private vacation by herself. With her out of the movie, he is free to galavant to his libido's content in Rio. Except, he wants to be a faithful husband. Except, he can't because he lacks any wherewithal whatsoever to refuse sexually aggressive come ons. Of Jennifer. Victor's daughter. His own daughter's best friend. (Demi Moore as Caine's daughter is given little to do other than run off with hunky stranger dudes and observe her father's affair with scarring disgust).
Beyond the obvious discomfort that this plot has kicked up with audiences for decades, if one looks closely enough, it actually gets worse. As Victor flies off the deep end in anger upon learning that Jennifer has slept with someone, film historians Howard S. Berger and Nathaniel Thompson, on their audio commentary track, convincingly speculate about low-level allusions to incest. "Kinda Twin Peaks-y", one of them says.
Miring it all in that lighthearted sex farce milieu is a soundtrack of unknown tunes, each one worse than the last. One would think that Donen, being someone who's known a thing or two about how to use music in movies, would know to look passed this pastel colored adult contemporary soft rock tripe that cluttered pop radio at that time. Nope. The worst offender is the title track, an embarrassing duet of shrill vapidity and too many syllables. The song "Blame It on Rio" plays no less than three times throughout Blame It on Rio. "What if we acted like fools?/Broke a few rules?/What do we care?/Blame it on Rio!"
Berger and Thompson make the point that the authentic Rio setting makes little impact on the film itself, as it's portrayed either inauthentically (sorry folks, not only is there no such supermodel-crowded topless beach in Rio, it's actually illegal) or anemic (besides the rare wide shot of the famous vistas, the occasional parrot zip tied to a branch is the most glaring reminder that all of this is happening in a tropical paradise.)
Being that Blame It on Rio makes use of confessional style testimonial moments by both Matthew and Jennifer the whole way through, it's only fitting, then, that I then offer a small confessional myself: Despite all of the above, I did still kind of enjoy Blame It on Rio. In the pantheon of "What were they thinking?!?" movies, this one both stands tall and goes down easy. (Too easy?) Blame the cast, most of whom elevate this torrid material (it's actually an American remake of a French film called One Wild Moment, which was remade again under its original title in France in 2015). It's enough to generate sympathy for poor Michelle Johnson, making her debut in the deep end of the ocean.
Now that I'm older, having finally seen Blame It on Rio in all its uncensored glory (which has not been a priority, but whatever), my forty-something self (about the same age as Caine's character is supposed to be, gulp!) can't help but side with my ten year old self: A hilarious movie about a prankster on the beach would've been better.