Late Wagon Train Entry Starring Kirk Douglas, Robert Mitchum, And Richard Widmark
THE WAY WEST (1967)/DIRECTED BY ANDREW V. MCLAGLEN
STREET DATE: FEBRUARY 6, 2018/KINO LORBER STUDIO CLASSICS
The tailored waistcoats of a disgraced US Senator, the buckskin breeches of the wilderness trail guide, and the humble homespun of the town farmer – in the left to right billed screen presences of Kirk Douglas, Robert Mitchum, and Richard Widmark – head West, from Missouri to Oregon, in this 1840's-set, star-driven, late wagon train epic. Shot in Panavision, De Luxe Color, and on location in the deserts, canyons, mountains, and plains of the Great American Frontier, that just about takes care of the artistic and technical specifications of the film before one is left at something of a loss to further denote any notable feature of The Way West beyond the vast genre accumulation of 35 years of westward the wagons. Beginning with 1930's The Big Trail, and going further back to 1925's The Covered Wagon, even TV's long-running Wagon Train (1957 – '65) had finally settled its 8-year run through the prairie – Star Trek had conceptually picked up the reins the very next season (1966), continuing the frontier journey into space – so possibly The Way West had little to add to the well-worn formula beyond photography and spectacle.
But, anyway: Senator William Tadlock (Douglas) leads a group of Missouri townspeople on the Oregon Trail of 1843 towards his Western vision of a City on a Hill. Hiring the best frontiersman in the West, the capable though underconfident Dick Summers (Mitchum), the imperious and underhanded tactics of Tadlock's relentless horses and wagons drive through hostile Sioux territory are registered with increasing disgust by homesteader Lije Evans (Widmark), who quickly has his bellyful of the tragedies and setbacks of life on the trail.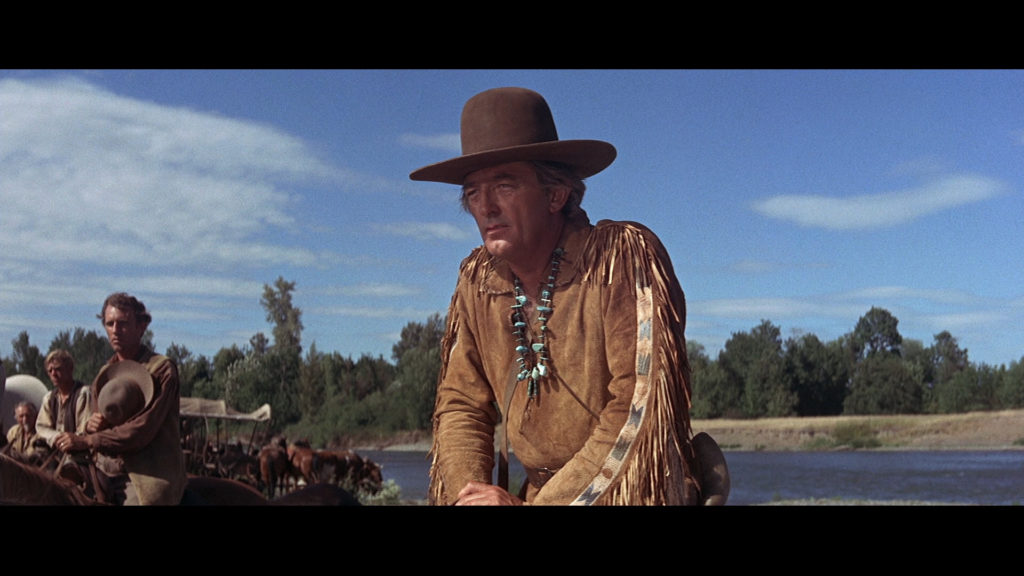 Based on a novel by A.B. Guthrie (Shane, The Big Sky) and shot by master landscape cinematographer William H. Clothier (Fort Apache, The Track of the Cat), The Way West is possibly a big screen epic ten years too late, with the added soap opera elements of frank sexuality, infidelity, violent "frontier justice", and not one but two slain children offering increasingly diminishing screen returns… until even the dramatic death of visionary villain Tadlock at story's end, rope-cut off a steep cliff by one of the victims of his stiff-necked ways, yields little more than a screen shrug.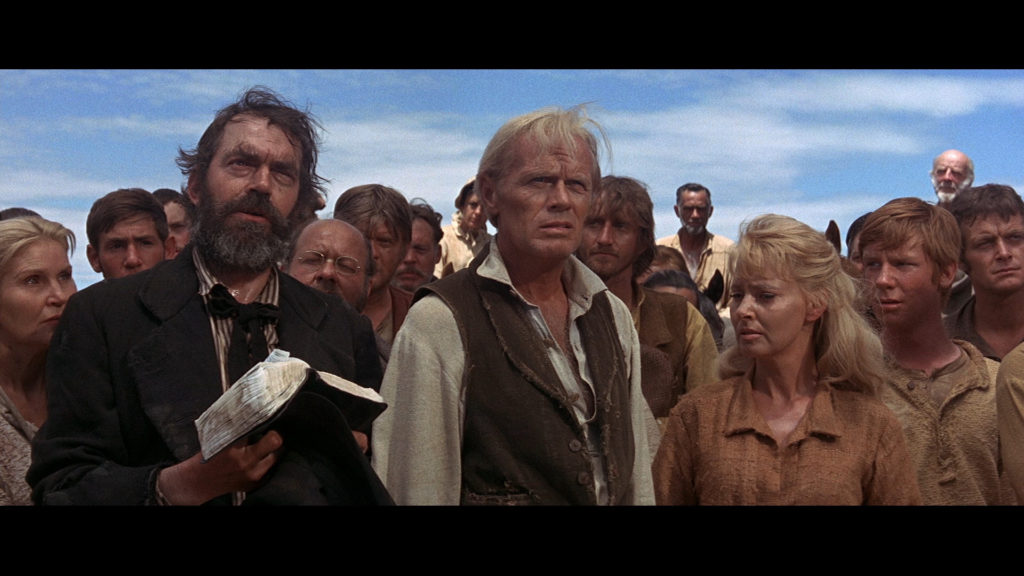 Director Andrew V. McLaglen, son of actor Victor McLaglen and former assistant to his film godfather John Ford, on The Quiet Man (1952), and continuing through his directing career with many of Ford's collaborators like James Stewart (in The Rare Breed [1966] and Shenandoah [1965]) and especially John Wayne (including McClintock! [1963], The Undefeated [1969], Cahill U.S. Marshall [1973]), was really the last filmmaker continuing the Ford, Howard Hawks, Raoul Walsh, William Wellman tradition  of "manly epics"– stretching the way west back to D.W. Griffith himself – but as a director often comes off curiously detached from his stories and their presentation. As with many of the director's other films, there's plenty to look at through this Frontier Western's 122-minute running-time, but Westerns fans have probably seen much more involving and compelling iterations of this story countless screen times before.
…
The Way West looks beautiful on Blu-ray, however; the 2:35:1 screen transfer capturing the vistas of its Arizona and Oregon-shot locations with a visual pop that will satisfy viewers who may remember its big-scale escapist comforts back in the heady Summer of Love. And for those otherwise compelled, 20-year-old Sally Field's early screen appearance, as a Lolita-like trail temptress named "Mercy", at least offers a glimmer of the talent the actress would later parlay in subsequent films. Beyond a trailer of galleries, there are no other special features included in Kino Lorber's home video release, but the bare-bones presentation undoubtedly suits this mostly unmemorable but mainly enjoyable genre effort.
All images used in this review are credited to DVDBeaver and are taken directly from Kino Lorber's Blu-ray release.