George Peppard is Along for the Ride in Halfway Decent Western Comedy.
DIRECTED BY ANDREW V. MCLAGLEN/1971
BLU-RAY STREET DATE: NOVEMBER 9, 2021/CODE RED (VIA KINO LORBER)
Was George Peppard robbed? It's a fair question these days. Despite the man's definitive movie star status- verified by a leading man filmography longer than all his cigars lined up end to end- he seems to have virtually no enduring fame. Even the one quote-unquote immortal hit he co-starred in, the forever-overrated Breakfast at Tiffany's (a poor and grating film blessed with excellent lead performances), regards him as a perfunctory footnote. It's part one big ol' shortchanging, considering that Peppard never lacked charisma and had crackling comedic timing.
In terms of cinema in the United States, Peppard's heyday, the 1960s, was a spotty decade at best. Maybe Hollywood, so embroiled in survival mode at the time, should've put more effort into cultivating quality projects for him. Would've been a win-win. His 1971 entry, the fair-to-middling Western-comedy One More Train to Rob, proved to be an end of the line of sorts. Following it, Peppard's career would switch tracks primarily to television.
At least in this case, the director can be blamed. While the venerable Andrew V. McLaglen has at least a few noteworthy titles on his resume (McLintock!; Chisum; Hellfighters– all with John Wayne, who came up acting in John Ford films alongside the filmmaker's father, Victor McLaglen), One More Train to Rob can't be counted among them. If McLaglen ever truly had a knack for witty comedy, it's all but dormant here. Peppard's effort at livening up the proceedings is visible in certain scenes; he is far and away the reason to watch this film. The screenplay by Don Tait and Dick Nelson (from a story by William Roberts), is rather tight, making good with juicy double-crosses and an unconventional love triangle. Yet, here it sits. Definitely blame the director.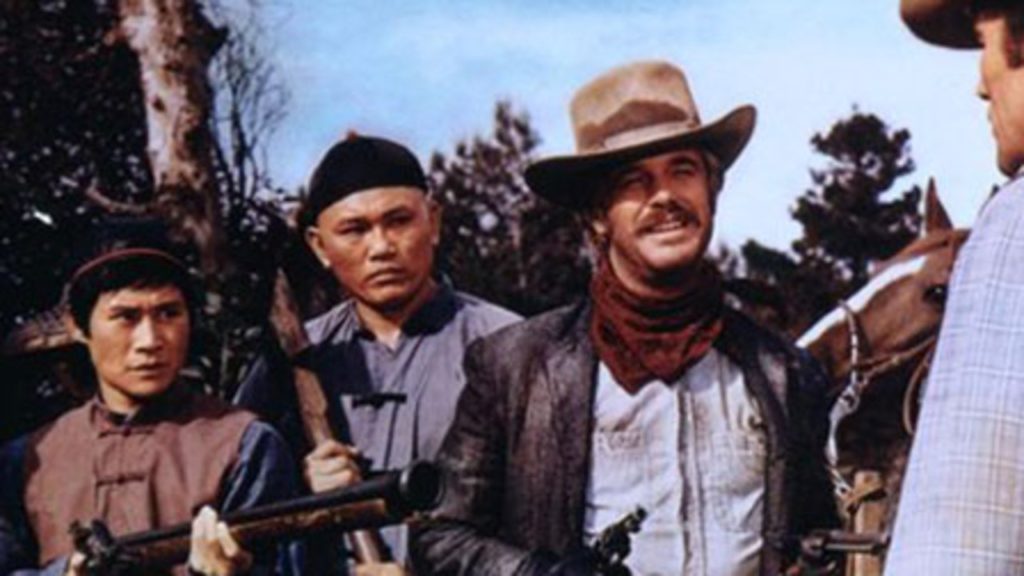 Though the title implies train robberies ad nauseum for these characters, there's actually very, very few in the whole 104-minute movie. Most of the other robberies are purely stationary. (One is on a moving coach). Peppard plays smooth criminal and ever-clever scamp Harker Fleet. (They say that the film's intended title was "Hark". Better). Per the film's main poster, "He'd been cheated out of his gold… and his woman… now the only weapon he had left was… revenge!" Lies, lies, so many lies. And poor grammar, too. Was Fleet cheated out of his gold? First of all, he and his cronies rob a train carrying all manner of valuables. So, not just gold. Second of all, considering that none of the loot was never his to begin with, is it really an injustice that he is cheated out of his cut? His partner in this literal crime, one Timothy X. Nolan (the great John Vernon), is a steely-eyed man of wealth and taste. It's tempting to say that maybe Nolan would be conniving against Fleet if Fleet would stop carrying on with his wife (Diana Muldaur), but, nah. Nolan's a wicked one, and would screw over Fleet no matter what.
Which brings us to the film's other poster, which warns "Hide your Valuables… Hide your Virgins… here comes H. Fleet, Robber".  How that one isn't enshrined in The Tagline Hall of Fame, we'll never know.  Perhaps because the bit about Fleet as a chronic virgin deflowerer is made-up hooey.  It's safe to say that his main squeeze, Mrs. Katy Nolan, hasn't qualified for a while, and nor do the cathouse occupants that she's so peeved at him for visiting.  Mr. Nolan loses more fine vases to her little tantrums against our ladies-man protagonist.  
Somewhere kicking around in One More Train to Rob is a sense of justice for the enslaved Chinese railroad workers in the story. The film can't quite elevate these oppressed people beyond their white savior Fleet, but it makes certain strides. Also kicking around in the film are co-stars Harry Carey Jr., Ben Cooper, and stuntman and future Smokey and the Bandit director Hal Needham as Bert Gant, whoever that character is.
Want One More Train to Rob on Blu-ray? The good people at Code Red have you covered. And more good news: it looks rather swell. But now for some ding-danged bad news: the only extra is the film's trailer. So apparently, George Peppard isn't the one robbed. Fans of justifiably forgotten inconsequential Westerns can feel the very specific loss of a commentary track, or whatever.