Bob Hope Returns to the Old West to Revoke a Legendary Outlaw
DIRECTED BY NORMAN Z. MCLEOD/1959
BLU-RAY STREET DATE: JULY 27, 2021/KL STUDIO CLASSICS
Sure, everyone knows that Jesse James is a man who killed many men. But the question is, did he kill when it came to comedy?
When considering 1959's comedy-Western Alias Jesse James, an even more apt a question is, to what degree does that film's star, Bob Hope, kill?  By then, Hope had been a top comedy staple for several decades.  It's widely agreed that by the mid-1950s on screen, the star was phoning it in.  The glory days of The Ghost Breakers, My Favorite Burnette, and even The Road to Bali were unquestionably behind him.
As steered by venerable comedy director Norman Z. McLeod (Monkey Business, Horse Feathers, It's a Gift), Alias Jesse James may just be the anomaly in Hope's latter film career. (It's also McLeod's final film). The comedian is in shipshape performance-wise, delivering his many quips and asides with the same predictable verisimilitude as he did in his earlier classics. Throw in a few corny requisite sight gags, and I think we've got something here…
This outing finds Hope once again in the Old West- the territory of the fondly remembered McLeod-helmed The Paleface and the Frank Tashlin follow-up, Son of Paleface.  And once again, true to form, his character has no business existing in this time of dangerous outlaws and travel by horse.  Hope doesn't get enough credit for cultivating and perpetuating the tradition of anachronistic and meta humor as trotted out here, but in his day, this was a healthy part of his schtick.
Enough of Alias Jesse James is funny insofar as to earn it a solid recommendation, though there's no shortage of unintentionally cringy moments. It's true that Hope's lighthearted references to Native American wampum and wigwams don't land so lightly anymore. But the real eye-roller is the start of the movie, a completely unnecessary modern-day prelude. It opens on bright, stock shots of skyscrapers and a voiceover explaining how corporations are the pride of America!, and how the insurance business it the glowing center of it all! But, before all of this was possible, it had to start with the little guy… the lone insurance salesman…
This lone little guy, is of course, Bob Hope. On the outs at his meager firm, he manages to sell a $100,000 life insurance policy, thus pulling his fat out of the fire. But, when that individual turns out to be the notorious outlaw Jesse James (Wendell Corey), his boss panics and tasks him with getting that policy revoked. And until then, Hope must make sure no harm comes to Jesse James. Easier said than done when the guy is regularly robbing trains and lives in a house ridiculously adorned with hundreds of guns. For a time, he must impersonate James, a feat achieved simply by wearing his standard-issue outlaw clothes.
Along the way, a love connection arises between James's beneficiary, a glamorous singing beauty played by the redheaded "Queen of Technicolor", Rhonda Fleming (Revolt of the Slaves).  The sweet song they share, "Ain't-a-Hankerin'", marks an upswing for Alias Jesse James, which starts in a decidedly lower gear.  By the end, though, Hope and Fleming are tearing across a field, she piloting a horse-drawn flatbed in a wedding gown and he smashed through the middle of said flatbed, and forced to run Fred Flintstone-style as the James Gang closes in on them guns a-blazin'.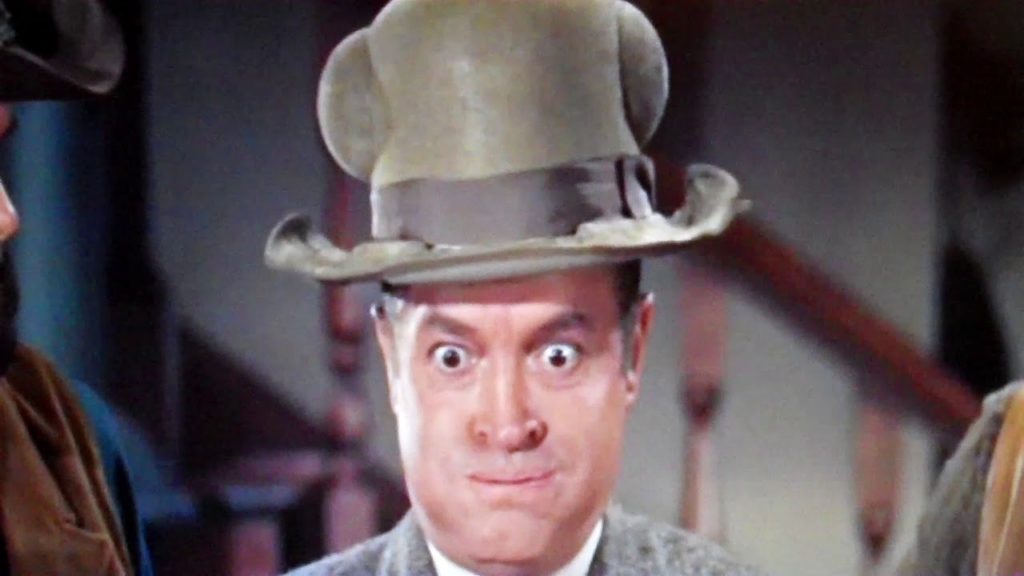 By the end, we get one-shot cameos from some of the great Western icons of the time, including Ward Bond, Roy Rogers, Fess Parker as Davy Crockett, Jay Silverheels as Tonto, Gail Davis as Annie Oakley, Hugh O'Brian as Wyatt Earp, James Arness as Marshall Matt Dillon, and Gary Cooper supposedly as Will Kane from High Noon.  The capper arrives as longtime Hope cohort Bing Crosby fires a shot, looks to the camera, and says, "This fellow needs all the help he can get!"
Suffice it to say, this is yet another KL Studio Classics Blu-ray that Bob Hope fans will not want to miss. Unfortunately, the transfer does not appear to be in the best of shape, and, besides trailers, there are no bonus features on this disc. Still, the widescreen image is likely the best that Alias Jesse James has ever looked on home video. It may not salvage our contemporary opinion of dominant large corporations and insurance companies, but for just a short while, we can enjoy rooting for "the little guy".