Bob Hope, Jane Russell and Roy Rogers Ride Out for Crazy Cartoon Style fun!
DIRECTED BY FRANK TASHLIN/1952
STREET DATE: AUGUST 29, 2017/KINO LORBER STUDIO CLASSICS
What the H…?
No, that line isn't the result of some early-1950's bit of Hollywood self-censorship. Though goodness knows that Son of Paleface, a kinda-sorta sequel to 1948's The Paleface, subjected itself to such necessity. What with starlet Jane Russell traipsing around in a tight and dinky saloon singer getup, provoking Bob Hope's perpetually horny title character to all sorts of double entendres and bulgy-eyed reaction shots, one wonders if perennial straight-arrow costar Roy Rogers knew what he'd signed up for. Rogers, after all, would go on to be the Wonder Woman TV series guest star who would only appear on the condition that Lynda Carter wear something significantly less revealing than her regular super-suit.
In Son of Paleface, a screwy Hope vehicle through and through (is that what the "H" is for?), the comedian, then at the top of his box office game, plays the dimwitted and self-centered offspring of his now deceased character from the first film. Like that film, this one hinges on Western accouterments – horses, bandits, saloons, old coots – but this time, Hope's protagonist (and that term is used most loosely) rides in fresh from Harvard University, pennants proudly waving from his jaunty jalopy, and a large "H" emblazoned on his chest. All school colors, or course. In living Technicolor.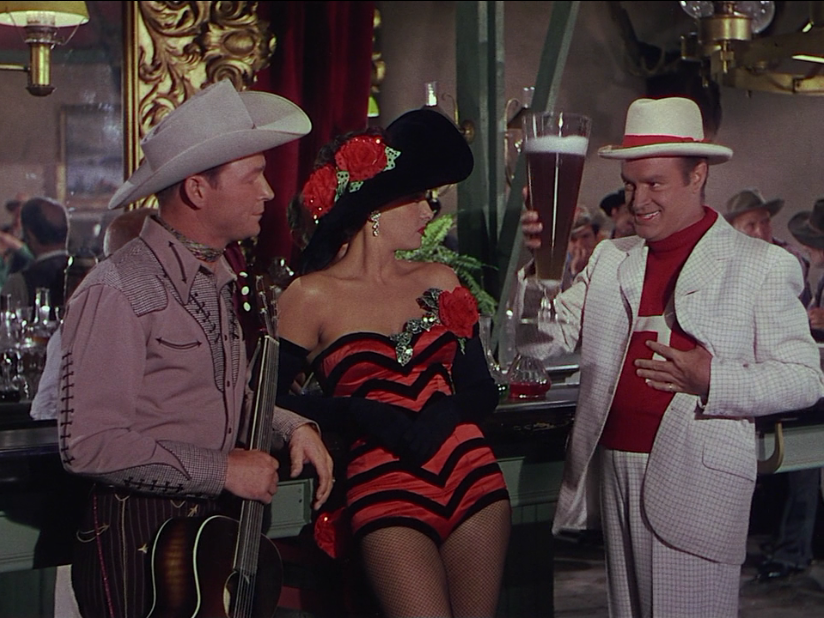 As directed by the one and only Frank Tashlin, Son of Paleface is imbued with a kooky cartoon logic that only his esteemed history in the wacky field of cartoon animation could ever yield. Also, though, a student of the bonafide cinema arts, Tashlin manages to merge the deft with the daft; real world physics with nutty squash-and-stretch aesthetic; the visual language of D.W. Griffith with the hot-blooded anarchy of Tex Avery.
As directed by the one and only Frank Tashlin, Son of Paleface is imbued with a kooky cartoon logic that only his esteemed history in the wacky field of cartoon animation could ever yield.
At one point, Hope takes a healthy swig of something in a bar, then, after the requisite beat or two, his head spins 'round and 'round, then his body spins similarly 'round and 'round, smoke emits from his ears, and his head "turtles" down into his Harvard sweater. Somewhere, Avery's lecherous wolf character is wondering how a flesh and blood galoot like this swiped his bit, and in a respectable Paramount Pictures release, to boot.
Russell actually has quite a bit more to do in Son of Paleface than to just strut around being sexy and reprising the song from the first film (which she also stared in), "Buttons and Bows". She is secretly an outlaw – THE outlaw of the picture – which is more than she could claim about her infamous role in 1943's The Outlaw. She leads a double life, allowing her to dress in all black, command a gang of thieves, and call herself "The Torch". Of course, a torch is exactly what Hope's character carries for her from the first moment he sees her. She's good, very good. Between having to juggle all of that amid Tashlin's reality bending, she'd better be.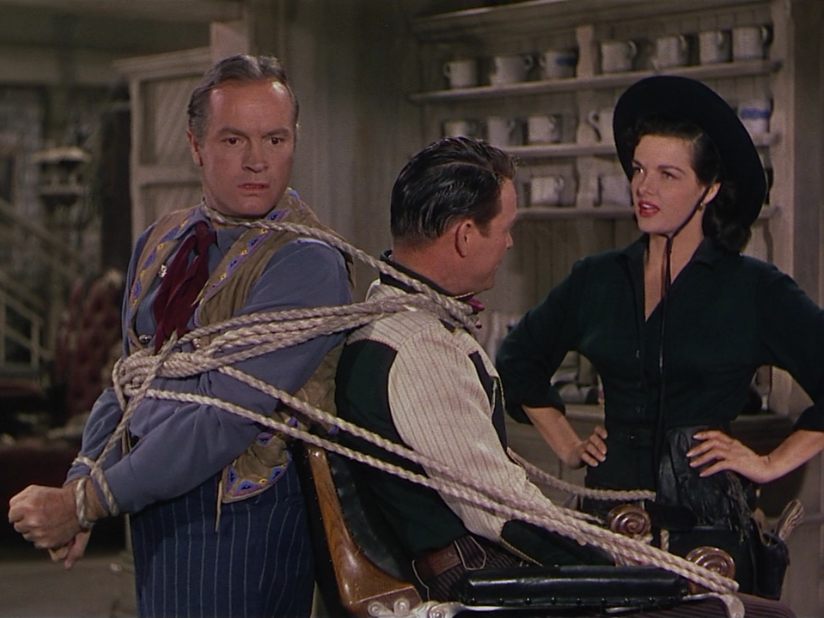 Same goes for Rogers, minus the skimpy outfits, cabaret performance, and outlaw double life. He and his trusty horse Trigger are in town to investigate the rash of recent robberies. Rogers, with his upstanding ethos and rigid manor, makes for an unnatural fit with Hope's quippy playboy persona, but the pairing somehow works here. It shouldn't, but it does. Hope may leave Rogers in the comedic dust, but hambone steed Trigger ("the smartest horse in movies") makes a fool of Hope on more than one occasion.
Boasting site gags and zingers aplenty, Son of Paleface is tons of throwback fun. True to form, Hope breaks the fourth wall and talks to the camera, at one early point taking a completely unmotivated zany dig at his Road movie costar, Bing Crosby. Anything goes in Tashlin's world, which puts an unusual star like Bob Hope right at home. His character's plotline is transparently superficial. Something about needing to come to town to claim his father's fortune, which the whole town has been waiting for, so that his many lingering debts could be paid off. The big curveball is that the pile o' money isn't where it's supposed to be. Will they figure out where it is before the town strings him up? Angry chases and fast talking ensue for the duration.
The Blu-Ray release, courtesy of Kino Lorber Studio Classics, pops with color and life. The main bonus feature is a commentary track by filmmaker Greg Ford. As far as such tracks go, this one is as affable as it is informative. There are several lengthy lulls, just Long enough to get absorbed into the movie proper, only to jolted out of it when he finally starts talking again. But on the whole, it's truly a fun track, well worth any fan's time.
For those with more curious interests, Kino Lorber has unearthed a very rough print of a 1946 "puppet animation" short directed by Tashlin called "The Lady Said No". A torrid musical tale of lust for life, the seven and a half minute film plays out in a fanciful version of Mexico made up of handcrafted miniatures and starring a couple of wax figurine lovers. The gender role sensibilities may leave a bit to be desired, but it is a fun display of Tashlin's sight gag sensibilities in their native habitat. As for the character arcs – before there was "Paradise by the Dashboard Lights" by Meatloaf, there was "The Lady Said No." Again, Greg Ford is on hand to fill viewers in on the significance of this particularly rare short film.
All in all, Son of Paleface proves to be a far better film than it ever needs to be. For Bob Hope, it's a great showcase for how malleable his persona and shtick could truly be. For Jane Russell, it's a fine list of versatile on-screen accomplishments, all in one movie. For Frank Tashlin, it's sufficient evidence that even prior to his more famous films such as the Jayne Mansfield rock n' roll spoof The Girl Can't Help It, he was firmly keyed in the aesthetic he'd come to be known for. For Roy Rogers and Trigger, it's yet more quality time together. And who in the name of Harvard could be against that?
The images in this review are not representative of the actual Bly-ray's image quality, and are included only to represent the film itself.