Caught in the Draft (1941); Nothing But the Truth (1941); My Favorite Blonde (1942)
BLU-RAY STREET DATE: MARCH 2, 2021/KL STUDIO CLASSICS
Bob Hope made being a lily-livered middle-of-the-road stooge look comedically easy. That's certainly true of this trio of early-1940s Hope solo vehicles, each newly released to Blu-ray by Kino Lorber Studio Classics. Whether a gun-shy buck private in the Army, a penguin-training vaudevillian, or a stockbroker who cannot tell a lie, Hope imbued his average shmoes with a constant, daft wit and an underserved libido.
Ranging in quality along the levels of "average" to "above-average", these three titles, spanning from 1941 to 1942, offer an apt glimpse of the state of the Hollywood studio comedy during the U.S. ramp-up to World War II. All are early lone outings for Hope as a leading man, his sharp-yet-soft persona carrying all three. Those who only know Hope for his crummy TV specials are likely to be pleasantly surprised at how alive, vibrant, and tuned-in the star truly is in these zippy films.
What follows are short reviews of each of the three new Blu-ray editions of Caught in the Draft (1941), Nothing but the Truth (1941), and My Favorite Blonde (1942).
Caught in the Draft
DIRECTED BY DAVID BUTLER/1941
Whether tearing around in a spunky little tank or losing his nerve during parachute jump maneuvers, spoiled movie star Don Bolton proves that he's the last man anyone would want on the frontlines. Thankfully, though chatter and debate over the possibility of the United States getting involved in the escalating Second World War was brewing at the time, the country wasn't quite to the point of combat when this film came about. Nevertheless, Bolton is altogether freaked out about the possibility of finding himself enlisted. Then she came along…
Upon laying eyes on the no-nonsense Colonial's attractive daughter Tony, Bolton quips, "She looks like Dorothy Lamour with clothes on". Tony is of course played by the frequently saronged Dorothy Lamour (though not in this picture), already a frequent Hope costar alongside Bing Crosby in the off-and-running "Road to" series. This kind of meta humor, no doubt fairly cutting edge in this time, isn't an isolated incident in early Bob Hope films. They are, however, the types of jokes that still play today as opposed to the funnyman's other forte, ultra-topical headline-inspired references that tend to be lost on today's viewers. Both are to be expected in the films of Bob Hope, as well as a smidgen of racial gags and quips that have aged poorly.
When Hope falls into a mud pit with only his eyes and lips uncovered, the resulting Al Jolson "Mammy!" impression leaves one to wonder just how long that particular reference to The Jazz Singer was ubiquitous in movies. In this case, it's nearly fifteen years since that landmark but problematic film, yet not only does the blackface gag remain irresistible to creatives of the day, but so does the accompanying line. From classic animation to vintage Hollywood comedies, the "Mammy!" joke is as overused as it is cringe inducing.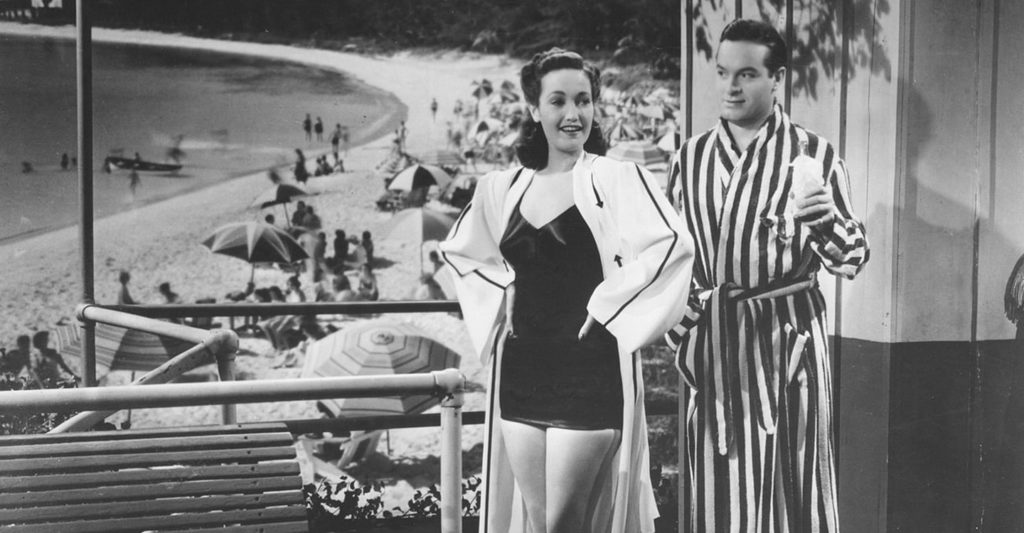 But I digress… In order to impress the hot & cold Tony (she loves him, she's irate with him; she loves him, she's irate with him…), Bolton finds himself living his worst nightmare: Army enlistment. For a guy who fears gunshot noise and loud bangs, a military base preparing for combat is the last place for this wide-eyed scaredy-cat. But still, basic training is a breeze compared to his regular Lamour blockade, the not-present Bing Crosby. So, in he goes; on-base shenanigans ensue.
If there were a sequel to Caught in the Draft, it almost certainly wouldn't be nearly as funny (and when the jokes land, it is rather funny), as Bolton likely would be deployed overseas and then probably killed within ten seconds. But never mind that; this is a pre-war Bob Hope comedy. And here to contextualize it as such are filmmaker/historian Michael Schlesinger and film archivist Stan Taffel, providing a new audio commentary track. Schlesinger and Taffel chat like the old-school film geeks buds that they are, making the track a relaxed and insightful listen.
Kino Lorber Studio Classics rounds out this Blu-ray's presentation of a new 4K master of Caught in the Draft with a nice handful of short vintage clips and inclusions:
-Entertaining the Troops
-Command Performance 1944
-Command Performance 1945
-Hollywood Victory Caravan
-Theatrical Trailer
Nothing But the Truth
DIRECTED BY ELLIOT NUGENT/1941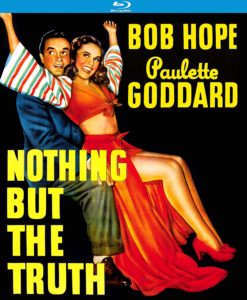 It takes 1941's Nothing But the Truth a good little while to get going, but once it does, it's a pretty ding-danged good farcical proto-Liar Liar.  Only after more than twenty minutes of ambling narrative shoe leather is the central bet made that actively propels the rest of the film: Bob Hope, broke but given a new partnership in a high-rolling investment firm, agrees to a $10,000 bet that he can go twenty-four hours without telling a single lie.  The first of his many problems is that the money he's placed on the line is not his.
As it turns out, it does not even belong to the girl who gave it to him for safe keeping, a flighty young beauty played by the great Paulette Goddard.  As the stakes quickly and inevitably heighten, theater director-turned-filmmaker Elliot Nugent ramps Nothing But the Truth into a solid farce, replete with a tiptoeing bedroom do-si-do, crossdressing shenanigans, and a little bit of gay panic for good measure.  (Why does Hope's character own a lady's frilly black slip?  He cannot tell a lie: he starred in a drag comedy revue in college.  Also, he cannot tell another lie: he was once kissed by his theater coach.  The logical follow-up questions are not asked: why'd ya keep the slip, and was he a good kisser?)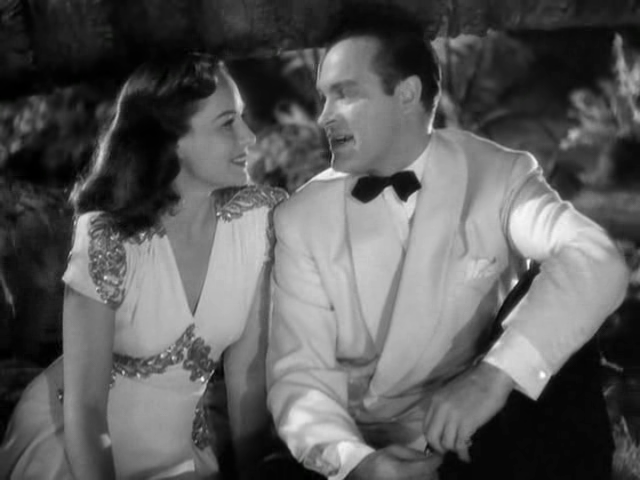 To be expected, Nothing But the Truth gets by primarily on the underdog charm of Hope as his everyman valiantly sweats bullets to the twenty-four-hour finish line of the Big Bet, which will see Goddard's cash stash quadrupled, and put to good use.  Any kind, considerate, and openhanded gestures on the part of Hope's character apparently fly in the face of the performer's true nature, but never mind that now.  On its own terms, Nothing But the Truth functions as a strained paean to that increasingly worn adage that honestly is the best policy.  The fact that the character's engagement in the bet in the first place is rooted in betting money that is not his is morally overlooked, though central to the story's mounting tension.  Hence, it's an imperfect if entertaining way to spend an afternoon.
KL Studio Classics's new Blu-ray edition sports a nice new 2K master and a new a"audio commentary by film critic and author Simon Abrams. Amusingly, Abrams at one point acknowledges the distracting fire truck racket that has plagued his past commentaries. While such audible intrusion is absent this time, the track remains unedited, rife with ums and uhs and on-the-fly pronunciation corrections. Through all of that, Abrams research is excellent and his insights are worthwhile. (He gives a glowing recommendation to Lawerence J. Quirk's 2000 Hope biography, Bob Hope: The Road Well-Traveled– a book widely despised for supposedly hating its subject by documenting his bad behavior and speculating that Hope was, in fact, a closeted homosexual all the while. As far as contemporary perception of Bob Hope might go, with that book, the asshole clinches…). The track is highly recommended for researchers of Bob Hope and comedy film of the early 1940s.
My Favorite Blonde
DIRECTED BY SIDNEY LANFIELD/1942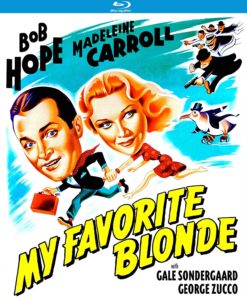 By 1942, when My Favorite Blonde came together, the U.S. had entered the Second World War, and Hollywood followed suit. Even nutty escapist runaround romps like this one weren't exempt from outwardly brandishing some degree of War Department-approved patriotism. Some films conformed to the times more naturally than others- this Bob Hope comedy being one such fortunate project.
My Favorite Blonde takes place mere days before the U.S. makes its involvement in the war official. The opening minutes are pure spy intrigue: trenchcoated operatives picking each other off under a cover of heavy fog on a docking ocean liner. Soon enough, a surviving female British agent (Madeleine Carroll) desperately makes her way to a vaudeville theater, all-important McGuffin in tow.
She's just on time for a roller-skating Hope to be wrapping up his trained penguin act. It turns out that the penguin has a lucrative movie deal, and he needs to hoove it to the west coast ASAP. It's the perfect cover: it just so happens that she's headed that way as well, per her mission. Danger, near-misses and light flirtation abound as Hope must reconcile whether he's a man or a mouse.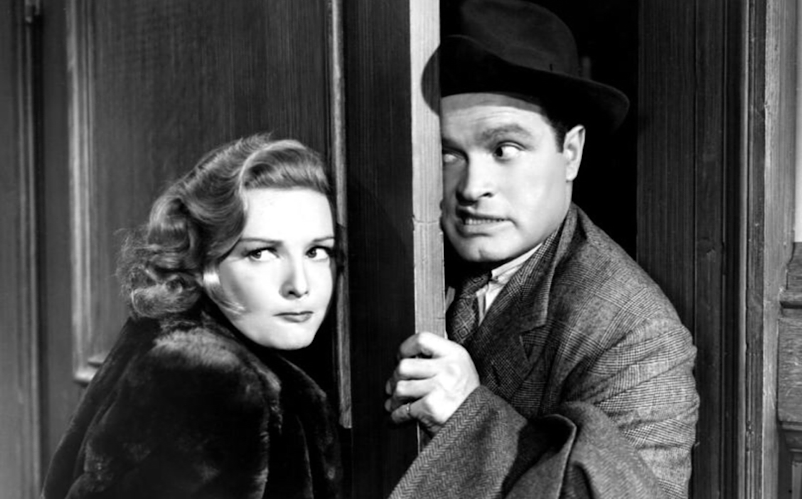 My Favorite Blonde packs a ton of entertainment value into its breezy seventy-eight minutes. Hope and Carroll are in top form, and the penguin ain't bad, either. Director Sidney Lanfield never forsakes the chase structure, stopping only long enough for Hope to quip himself into another corner and for locals to harumph in face-palming outrage. So satisfying is this comedy that its title was riffed upon for several subsequent unrelated Hope comedies, including 1947's My Favorite Burnette, with Dorothy Lamour.
My favorite audio commentator, Samm Deighan, makes good on her standing as a studied expert of World War II films. Her demeanor is never condescending nor "in the weeds", though mapped out and consistently informative. It's an altogether solid track that gives its due to the multiple facets of My Favorite Blonde that are worth exploring.
Despite a comparative lack of extras compared to the other two Hope Blu-rays considered here, this film earns its moniker of "My Favorite". The new 2K master is swell, and the film is never not entertaining.