Hope & Crosby hit the Road Together for the Fifth Time
DIRECTED BY NORMAN Z. McLEOD/1947
STREET DATE: JULY 5, 2017/KINO LORBER STUDIO CLASSICS
Road to Rio is the fifth in the popular Road to… series starring Bob Hope and Bing Crosby. Starting with Road to Singapore (1940) and ending with The Road to Hong Kong (1952), Hope and Crosby made seven films in the series, always playing two down-on-their-luck best friends, loyal to each other through thick and thin…or at least until they can backstab the other into a better situation for himself. Invariably in each movie, through a series of mishaps, they get caught up in a plot where they both try to woo Dorothy Lamour, sing a few songs, tell a lot of jokes, and outwit the villain through a combination of dumb luck and a well-timed game of patty-cake, all set in a new, exotic locale but filmed entirely on Paramount's backlot.
The Road to… movies were never intended to be continuing series. Road to Singapore was conceived as a stand-alone comedy, but the pairing of Hope and Crosby proved to so popular that when Paramount's adaptation of Sy Bartlett's "Find Colonel Fawcett" ran into trouble, the decision was made to re-team Hope and Crosby and retool the script into a comedy semi-sequel, Road to Zanzibar. Road to Morocco and Road to Utopia followed, considered by most to be the high points in the series, benefitting from being crafted to Hope and Crosby's strengths from the beginning rather than retrofitting other scripts.
Road to Rio was written by the team of Edmund Beloin and Jack Rose, who had a hand in writing some of Bob Hope's other films of the era, including My Favorite Brunette (1947) and The Great Lover (1949), and was directed by Norman Z. McLeod, who had a history with anarchic comedy, directing the Marx Brothers in Monkey Business (1931) and Horse Feathers (1932), before moving on to other classic studio comedies such as Topper (1937) and The Secret Life of Walter Mitty (1947). McLeod would also direct Bob Hope in several other comedies, including The Paleface (1948), My Favorite Spy (1951) and Casanova's Big Night (1954).
By the time Road to Rio came out, the series' inspiration was beginning to flag a bit, but like the old show-biz troopers they were, Hope and Crosby are never less than entertaining. The plot involves Hope and Crosby as two musicians on the vaudeville circuit who must save an innocent girl (Lamour) from a sinister hypnotist… but really, who cares about the plot? The plot on any of these films is nothing but the barest of lines on which to hang a series of song-and-dance numbers, comedy routines and fourth-wall-breaking one-liners. Unlike other comedies of the era, the Road to… movies were always self-aware, with actors breaking character and commenting on the action (or making jokes at the studio's expense), reminding the audience that it's all a movie and to just have fun. (It's no surprise that co-screenwriter Jack Rose's last screen credit was on The Great Muppet Caper (1981), starring the similarly anarchic, fourth wall-breaking team of Kermit the Frog and Fozzie Bear). While many then-topical jokes might be a bit obscure to audiences in 2017, there are still plenty of timeless jokes and general silliness to go around even for those without an encyclopedic knowledge of 1940s pop culture.
Perhaps realizing that the inspiration wasn't as strong, Road to Rio is the first movie to lean into bringing in celebrity cameos to inject some extra life into the proceedings, including an extended song from the Andrews Sisters and a rousing cavalry charge from Bob Hope's radio sidekick, Jerry Colonna. The most extensive guest spot is taken by The Wiere Brothers, a vaudeville slapstick comedy trio who later transitioned into film and television, who show up here as a trio of Brazilian musicians who get hired to back Bing Crosby and Dorothy Lamour for their obligatory musical numbers (and contributing one of their own, "Batuque Nio Morro") but end up sticking around for most of the movie as a trio of silent but hilarious sidekicks. These cameos would reach their height (or nadir?) in the next movie, Road to Bali, which featured appearances from such era luminaries as Martin & Lewis, Jane Russell, Humphrey Bogart and even Bing's younger brother, Bob Crosby.
Kino Lorber's Blu-Ray is a fine upgrade from the previous versions of Road to Rio available on DVD, benefitting from a recent restoration and preservation from the UCLA Film and Television Archive. The black & white cinematography is crisp with a nice grain and only a few minor scratches here and there. The monaural audio won't show off your sound system, but the dialogue and music are clear with only a minor hiss. Alas, there are no extras to be had.
Never less than fun, Road to Rio is probably my third favorite of the series, ranking behind Morocco and Utopia, but just ahead of Bali, Singapore, Zanzibar and (well behind the others in last place) The Road to Hong Kong. Those who like the rapid-fire, wisecracking, mildly anarchic comedies of Bob Hope and early Martin & Lewis will find this a fine addition to their comedy collection.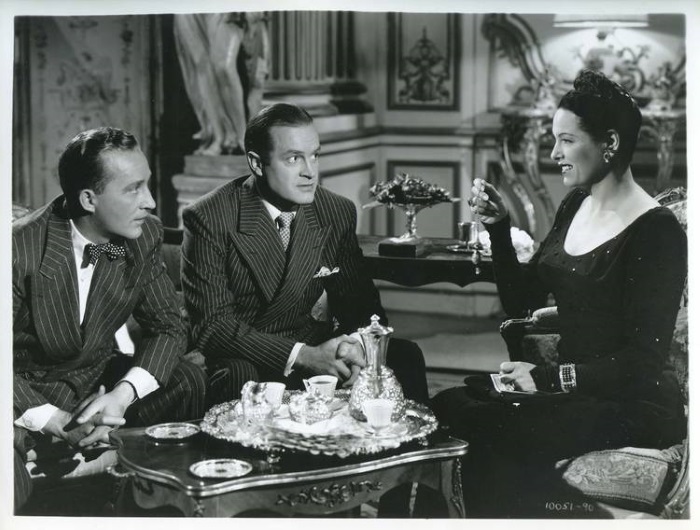 The images used in this review are used only as a reference to the film and do not reflect the image quality of the Blu-ray.