Depression Era Comedy Anthology cashes in with Gary Cooper, Charles Laughton and W.C. Fields
DIRECTED BY ERNST LUBITSCH, JAMES CRUZE, H. BRUCE HUMBERSTONE, STEPHEN ROBERTS, NORMAN Z. MCLEOD, WILLIAM A. SEITER AND NORMAN TAUROG/1932
BLU-RAY STREET DATE: MARCH 28, 2023/KL STUDIO CLASSICS
With all your power… what would you do? If you're uppity dying millionaire (a contingent oxymoron for this scattershot comedy anthology film) John Glidden (Richard Bennett), you say "The heck with it!", and proceed to personally disperse your sizable fortune to randomly picked locals. Much to the baffled chagrin of his buttoned-up handlers, Glidden sets off to hand out one-million-dollar checks to arbitrary people selected from the phone book. What follows is a tonally varied assortment of carefully arranged scenarios depicting unsuspecting good fortune as well as cruel twists of fate.
As far as thematically connected anthology films go, If I Had A Million holds up like a weathered old wallet full of faded treasures, momentarily fascinating curios, and a some dismiss-able clutter. While none of the film's roster of big movie stars ever turn up in the same place at the same time, it is, in any case, an impressive lineup. Famous faces include Gary Cooper as a serviceman on leave with a cute waitress played by Joyce Compton in "Three Marines", W.C. Fields as an irritable motorist in the quite funny "Road Hogs", and Charles Laughton in Ernst Lubitsch's amusingly brief entry, "The Clerk."
A roster of six Paramount contract directors oversees the creative execution of each of the eight episodes with a seventh, Norman Taurog (G.I. Blues, Visit to a Small Planet), handling the film's narrative bookends that depict the Millionaire-esque premise.  According to the official Kino Lorber blurb, "If I Had a Million rounds up a veritable who's-who of Hollywood filmmaking luminaries including Ernst Lubitsch, Joseph L. Mankiewicz, James Cruze, H. Bruce Humberstone, Stephen Roberts, Norman Z. McLeod, William A. Seiter and Norman Taurog."  Don't be misled by the inclusion of Mankiewicz amid the list of directors, as he serves entirely in a writing capacity on this project.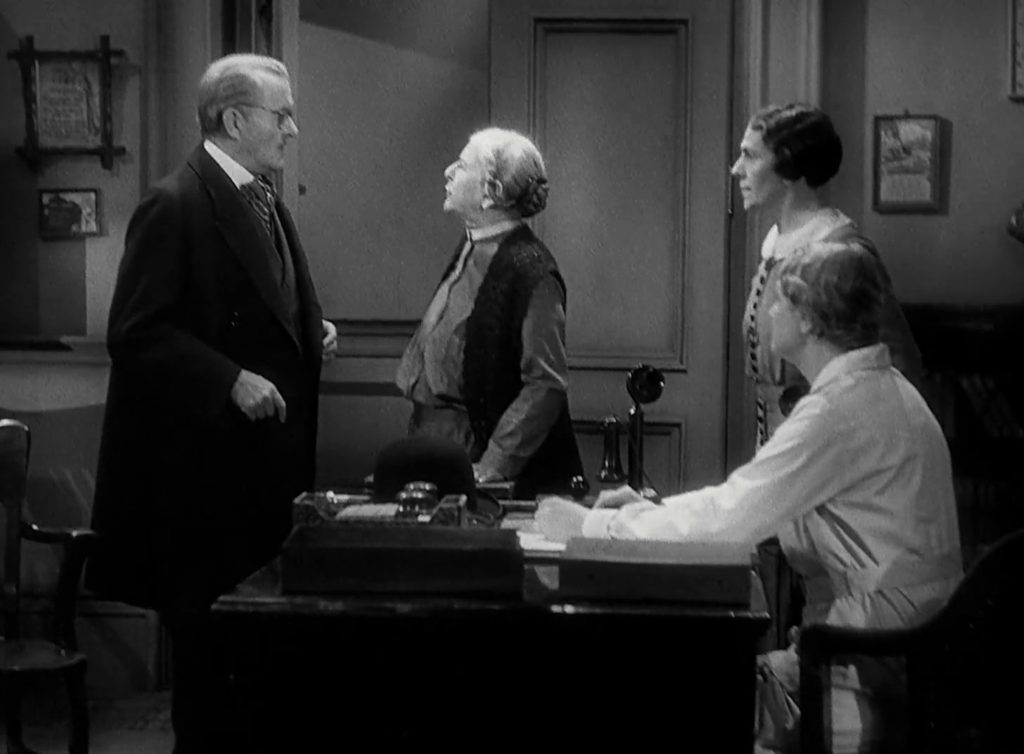 On the disc's newly recorded audio commentary by filmmaker Allan Arkush and film historian/filmmaker Daniel Kremer, the veritable pair readily saunter through the episodes doing their thing. Meaning, Arkush yuks it up with his encyclopedic knowledge of old movies while Kremer chuckles along, attempting to do the requisite film historian heavy lifting as he's able. In any case, a movie like this is manna for such commentators, it being an ongoing parade of different notable stars, directors, writers, and social depictions. In other words, a wealth of immediate topics to cover.
In the first of the episodes proper, comedy legend Charles Ruggles plays the proverbial bull in a literal china shop.  The first of two of these to be directed by the underrated comedy helmer Norman Z. McLeod (Road to Rio; Horse Feathers), this is a straightforward piece sure to generate a few good laughs.  After another day of accidentally shattering the fragile merchandise at his place of employment, Ruggles goes home to be berated about his klutziness by his shrill, crowing wife (Mary Boland).  Then Mr. Glidden comes around with a $1000000 check with his name on it.  Next thing you know, he's Rich Uncle Pennybags reporting for china shop duty.  He promptly starts intentionally breaking things amid hilariously bizarre behaviors and affections.  There are a lot of great, wacky details aside the funny performances in this ideal starter.
If I Had A Million goes fully pre-Code with the second bit, simply titled "Violet". Lopped out of release prints of the film in certain conservative territories, the entry features Wynne Gibson as burnt-out sex worker Violet Smith, recipient of Glidden's second check. "Violet" is a weirdly brief entry, proving that contemporary notions of female empowerment by way of stripping down is nothing new. Indeed, once wealthy, the titular girl simply checks into a luxury room, tosses one the bed's two pillows, undresses down to her skimpy skivvies, and settles into the silk sheets. As the commentators mention, it's a simple bit of Depression Era wish fulfillment wherein the chance to finally relax in perpetuity has always seemed impossible. But wait…! Those doggone fishnet stockings and garters can finally come off as well. Violet ain't gonna be that girl anymore. Who will she become? Who knows. We'll never see her again.
Although ostensibly a comedy (an overall classification I'll agree with), If I Had A Million is not afraid to wander down darker paths. Ubiquitous tough guy actor George Raft plays the title character in "The Forger", wherein fortune smiles upon him with one of the $1,000,000 checks just as fate also frowns on him as his established funny money operation is exposed. Finally, some real money! But… fat lotta good it does a fella who can't set foot into a bank. Things only get worse for Raft from there.
If I Had A Million also goes so far as to include a death row story, in which a convicted bank robber and murderer (Gene Raymond) on the brink of the electric chair hopes his last-minute check will somehow spare his life. Nope. Thankfully, If I Had A Million ends on a heartfelt note, as life in a ladies senior center is wonderfully enriched.
For all the wealth getting jostled around on screen, If I Had A Million doesn't look all that rich on Blu-ray. It appears to be a noise-laden transfer and is in fact said to be the same master utilized by a 2018 French high-definition release by Elephant Films. (This according to some impressively detailed product feedback on Amazon's listing of the KL Blu-ray*, so take that as one ought). Despite this shortcoming, however, there is no superior alternative outside of screening a probably nonexistent pristine film print. Furthermore, it's unlikely that there will be a superior alternative in the foreseeable future. This release may not be visual pay-dirt, but classic movie buffs will dig it anyhow.
If I Had A Million is, as Arkush and Kremer observe, a nicely stocked wallet-full of famous Paramount players for cash-strapped Great Depression audiences. As is typical of anthology films, several entries don't hit the mark. Thankfully, enough do hit their marks to make the film a worthwhile keeper for classic comedy film buffs. It's no fortune of laughs, but still, there's plenty here to invest in.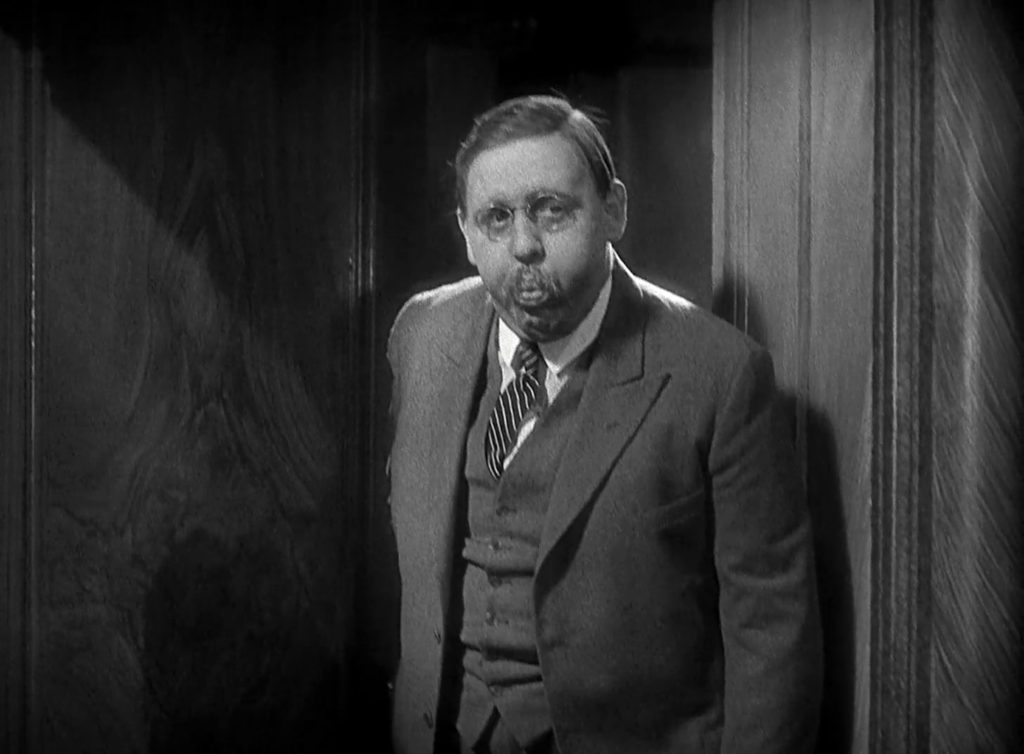 *From an Amazon product review of this Blu-ray, dated March 29, 2023 by Gerard R…
"1932 was a tough year for Paramount, it was in receivership, founder Adolph Zukor was booted out by the Eastern bankers. To get customers into theaters, Paramount figured sex sells. So you have the "Violet Smith" episode and scenes in DeMille's 1932 movie Sign Of The Cross that were hot stuff back then, until the Breen office moved in".