A Double Feature of Pearls from Ernst Lubitsch's Silent era
DIRECTED BY ERNST LUBITSCH/1919
BLU-RAY STREET DATE: JUNE 13, 2023/KINO CLASSICS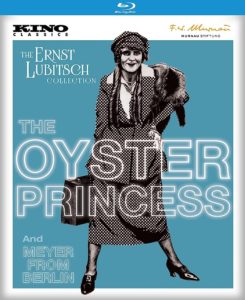 Previously released on DVD by Kino Lorber in 2014 as part of a "Lubitsch in Berlin" box set, 1919's delightfully coarse The Oyster Princess (Die Austernprinzessin) has broken out of that particular shell. And, she's not alone! Alongside is an Ernst Lubitsch 1919 directorial counterpart- this one in which he also plays the lead- Meyer from Berlin (Meyer aus Berlin). These are but two of the seven films the great filmmaker (and then actor) made that year at Germany's Projektions-AG Union (PAGU) company.
Both of these films hail from a time before director Ernst Lubitsch got particularly touchy about his comedy. Meaning, these silent kinda-features (both are no longer than an hour) operate primarily as broad slapstick… though don't dismiss them as not indicative of the revered director's revered and later-perfected sensibilities. The Oyster Princess– the headline feature on this two-film Lubitsch Blu-ray from Kino Classics, and by far the superior effort- is, just as the copy says, "Visually inventive, sexually playful, and speeding at a manic pace."
There are typical entitled heiresses, and then there's Ossi Quaker (Ossi Oswalda), the grown-up and only offspring of the garishly wealthy (after all, Lubitsch labels this film "A Grotesque Comedy") American oyster mogul whom we only come to know as Mister Quaker (Victor Janson). When Ossi learns that another debutant has become engaged, she simply must land herself a superior fiancé.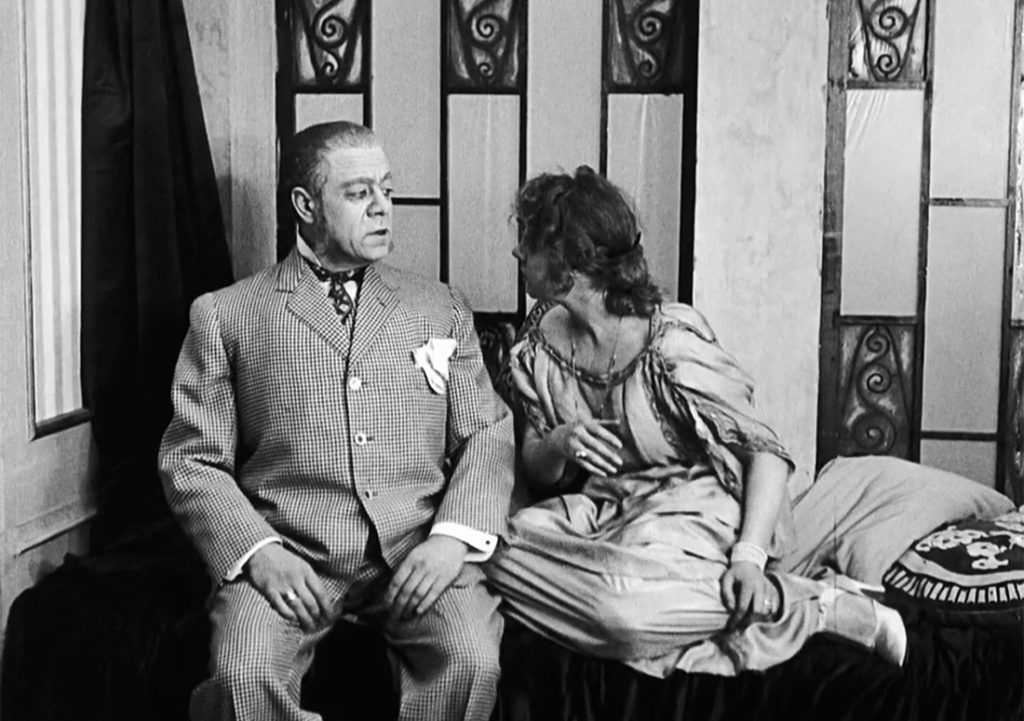 A German prince (Harry Liedtke) is located and willing. Bingo!- or so Ossi thinks. In these post-Kaiser days of Germany, this prince is living low in a rundown apartment with Josef (Julius Falkenstein), his devoted friend and assistant. Josef is dispatched to the Quaker's palatial place, but when he's accidentally taken for the prince, he quickly finds himself married to Ossi. (Well, after a long wait for her to be prepared by her industrial assembly line of "help"). Mistaken identity and the characters' go-with-the-flow response to everything shapes The Oyster Princess for the great silent comedy that it is.
Some consider this a proto-screwball comedy, though its sustained harried lunacy would be a bit much for that 1930s-centric niche. Others say that Lubitsch invented the movie musical with this film's energized gala "foxtrot epidemic" sequence, an extended, story-driven all-dancing VoomVoomVoom! portion of a silent movie. It's a bravura segment, that's for sure. But let's dial the rhetoric down a few notches, shall we? What makes so much of it perfectly pop in this presentation is the score by Aljoscha Zimmermann & Ensemble, recorded back in 2006. It may be received by too modern by some, but then again, so was Lubitsch.
The flighty, satirically wasteful opulence of the crazy daughter as well as the über-wealthy father's simian mullet and slothy demeanor underline their absurd cloud of American perceived entitlement. As the stupidly rich lead characters indulge in too many uniformed servants constantly buzzing around and overcrowding each other, so too does Lubitsch in his hilariously unrestrained depictions of it. The nuttiness is felt from start to finish, only giving way to vital social critique when we're able to catch our breath and step back. And that, of course, isn't really until it's over.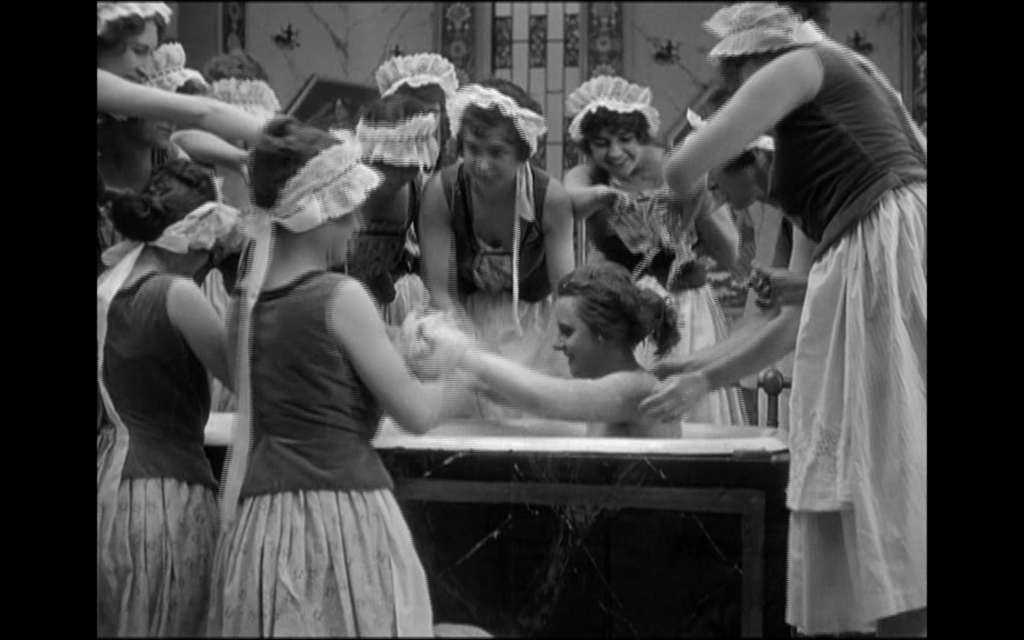 How Did Lubitsch Do It? author Joseph McBride, having deservedly cornered the market on professing about the filmmaker, provides audio commentary for both films. His track for The Oyster Princess is nothing short of indispensable, so chock full of relevant facts and poignant observations that they almost seem to overlap. Even McBride's broader off-the-cuff contextual comments in-between intended points are like little nuggets of gold. He persuasively maintains that Oyster as well as the accompanying film on Kino's new Blu-ray, Meyer from Berlin, are "embryonic examples of [Lubitsch's] style." Furthermore, he tells of how not in spite of but because "a lot of Lubitsch films are about transgressing social barriers", the filmmaker holds the very rare honor of having been the top director in two countries, Germany and the United States.
McBride contextualizes the director's sensibilities within his ethnicity, saying "Jewish humor is all about resilience."  In his comedy, Lubitsch demonstrated and depicted resilience like no other.  In this regard, The Oyster Princess is a true pearl among so many other treasures.
Lubitsch works both sides of the camera in another 1919 farce as he stars in and directs the infidelity travel picture Meyer from Berlin. The film is one of many star vehicles for him from well before his famous "Lubitsch touch" of subtlety changed the course of comedy in Hollywood as a writer/director. Meyer from Berlin may lack the manic nuttiness of The Oyster Princess though it's certainly not without its own overt elements.
Reprising a reoccurring cocksure character of his named Solly Meyer, he heads off alone to the Bavarian Alps with the very determined goal of having extramarital affairs. Despite the Meyer character's aggressively foul intentions, the German audience is said to have enjoyed watching his misadventures. This is likely due to his overconfident bravado while dressed broadly ridiculously. (He spends this film in a Swiss mountaineering getup with a wildly long feather in cap to rival Steve Martin's in The Jerk). Lubitsch himself, with his smallish stature and sharpish looks, slots into this slapstick lead with go-for-broke gusto. He's got an earnest performer's true charisma, because at this point in his life that's what he was.
Once again, Joseph McBride provides a packed commentary, this one appropriately focused primarily on Lubitsch's acting career. At a mere fifty-one minutes, McBride reveals that in his own research, he discovered a description for a now-lost epilogue that ended the film in a far less abrupt manner than what survives here. Though Meyer from Berlin may not demonstrate the same comic precision or an equal quality restoration/presentation, it is a fully worthwhile accompaniment to this Kino Blu-ray's main feature.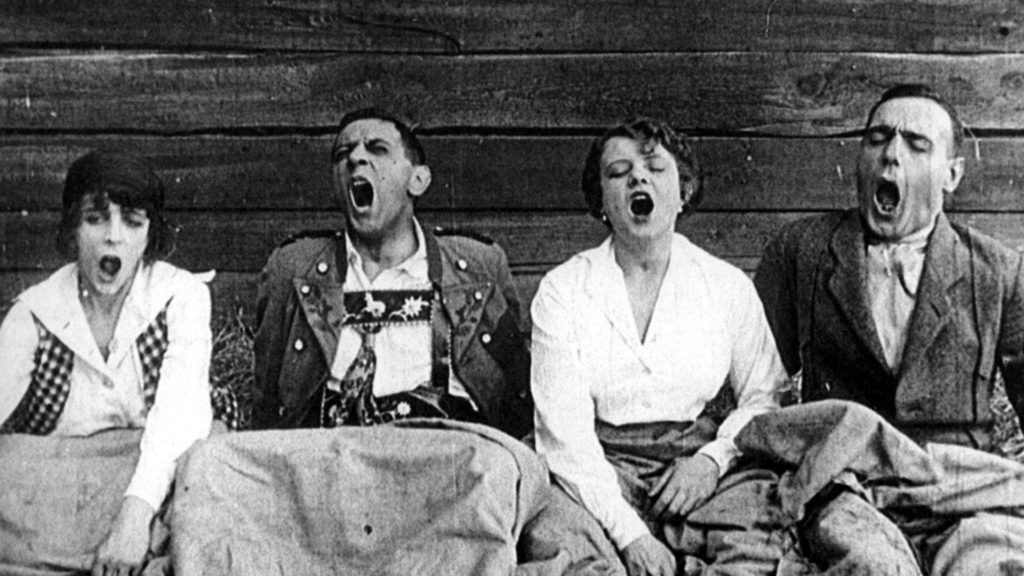 Both films as presented by Kino are brilliant catches for classic cinephiles. The Oyster Princess, appropriately, has the better restoration and transfer, looking downright dynamic for its entire short running time. Meyer, on the other hand, has overt wear and tear, though on the whole it is more than passable. Although its musical accompaniment is brand new, composed and performed by Brett Miller, its less pronounced presence might lead some to positively assume that it's been around a lot longer.
Meyer from Berlin doesn't conquer the Watzmann mountain of comedy, though The Oyster Princess finds its way to such great heights. In his later Hollywood work, Lubitsch would famously always set the stories abroad even though the actors onscreen are unmistakably American. The Oyster Princess is amusingly the complete opposite- a kind of subversionary time bomb planted by the genius filmmaker, quite likely unbeknownst to even himself. McBride credits Lubitsch for creating the modern Hollywood, effectively punting the crusty old Victorian sensibilities of D.W. Griffith to the curb in favor of a savory yet sweet embracing of the forever human foibles, appetites, and fallacies that became amplified in his time. "A moralist without conventional morality," Lubitsch, in these very films, paved the way for what Hollywood would become and what comedy cinema is capable of.