Broken Lullaby (1932) / Three Women (1924)
DIRECTED BY ERNST LUBITSCH/1932, 1924
Broken Lullaby
BLU-RAY STREET DATE: DECEMBER 7, 2021/KL STUDIO CLASSICS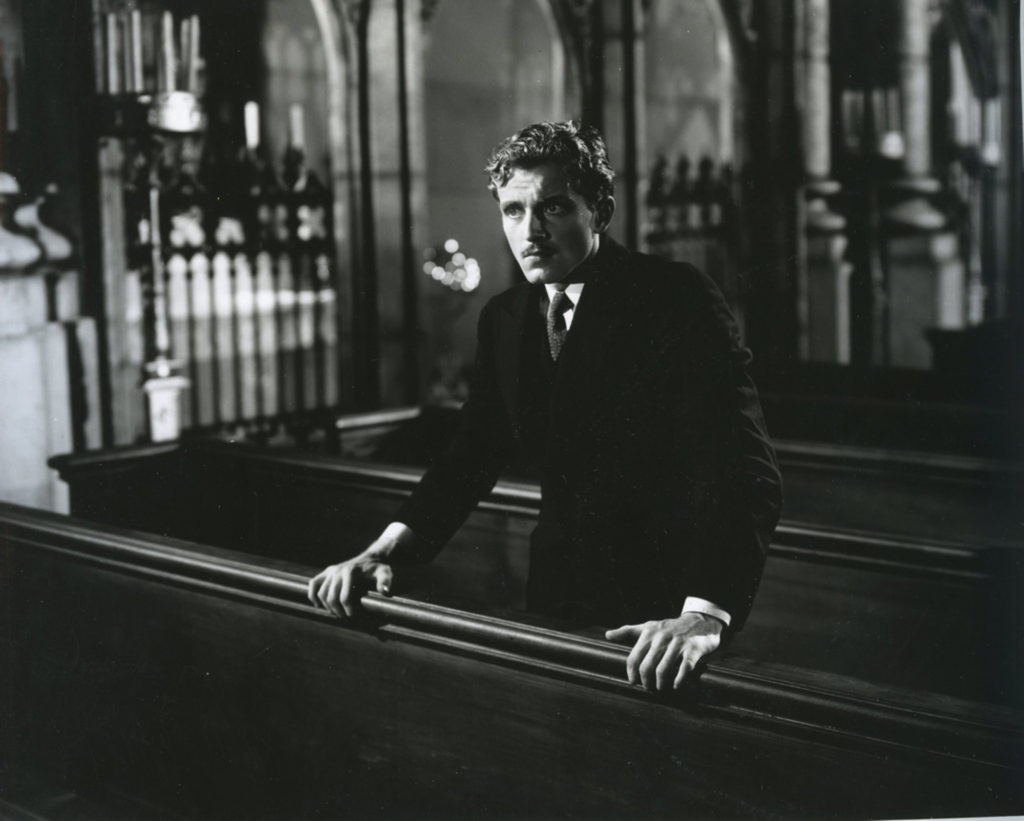 A man carrying a heavy secret about a dead person gets up the courage to go share said secret with the grieving family. Except, when he senses just how shattered they would be by the reality, he pivots to a rose-colored lie. As a result, the family comes to love him as their own son. Amid all of that, he falls in love with the prominent younger lady of the house. For our protagonist, sustaining such a well-intentioned façade only makes his own internal torture grow exponentially.
Ernst Lubitsch, by 1932, had made a handful of musicals.  (One of which, 1929's The Love Parade, was the director's first "talkie").  Broken Lullaby, however, is not one of them.  Dear Evan Hansen is, though.  Anyone familiar with that singing sensation and the unfortunate movie it spawned will have likely recognized the opening synopsis of this review.  Yes, it's true… Ernst Lubitsch's Broken Lullaby shares the very same central guts of a plot as everyone's current favorite stage musical.  As accomplished and satisfying as Broken Lullaby is, this was its single biggest surprise.
Prominent film historian Joseph McBride, author of How Did Lubitsch Do It? (so you know he's no slouch in this department) recorded an audio commentary for this release. Though the facts he shares are thorough and many, one can't help but notice that he seems unenthusiastic about this film. It's true that when one thinks of Lubitsch these days, it's in association with his game-changing run of comedies at Paramount. (Among them: Trouble in Paradise, Design for Living, The Shop Around the Corner, Heaven Can Wait, and To Be or Not to Be– most of which have been remade, or at least widely imitated). This is absolutely not among them. Beyond that, Broken Lullaby is regarded by many as a miscast near-miss at best. (That cast led by Phillips Holmes, Nancy Carroll, and Lionel Barrymore). While McBride's opinion carries an earned weight, this critic can happily disagree.
At home in its own unsubtlety in a way that Lubitsch simply isn't processed today (or even shortly from then, as the marketing term "the Lubitsch touch", forever tethering the director to a certain sophisticated indirectness soon takes off with his embrace of comedy), Broken Lullaby may indeed strike many as anti-Lubitsch. Or at the very least, outside his comfort zone. But is it? Based on Maurice Rostand's play, L'homme que j'ai tué, from two years prior, and Reginald Berkeley's 1931 English-language adaptation, The Man I Killed, Lubitsch finds consistent and creative ways to forsake dreaded "staginess". As a blunt drama, Broken Lullaby is an impressively cinematic experience.
KL Studio Classics presents this unfairly overlooked Lubitsch drama with a terrific new 2K master. Which means, at the moment of this writing, Broken Lullaby is better represented on home media than the filmmaker's far more celebrated screwball comedy of the same year, Trouble in Paradise. The twist, though, is that Broken Lullaby is worthy of such treatment. Not that it's "better" or more important than Trouble in Paradise. It's that there is plenty of movie love to go around, and every face of Ernst Lubitsch is necessary to preserve, and to experience.
Three Women (1924)
BLU-RAY STREET DATE: JANUARY 18, 2022/KINO CLASSICS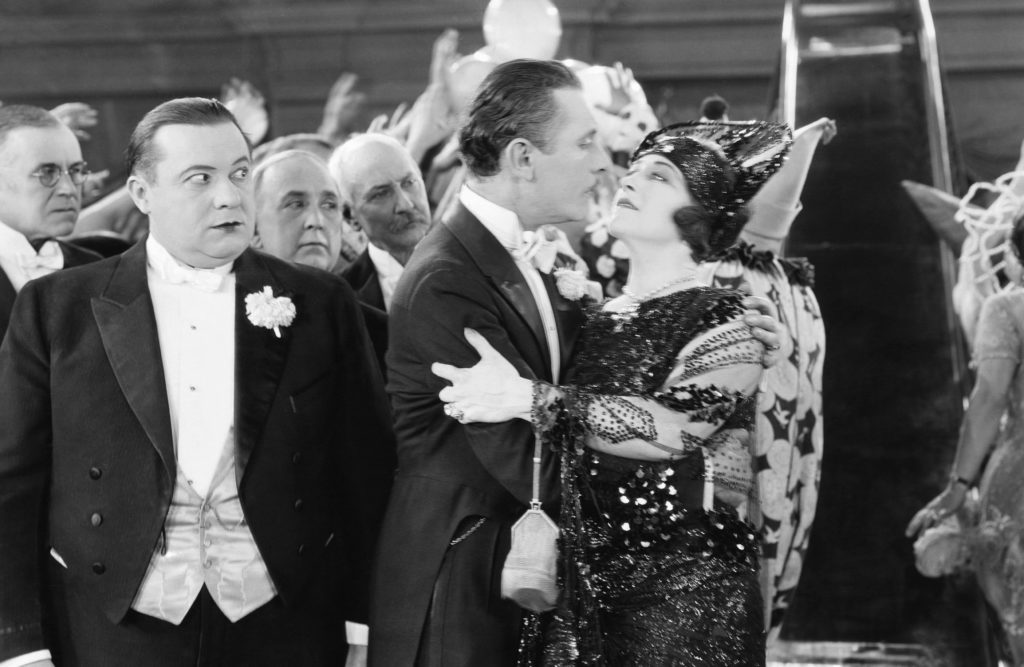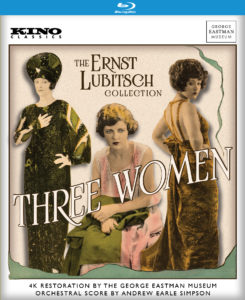 New to Blu-ray sporting an impressive 4K restoration by the George Eastman Museum, we have Ernst Lubitsch's third American film, Three Women. Put out by Warner Brothers in the U.S. and UFA in Germany, the silent drama proved to be Warner's most successful release of 1924-25. Based on the novel Lillis Ehe by Yolande Maree (also known as Iolanthe Mares), the opulent film stars a radiant and young May Mcavoy in the heartbreaking lead and theatre star Pauline Frederick as her socialite mother. They both fall hard for the same man, lizard-like con man played by Lew Cody.
With Cody's slick, fraudulent cad at its center and its world one of uppity wealth, it's not difficult to perceive Three Women as a dry run for Lubitsch's 1932 great, Trouble in Paradise. Do not, however, assume this film to be the sharp and saucy battle of wits that that one is. Trouble's singular female lead, Miriam Hopkins's thieving Lily, has more autonomy on her own than the titular triumvirate of this 1924 silent. Also, that one's a comedy. Three Women, true to earlier Lubitsch modes, is not as concerned with laughs. Not in the slightest.
If it's true, as Jean Renoir claimed, that Lubitsch invented "the modern Hollywood", Three Women is that invention in active progress.  The minimal use of inter-titles, instead relying on performance and the coalescing art of visual cinematic storytelling, is just one of the film's testaments to Lubitsch's sure hand.  Though the famous and infamously difficult to define "Lubitsch touch" was a phrase yet to be coined, the director's trademark effortlessness is on full display here.  The difference, like 1932's Broken Lullaby, is that rather than the clever subtlety he's later known for, Three Women is blunt.
May Mcavoy's fashionable character is said to have stepped out of the kind of then-popular "college movie" that Harold Lloyd spoofed so effectively in The Freshman.  She attends U.C. Berkeley, often flanked by overly enthusiastic peers.  She certainly doesn't "need" Lew Cody's lusty character, particularly because she's already engaged to a more age-appreciate sad sack (Pierre Gendron) who of course loses her.  Gendron is never not one heck of a dejected bulwark, but he remains in the picture nonetheless.  Pauline Frederick is the biggest story here.  Her transformation from jazz-age society matron to harried harpy in the film's dramatic climax is a sight to behold.  The titular third woman of Cody's ways, played by Marie Prevost, is almost entirely perfunctory.
Kino Classics gives Three Women fine Blu-ray A/V treatment, the film accompanied with a solid orchestral score by Andrew Earle Simpson. The only bonus feature on this disc is an audio commentary by Anthony Slide. Slide delivers verbose and lively observations for the film's whole seventy-minute running time. Slide discusses records indicating that up to four minutes of Three Women is now lost, with no clues given of what that missing footage might be. Many mysteries of movies of the silent era will forever abound; this, sadly, appears to reside among them.
Three Women, then, as a Blu-ray release, joins the slightly earlier issuing of Broken Lullaby as high-definition representation of overlooked and all too dismissed unsubtle Ernst Lubitsch dramatic fare. Though these types of films aren't what we generally think of or even want from the filmmaker, they are, nonetheless, touching in their own ways.