The Heat's Coming off the Street in Silent-era Germany
DIRECTED BY JOE MAY/GERMAN/1929
BLU-RAY STREET DATE: MARCH 7, 2023/KINO CLASSICS
Asphalt arrived in a time when a film's being German, visually arresting, and expressionistic added up to strikes against it. Darkness and light? Moments of stylized montage? An overt morality that only a horror story would dare top? All old hat by 1929. Cliché, tired, trite, etc. Per the audio commentary on the Kino Classics Blu-ray release of Asphalt, this was the predominant take by film critics in Weimar Germany.
That take, while telling and not dishonest, lands today (to me, at least) as rather astonishing. Who, no matter how jaded, could look at director Joe May's stylish yet refined 1929 Film Noir precursor Asphalt and simply shrug? Germany, by then the country at the top of the cinematic heap in terms of starkly creative output in the 1920s, was clearly suffering an embarrassment of riches. To them, however, this fact seemed to be as clear as, well, asphalt.
And, that's just about it in terms of just how most anyone can deduce why this film is called "Asphalt". It's an interesting title, certainly not unmemorable… but also lacking any direct correlation to the story at hand. That story is one of mismatched obsessive passion between Albert, a tall, upright beat cop (Gustav Fröelich) and Else, a lynx-y female street hustler (flapper-esque Betty Amann). From two separate worlds that couldn't be more in their own orbits, these two are like water and oil (respectively). And yet…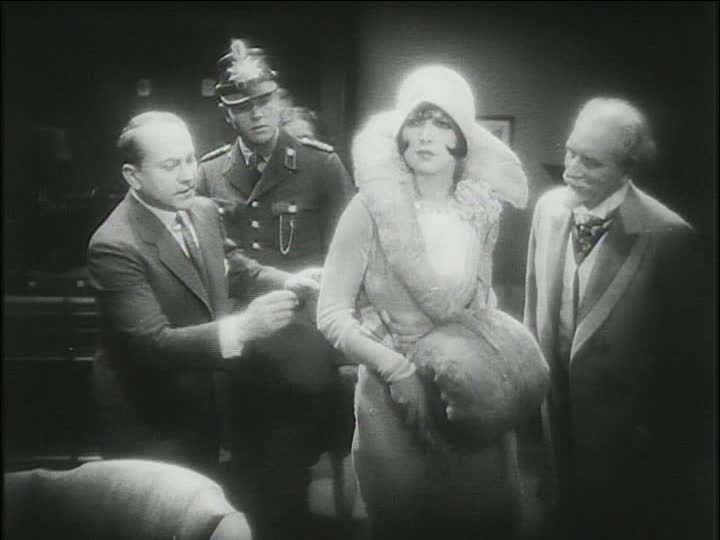 It's modern day (i.e. 1929) Berlin, which was very modern, indeed. When the doe-eyed Else is caught red-handed after darn near executing a premeditated jeweler shop heist, Wachtmeister Albert arrives to the scene to make the arrest. Her precisely batted eyelashes and the stardusty glimmer that lies just beyond them (courtesy in large part of Metropolis cinematographer Günther Rittau) almost gets her off the hook with the smitten shopkeeper, but not with by-the-book Albert. And yet……
Seduction. Attraction. Surrender. Guilt. Shame. Infatuation? Rekindling. Resolution. Tragedy. That's the way things go on the mean streets of Weimar Berlin.
When we talk about the influences on the later (and even later dubbed) Film Noir style (arguably having spanned from 1941 to 1958, roughly when it became self-aware), we talk a lot about the visual moods found German Expressionist cinema. May's expressionist streak is proudly on display in Asphalt, punctuating the proceedings with kaleidoscopic process shots and wild title graphics, not to mention a photographic radiance poignantly offsetting the urban isolation that eats at everyone. All of this considered, and hindsight being 20/20, Asphalt feels more classic Noir than German expressionist.
Perhaps more immediately chilling, young Albert's broken rigidity is condemned by his proud father, Hauptwachtmeister Holk (Albert Steinrück), who goes so far as to suit up in his own home to apprehend his shattered son. It's then up to Albert's conflicted mother (Else Heller) to see the family's way out of this on his behalf. The father's hard and immediate veering into unforgiving "law and order" mode can easily be viewed as a Third Reich precursor and an unheeded warning.
Viennese born filmmaker Joe May had quite a run in Germany, doing his part to bolster its lofty stature as the highest echelon of national (though thankfully not yet nationalistic- May split for Hollywood in 1933) cinema on the global stage. He made a name for himself helming many a well-regarded adventure film, including Das indische Grabmal (The Indian Tomb), a two-part epic penned by Fritz Lang and Thea von Harbou. By 1929, however, he'd moved on to more purely dramatic fare. Such as Asphalt.
The Kino Classics' disc's audio commentary by film historian Anthony Slide is equal parts fun, fascinating, and frustrating. His depth of knowledge is clear and indisputable, quoting Siegfried Kracauer and others who criticized Asphalt in its day. His free interjections of his own strong opinions and lighthearted observations are most welcome, breaking up the otherwise academic approach. But when there's nothing else to pontificate about, he resorts to narrating what's happening on screen.
Kino Classics has done an exceptional job in presenting the dynamic luster of this historically underrated melodrama. Utilizing the 35mm Restoration by the F.W. Murnau Foundation, Asphalt on Blu-ray is thoroughly worth taking to the streets to apprehend a copy.