Last Christmas I gave you my heart, but the very next day you gave it away…
DIRECTOR: PAUL FEIG/2019
Kate is having a rough holiday season. For starters, she got kicked out of her flat, and she's running out of friend's couches and strangers' beds to crash on. At her job at a Christmas shop, she and her boss bicker the length of her shift. She hopes to leave that behind to sing, but she hasn't been getting callbacks after her auditions. As if that weren't enough, her relationship with her family is strained, and her overbearing mom is driving her crazy (quite literally whenever she calls and Kate's phone plays that Fine Young Cannibals song). She may wear an elf costume for work, but since every opportunity in her life is turning into a dead end, her spirit is anything but joyful.
That is, until she meets Tom (Henry Golding). Kate (Emilia Clarke) has been on a downward spiral ever since a sudden illness, and he's the first person to empathize with her as well as the first person to challenge her to look beyond her heartache. Will he be that someone special to help her start over? Or will he give her heart away like so many others?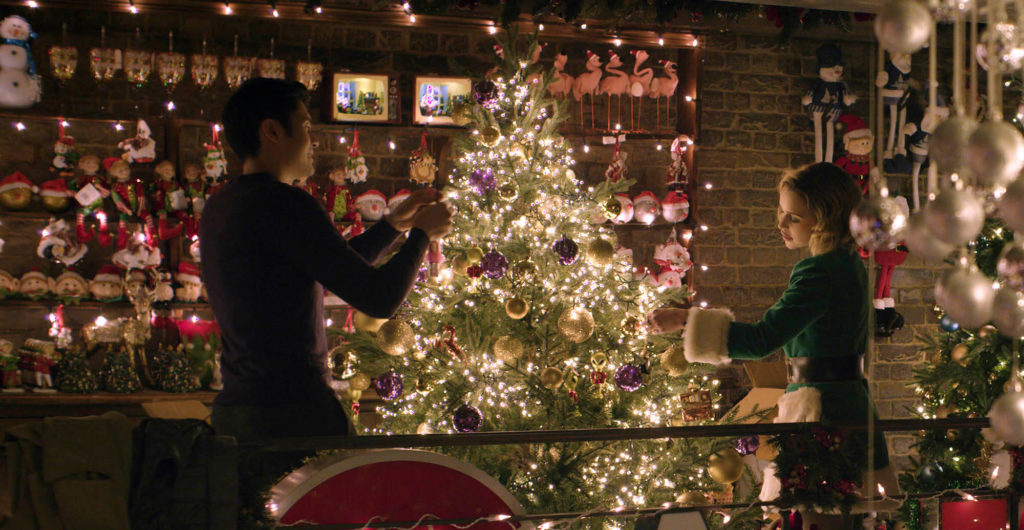 As you might have guessed from the title Last Christmas, storytellers Emma Thompson, Greg Wise, and Bryony Kimmings were inspired by the hit Wham! Christmas song you'll soon have stuck in your head for the next two months. Fortunately, "Last Christmas" isn't the only hit from Wham! and George Michael that laces this holiday story. Fans will be excited to hear an unreleased song recorded before his death, "This is How (We Want You to Get High)," but even casual listeners like me will be able to bop along to his greatest hits. Instead of an overbearing tribute, it's a thematic complement to Kate's journey through twinkly lights, sparkly tinsel, and snowy gardens.
Speaking of sparkle, we gotta talk about Emilia Clarke and Henry Golding. You loved him in Crazy Rich Asians! You thought she was the least terrible part of Me Before You! Together they're pretty good! Look, not every couple can muster up Lady Gaga and Bradley Cooper-level chemistry, but their opposites-attract spark feels just believable and endearing enough for a rom-com such as this one. It also helps that the supporting cast is strong enough to make their jokes land and create characters with personality even with limited screen time. Michelle Yeoh steals scenes as Kate's sharp-tongued, Christmas-devotee boss, and so does Emma Thompson as a mother with a knack for delivering all lines with gusto in an Eastern European accent.
That said, this rom-com operates at about the level of Clarke and Golding's chemistry—that is, enough. I laughed, I teared up, and I appreciated its contemporary Grinch storyline, but not much surprised me. (A trailer over-generous with plot was part of my problem. If you haven't seen much advertising, I'd recommend keeping it that way so you don't start waiting moments you've already seen.) Last Christmas may not be a movie to put in the all-time-great Christmas canon, but it's a festive, fun one I wouldn't be sad to watch again next Christmas.