Disney Musical Sings A Different Tune
DIRECTED BY ROB MARSHALL/2014
"Beware the tale you tell…Children will listen"
Just what is Disney up to with Into the Woods?  Widely cited as "nobody's favorite Sondheim", this Tim Burton-esque adaptation of the 1987 Broadway stage musical is sing-songy, yes, but it's also intensely dark, almost too dark to see.  It's uneasy in specific ways that Disney's own fairy tale based works are not.  (Thinking about bringing small children to see this movie because it's Disney, and has Cinderella, Jack and the Beanstalk, Rapunzel, and Little Red Riding Hood crossing paths?  Think again.  Older kids and adults, on the other hand, could likely be well fed by this film.)  To detail the specific ways in which Into the Woods does so would be to venture into the thicket of spoilers.  But, the looming air of well-Art Directed darkness and dread that permeate the film are obvious even from the TV commercials.
Darkness and dread are certainly not new to Disney.  Heck, the scariest part of Snow White was her getting lost in the dark, dreadful woods.  Beyond the Disney classics, there's other scary Woods we've visited vicariously, time and again.  There's the Techicolor MGM Woods that threatened lions, tigers and bears, but delivered curmudgeonly talking trees, witch's fireballs, and winged monkey attacks.  Greedy colonialist ivory poaches can only be driven out of the Woods by Tarzan so many times.  There's the Sam Raimi Woods of Three Stooges horror insanity, complete with a sexually assaulting vine.  And of course, there's the flimsy moral gore of Jason Voorhees.  These are the artifice Woods, the tales we tell ourselves to both buffer and inform of real life.  If you haven't guessed, the Woods is a rather popular metaphor.  Stephen Sondheim most certainly agrees.  With Into the Woods, he went back to the macabre fairy tale source material, mining the metaphor for its deeper meaning, extracting it, and then looping it back around to metaphor.  With a few memorable tunes.
Perhaps more to the point, fairy tales in their purest forms are intended as a proper scaring for children.  One thing is almost certain – the Brothers Grimm did not have wall-to-wall singing cartoon characters in mind when they originally penned their ages-old stories.  If Into the Woods is true to the Sondheim stage production, then the film appears to be splitting the difference between classic Disney tropes, and the sometimes heavy-laden original fables.  Director Rob Marshall and screenwriter James Lapine are very intentionally walking the line between feel-good escapism and tough reality.  It's both movie magic and brutal truths.  As one character, having lived both the dream and the nightmare comes to wish for, living is the place in-between.  Or as John Lennon said, life is what happens to you while you're busy making other plans.
"Into the Woods" is the physically darkest film of the year.  The go-for-broke sea of fog, shadows, and branches is something explicitly intended for the cinema screen.
Disney has built an empire on the Happily Ever After, and Into the Woods has one, too… at the two-thirds point of the story.  After spending over an hour wallowing in the cleverness of the carefully woven mash-up of so many fairy tales, even occasionally going down the devilish path of the Grimms, ala Cinderella's stepmother slicing up the feet of her daughters to force the slipper (off screen, played for twisted laughs), Into the Woods does something different.  It keeps going.  Characters don't make it, fantasy relationships don't work out, and disasters occur.  Who's to blame for all the trouble?  It's increasingly hard to say.  There's a song about that.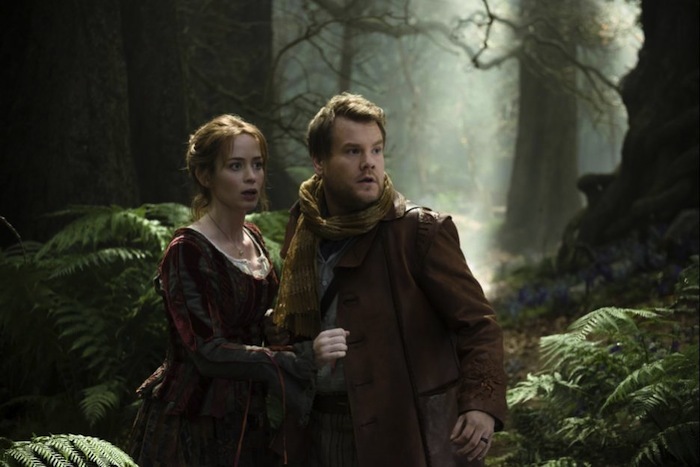 Being a director of big budget blockbusters is like being the president of a country – whatever one's take on how to do the job, the fact is that there are very, very few who've actually ever done it, period.  It's a smaller pool still who've helmed big musical films.  And when it comes to helming them these days, Rob Marshall, for better or for worse, is the only one who's done it with any regularity.  He's both done it right (Chicago) and very wrong (Nine), but he's never tackled out-and-out musical fantasy until now.  By borrowing a few pages from the aesthetic handbooks of Tim Burton and Terry Gilliam, he thankfully does it right.  His pacing and visuals are especially interesting, evidencing the mammoth budget that they so clearly had, yet opting for stage-like visual restraint wherever possible.  We never do get a good look at the giants, and the Big Bad Wolf's whiskers are still drawn on the actor's face.
Into the Woods is the physically darkest film of the year.  The go-for-broke sea of fog, shadows, and branches is something explicitly intended for the cinema screen.  (Once upon a time, a fleet of set dressers was sent to go forth to lovingly gather and then carefully transport a wide array of interesting tree branches back to the soundstage…)  If one will be watching it at home, it will become quickly apparent that the viewing room must be as dark as possible, just to be able to discern what's what and who's who.  It's this unrelenting nightmarish vibe that may prove too much for small children.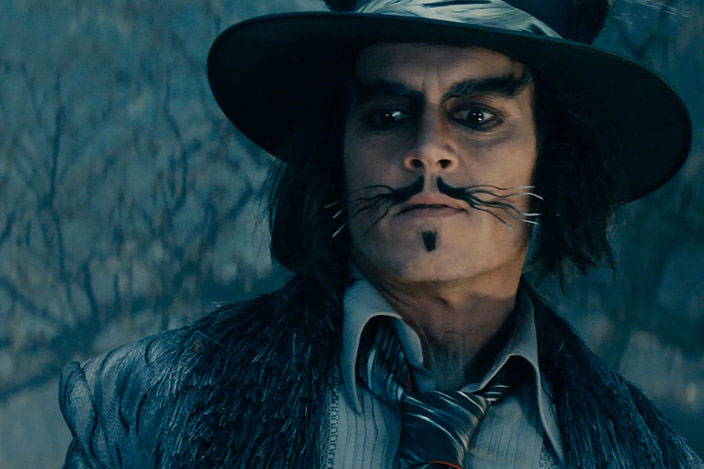 The cast is solid, stocked with both musical veterans and some unexpected players that nonetheless pull their weight and make sense in being there.  Johnny Depp's Tex Avery-esque Wolf has been a cornerstone of the film's marketing, but those lured in by that will likely be disappointed when he disappears for good quite early on, after only two scenes.  It's Anna Kendrick as Cinderella, young Daniel Huttlestone as Jack, and James Corden in the lead as the humble baker who stand out throughout.  Emily Blunt and Meryl Streep as of course terrific as well – we'd expect no less from them.  Faux English accents abound (we're looking at you, Chris Pine!), but it's all quite forgiving, and likely perpetrated if not if not due to actual intended geography, then for the sake of some Oliver-esque musical tradition.  Fairy tale tropes aren't the only inescapable aspect of this film!
Watching Into the Woods is both challenging and rewarding.  The take-away almost destroyed me upon my second viewing.  Disney, by wandering into this centuries old Grimm's fairy tale territory, is nonetheless venturing into a whole new brush for itself.  Perhaps it's time.  A little course-correction on the now-collectively ingrained expectation of living Happily Ever After is long overdue.  The music is good, the moral is thought-provoking, and the story is tragic and moving.  Into the Woods might be no one's favorite Sondheim on Broadway, but as it finds a wider audience via the film, that will change.  And that's a happy enough ending to live with.