As Controversial as he is Celebrated, the Spanish Auteur Continues to Live up to his Reputation
One of my favorite facts about Pedro Almodóvar, aside from his being one of a small handful of prominent LGBT filmmakers, is that his career began in the cultural revival following the passing of infamous Spanish dictator Francisco Franco. Almodóvar had to become self-taught in film craft after Franco shut down the National School of Cinema in Madrid. Once Franco passed, Spain shed its fascist identity and searched for a new one, and Almodóvar flourished in the new countercultural La Movida Madrileña (The Madrid Scene).
An artistic movement that helps to redefine and revive its people after a period of political fear sounds really promising right now.
Almodóvar explored his art through all forms, from experimental theater to comic strips to a glam rock parody band. After supporting himself for years with jobs like an office assistant at a telephone company, he began making feature-length films in the 1980s before starting a film production company with his younger brother Agustín. In 1988, Women On the Verge of a Nervous Breakdown gained him international recognition, and he's won awards all over the world ever since, including the Oscar for Best Original Screenplay for Talk to Her (Hable con ella) in 2002.
Almodóvar flourished in the new countercultural La Movida Madrileña (The Madrid Scene).
Like many established directors, he often works with a coterie of trusted actors, including such notable fellow Spaniards as Antonio Banderas, Penélope Cruz, and Javier Bardem, and Mexican-born actor Gael García Bernal (see Women On the Verge of a Nervous Breakdown for an Antonio Banderas so young he's basically a puppy).
His background growing up poor and working class, and his identity as a gay man, turns Almodóvar's perspective to often unnoticed types of characters. He's been cited as saying he finds women to be more interesting characters than men: "Women are more spectacular as dramatic subjects." And of course, his films are populated by queer characters of all types who are normally marginalized or tokenized in other popular narratives.
Film Admissions is about filling in the gaps of your film knowledge, and while I've known about Almodóvar since film school, I've only seen a couple of his films—Women and Talk to Her. Those were both in film school, and while I remember loving them, I wasn't out then. On this side of the closet, I wondered how I'd interact with Almodóvar's work. I'd hoped for Pride Month to find a filmmaker with a large body of work for the writers of Zekefilm to dig into, but frankly, there aren't that many yet (aside from, say, John Waters, Gus Van Sant, and last month's Film Admissions focus, George Cukor). As our culture currently fights for its own soul, I hope that the contributions of queer artists will continue to grow. In the meantime, it's good to know your history, and Almodóvar is a colorful place to start.
– David Strugar
Women on the Verge of a Nervous Breakdown
1988, Laurenfilm, dir. Pedro Almodóvar
by Sharon Autenrieth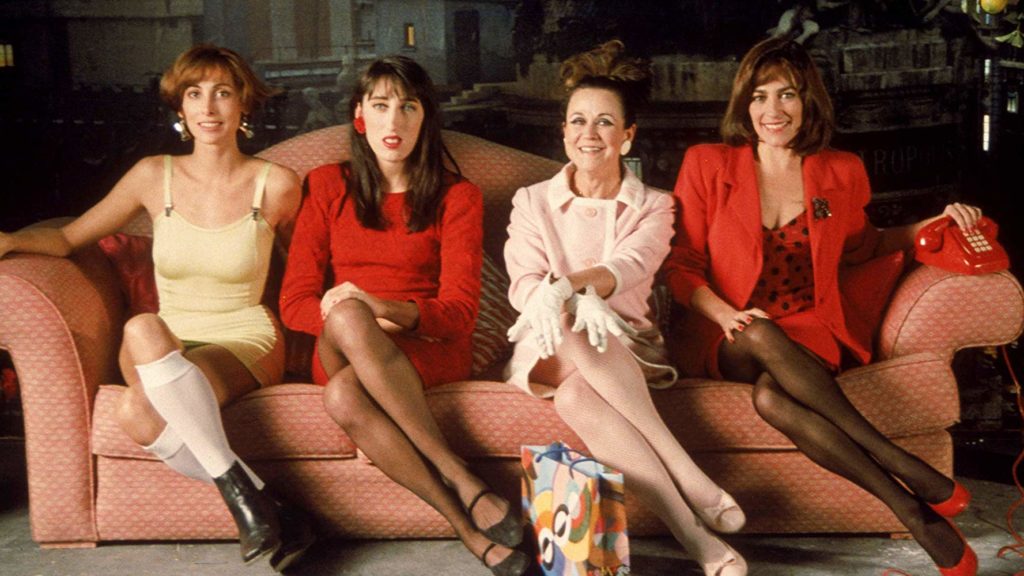 This is my first and so far only Almodóvar film.  I'm not sure what I was expecting, but I can tell that this frenetic delight was a surprise and a treat.  At its heart, Women On the Verge of a Nervous Breakdown (Mujeres al borde de un ataque de "nervios") is a glimpse into the way that women's lives have too often revolved in destructive ways around unworthy men.  But the insights are delivered through a screwball comedy, largely set in the apartment of Pepa (Carmen Maura), a middle aged actress.  Pepa's longtime lover, a silver haired, golden voiced actor named Ivan (Fernando Guillén) has just left her without explanation – but with many platitudes about deep, undying love.  Pepa is not letting go easily.  
In the course of the film she will call Ivan, try to track him, make a plan to commit suicide (which goes ridiculously awry), set her bed on fire, run afoul of the police, and save someone's life.  She'll also cross paths with other women, equally out of sorts because of the men to whom they've given their hearts.  Pepa's best friend, the naive Candela (María Barranco), fell in love with a Shiite terrorist and comes to Pepa shelter, wanted as an accomplice in a terrorist plot.  Marisa (Rossy de Palma) is engaged to Ivan's son, Carlos (Antonio Banderas), but he doesn't show much enthusiasm for her – and Marisa can't grasp how she's fallen into the madness of Pepa's rebellion against being simply a woman scorned.  Finally, there's Lucia (Julieta Serrano), Ivan's ex-wife.  She's been released after a long stay in a mental hospital and newly remembering her abandonment, Lucia has revenge on her mind.
All of this sounds soap opera dramatic and tragic, but none of it is.  Almodovar is making some serious points about sexual politics, but the delivery method is slapstick, outrageous coincidences, falling luggage, high speed chases, and one very silly taxi driver. The film is a tight eighty-nine minutes, with no detail wasted.  Gags loop back on themselves and payoffs come with the precision and exuberance of great choreography.
As Pepa, Maura is the perfect lead for this riot.  As the film begins Pepa is so desperate to connect with Ivan, to beg him to return, that she seems pitifully needy.  That doesn't last.   As things fall apart around her, Pepa becomes more calm and self assured.  Ivan's silky spell has been broken and Pepa begins to take a positive pleasure in the almost literal burning down of her old life.   The film's visual artificiality (The models!  The colors!) make the whole thing seem even more of a romp, and even suicide attempts are funny, if painfully so.  Women on the Verge of a Nervous Breakdown is a charming, accessible film from a filmmaker with a reputation for being shocking.  I suspect that for me it's going to serve as a great gateway film to Almodovar's wider career.
Talk to Her
2002, El Deseo, dir. Pedro Almodóvar
by Jeffrey Knight
"Talk to her" is the advice Benigno offers to Marco on the subject of Marco's relationship with Lydia. Marco (Dario Grandinetti), a travel writer, began seeing Lydia (Rosario Flores), Spain's most famous female bullfighter, some months ago. However, an accident in the bullfighting ring has mortally injured Lydia, and now she lies comatose in the hospital where Benigno (Javier Camara) works as a nurse. Marco rebuffs Benigno's advice, thinking the man has no real experience dealing with women to draw upon. But he has, for Benigno has spent the last four years as the primary caregiver of another comatose young woman at the hospital, Alicia (Leonor Watling).
Thus begins a friendship between the two men, which is one of the four key relationships in Pedro Almodóvar's Talk to Her (it's also the only one that doesn't get announced via an on-screen caption).  The two men don't have a lot in common. Benigno is short and kind of flabby, has lived at home with his mother his whole life and has never had a close relationship with anyone. Marco, taller and more chiseled, is a travel writer who has gone all over the globe, and is still nursing the pain of a distant breakup.
But Almodóvar constantly stages scenes and sets up shots to tell us that these two disparate men are reflections of one another. A point driven home by one tableau where the comatose Lydia and Alicia are outside in deck chairs, their heads turned in towards one another, their men standing behind them. Later in the movie, when Marco goes to visit Benigno at a prison, their faces overlap in the reflection of the glass separating the two of them. Even when a firm distinction is made, the two have more in common than not. 
Benigno first encounters Marco (albeit unbeknownst to Marco) at a theater at the start of the film. They are watching a dance performance where two women stumble about blindly on stage while a man rushes around pushing obstacles out of their way. The movements of the first woman is mirrored by the second, but they're out of sync- the second woman acts a few moments after the first. Likewise, even though Marco and Benigno share many similarities,  Benigno is out of sync. They both love the women they have to care for, and both harbor fantasies about those relationships, but Benigno's love was always firmly in 'creepy possessive stalker' territory.
Talk to Her's (Hable con ella) most significant theme is that of miscommunication. Benigno talks to Alicia, but she can't answer back. Lydia tells Marco that they really need to talk, but she puts it off and is injured before they can have their conversation. Marco is a writer, but is rather taciturn in his dealings with other people. Marco withholds the truth about what became of Lydia from Benigno until after Benigno is dead. At the end of the film, Marco briefly encounters a now-recovered Lydia at the theater. Lydia's dance instructor (Geraldine Chaplin) asks Marco "What did you say to her?" He didn't say anything. "One day you and I should talk," the teacher says. 
"Yes, and it will be simpler than you think." is Marco's reply. 
Tie Me Up! Tie Me Down!
1989, El Desto, dir. Pedro Almodóvar
by Paul Hibbard
In Tie Me Up! Tie Me Down! (¡Átame!), unbalanced mental patient Ricky (Antonio Banderas) is determined to win the love of adult-movie actress Osorio (Victoria Abril). Unfortunately, the way he intends to do this is to kidnap her, tie her up (like the title suggests) and to tie her down (as the title also suggests). It's important to remember that Ricky, though crazy, is still a "gentleman". He doesn't want sex from her, but rather love and affection.  As if that makes it less creepy.
Not only is Tie Me Up! Tie Me Down! a failure of a film in the sense that the stakes are inconsequential, due to the movie asking you to care about other things besides the one thing we should, and do care about, which is whether Osorio will be able to escape or not, but talk about a film with some dubious sexual politics. Almodóvar is heralded, usually rightfully so, as being a feminist filmmaker with strong female characters. But this film feels like it's made not by a gay male with a touch to women that other writers don't have, but rather some creep who is destined to grow into a weirdo sending women rapey tinder messages and unsolicited penis pictures.
That may sound harsh, but while watching this movie, I was perplexed as to how this one could have been made. I was trying to remember what it was like in 1990. I know I was young, so had to more revert to other films and pop culture at the time, but none of it made sense. 
So Ricky deals with some drug dealers, there's a sister who almost saves Osorio a few times and an ending that abolishes viewer's hope that Almodóvar was going for commentary and not just making a deplorable movie. As a director, he has played in risky subject-matter before, but those films have been so engaging that you aren't spent wondering if the film is moral or not (see Talk to Her, for instance). But Tie Me Up, Tie Me Down is not half the film Talk to Her is. 
If you hear about this being one of his most popular movies, it's reputation is not from a good place. If you are an Almodóvar completist, it's the only way I can see you wanting to see this one. Just be prepared. 
Broken Embraces
2009, Universal Pictures International, dir. Pedro Almodóvar
by Oscar Jackson III
I had an interaction a few months ago on the latest U2 album, and one of the comments made was along the lines of "I don't care about words. I'm interested in the music." I don't really know what to do with a comment like that, since lyrics are so central to my music appreciation, but I kinda get it, because in film, I'm not that interested in videography and cinematography. It's there. I can sometimes pick up when it's bad, but that is the extent of my interaction most of the time.
I say all this, because as Pedro Almodóvar's Broken Embraces (Los abrazos rotos) ended, I knew that I had hated every minute of it, but I was sure there were some that liked it, and I was right. I can echo that it is confidently directed, and Almodóvar's love of color and contrast is on display throughout. Unfortunately, the bright packaging is around a cliché mystery, boring characters, and groan-worthy dialogue.
Broken Embraces, in classic who-done-it form, is a story within a story.  It opens with the now blind Harry Caine/Mateo Blanco (Lluís Homar) having sex with some woman who helped him out. Shortly thereafter, he finds out that a rich producer, Ernesto Martel (José Luis Gómez), has recently died. Turns out the two have history together, tied together by a beautiful aspiring actress, Lena (Penelope Cruz) and that Caine has not always been blind. Questions abound!  Answering them, though, is a painful affair.
I can't tell if Almodóvar wants us to care about Caine and Lena's relationship or if its just backdrop to wallow in color and panning shots. If it's the former, I confess I felt nothing. It doesn't help that the film opens with Caine having unsentimental sex with a woman he just met, not in the "he's jaded" or "he's learning to love" way, but because his libido was stirring. He's not sympathetic or all that interesting.  What is worse is that neither is Lena, unless looks are everything.  I don't blame either Cruz or Homar.  The characters are just poor.
The movie is almost a total miss for me from start to finish.  There are a few scenes of the ever jealous and omniscient Martel sitting in a private screening room watching home documentaries of Lena's work that have a little weight to them, but they can't hold up the predictable, pretty affair. The movie ends on a line that is meant to carry meaning with it, but as soon as it was uttered, my wife who was watching it with me groaned, "OMG." She didn't mean it in a good way, and I couldn't agree more. 
Bad Education
2004, Canal+ España, dir. Pedro Almodóvar
by David Strugar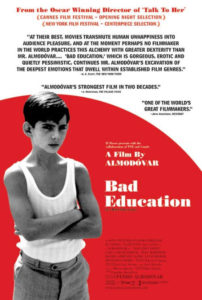 Bad Education (La Mala Educación), based on a short story Almodóvar wrote 30 years before the making of the film itself, starts off with a delightful Hitchcock/Psycho riff in the opening credits, to let us know exactly what kind of movie we're in store for. It's a twisty, murder mystery/suspense noir, with Almodóvar's signature sex and melodrama. Yet it's also a surprisingly earnest tale of youth and lost love, with themes of passion and guilt.
The bright color palette welcomes us into the vivid Spain of the 1980s, not tipping the film's hand yet that we're in a noir (despite the opening credits). There are still slashes of light from half-open blinds running across the walls of an office, but everything else looks warm and saturated. We also still get a noir-like plot opening, with a mysterious visitor dropping in at an office to request the service of the person at the desk, but it's not a detective and a femme fatale—it's a director and an actor.
As the film goes several narrative layers deep—the character in the framing story reads a script, and in the script there's a flashback, and then we see several flashbacks later in the film explaining what's happening in the present—it becomes more noir-ish, and the contrast in the image grows more pronounced, bringing in more shadows and darkness, even as the colors stay saturated.
To be honest, I was uncomfortable at the start by the feeling that Almodóvar was sensationalizing the worst stereotypes of reckless gay/bi men and trans persons. As the story unfolds, however, it becomes clear that he's simply fitting his characters into timeless crime story tropes—sex, greed, murder, love, betrayal. And the central romance, between two boys who meet in Catholic boarding school, but are torn apart over time by cultural and religious forces, remains lovingly and honestly depicted.
Gael García Bernal is a heartbreakingly beautiful man, and Almodóvar's camera lingers on him and his love interest with what I can only call the gay male gaze. Bernal morphs from one character to the next with fluid ease, segueing into different personalities with more than just drastic costume changes. The film's meta in-joke is that his character of Angel isn't a good enough actor to play the trans character he wants to play, that he's too manly-looking to be believable as a woman, but his finely-drawn facial features obviously give the lie to that.
Fele Martínez's character starts off feeling like a bit of a movie-producer sleazeball, but quickly reveals layers of vulnerability and idealistic love that eventually lead us to trust him as the only reliable narrator in the whole twisted tale.
In the end, I'm not sure what Almodóvar was trying to say with the film. Is it just a narrative exercise? An experiment in making a gay noir? In 2004, is it a statement against the sexual abuse in the Catholic church? In 2018, does it read like an indictment of violence against trans women? And there is violence against trans women, more than once, to the point where I grew disturbed. In the film within the film, one character has to relive the violence by acting it out on set, and her emotional breakdown after the director yells cut chilled me.
The ending feels abrupt, not for the story as a whole, but in the scene itself, as if the camera ran out of film during the take and they invented a workaround. It feels unlike the rest of the film that came before, and I wasn't sure how it connected to the rest of the work. Granted, this is my perspective as a white Midwestern kid only just digging into Almodóvar's work and the historical context in which he created, so there may be some nuance or reference I'm missing. Overall, I found this experience to be weird but earnest, and a good re-introduction to the work of a director I think I'm going to admire more as I keep watching.