Golden Age Hollywood Staple Makes it Look Easy
Anyone who looked at something special, in a very original way, makes you see it that way forever.
– George Cukor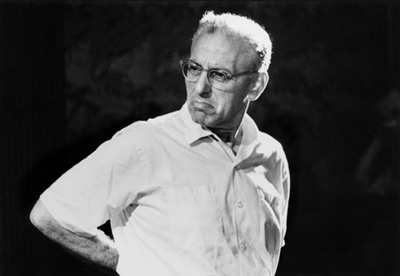 George Cukor was the queer icon of Hollywood's golden age. His fabulous parties and status as a "woman's director" set him apart in a world populated by the likes of John Ford and Clark Gable. The term "woman's director" was both meant as an insult and taken as one. It was certainly a "polite" euphemism for his openly secret proclivities. Although, given the success he garnered with his films Little Women and The Women, it could just as easily have been a compliment. If only the world was so kind.
George Cukor's career spanned half a century and gave us the brilliance that is Camille, My Fair Lady and A Star is Born.
Cukor directed the iconic Katharine Hepburn in her first film A Bill of Divorcement in 1932, and again in 1933 in the classic Little Women.  In the years that followed they would collaborate eight more times with such glorious results as, The Philadelphia Story and Adam's Rib, but Little Women will always hold a special place in my heart. When, for the first time, as a gawky nine-year-old, I watched the awkwardly dramatic Joe March run up to the attic to cry in peace, my heart went with her. I've seen other film adaptations, some in color, some in technicolor, but for me, Joe March is a black and white image of a girl with horribly frizzy hair and a delightfully strange way of talking.
George Cukor's career spanned half a century and gave us the brilliance that is Camille, My Fair Lady and A Star is Born. He had a unique talent for seamlessly adapting stage plays to screen, probably due to his deep love for the theatre. He was as much a fan of art and artists, as he was an artist himself, and that marks his career as a triumph regardless of the critical praise he never sought.
 – Lydia Hardy
Adam's Rib
1949, MGM, dir. George Cukor
by Taylor Blake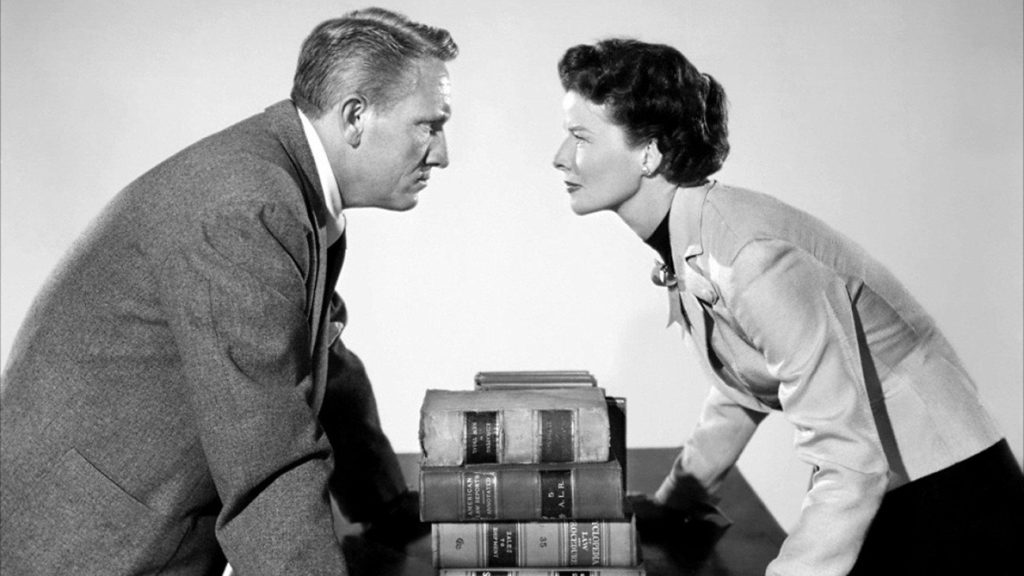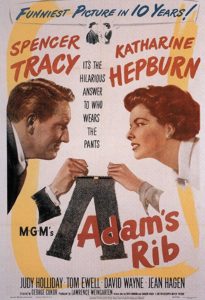 I learned a few weeks ago I really love Katherine Hepburn, and tonight I learned I really love George Cukor.
I give myself a pass on Hepburn—somehow I hadn't seen much of her work until the last few months. (Thank you, Howard Hawks Film Admissions.) But Cukor? No excuse—this is my third Film Admission he's directed! As if my admiration for Greta Garbo in Camille and the musical epic that is A Star Is Born weren't enough, my unwitting Cukor film festival of Born Yesterday, Gaslight, Holiday, My Fair Lady (a lost-my-count rewatch), and The Philadelphia Story in the last six months should have tipped me off to our kindred spirits. Tonight with Adam's Rib, it all clicked.
Spencer Tracy plays the District Attorney prosecuting a woman who shot her cheating husband, and Katherine Hepburn plays his wife and the defense lawyer defending said trigger-happy housewife. At first their opposition in court doesn't interfere with their romance, but as their debate becomes a battle for the jury, they begin to question what makes a marriage a partnership, if it can be one at all.
Because the questions in this battles-of-the-sexes plot resonate in any era, Adam's Rib could have been made today with only a few tweaks of dialogue and costuming. Cukor combines the best of his instincts of comedy and drama, pulls together the insights of a male writer and a female writer, and lets the talents of a legendary leading man and a bona fide leading lady lead the way.
I can identify some of Cukor's favorite actors, but one of the beauties of his style is the lack of it. I love my Baz Luhrmanns and Sofia Coppolas and Steven Spielbergs, but I admire that when Cukor sets the scene, he gets out of the way. We're not here for funky cinematography, familiar close-ups, or needle drops—we're here for the story, the performances, and the conflict. His fingerprint is faint, but his scenes are knockouts.
A Double Life
1947, Kanin Productions, dir. George Cukor
by Max Foizey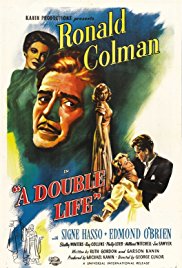 From Marlon Brando to Heath Ledger, over the years we have heard stories about method actors getting so deep into their roles that it starts to affect their lives negatively. Such is the focus of George Cukor's film from 1947, A Double Life, concerning Anthony John (Ronald Colman), known as "Tony" to his friends, a famous and well-loved stage actor who gives his all to every role.
Tony is offered the lead in a new production of Shakespeare's Othello, in which he is to star opposite his ex-wife Brita (Signe Hasso) as Desdemona. Brita and Tony still have a lot of love for each other, but Brita warns Tony not to get too involved in playing the famous moor, reminding him that one of the reasons they are divorced is his terrifying nature when he inhabits darker characters.
The show is a success, playing for months to rapturous crowds. Tony has a fling with a young waitress (Shelley Winters), but later begs Brita to remarry him. When she refuses, Tony finds himself ensnared within Othello's obsessions, acting as his own Iago. As the production hits its 300th performance, it becomes impossible for Tony to separate himself from Othello's legendary jealousy and he nearly chokes Brita to death on stage.
Ronald Colman vacillates from light-hearted and kind to angry and violent throughout the movie, sometime in the same scene. Watching the film, you feel all of the unease that Signe Hasso displays as someone who cares for Tony but fears how far he will go to bring this part to life. It's unfortunate that much of the film features Colman in blackface as Othello, but as cringe-worthy as that may be, it is also historically accurate for a white stage performer of his day who would have played that part.
Colman is truly magnetic as Tony, giving an intense performance that won him the Academy Award for Best Actor. Miklós Rózsa also won the Oscar for his compelling and memorable film score. Actors / playwrights / spouses Ruth Gordon and Garson Kanin received an Academy Award nomination for Best Original Screenplay and George Cukor was nominated for Best Director.  Cukor's most impressive orchestration is a scene featuring Tony beginning to hear voices in his head while he is at a party. The sound design in this incredible scene brings to mind the work of David Lynch, decades before Blue Velvet or Lost Highway.
Cukor ratchets up the tension to such a high level each time Tony and Brita are performing Othello's "Kiss of Death" scene that it becomes uncomfortable to watch. I've seen A Double Life classified as a film noir, but I disagree. The film doesn't feature the usual hallmarks of a noir, eschewing a femme fatale and convoluted plot for a simple, direct focus on one man's descent into madness. While the experience can come across as one-note, it's a film worth watching for Cuckor's inventiveness and Colman's nightmarish performance.
My Fair Lady
1964, Warner Bros., dir. George Cukor
by Jeffrey Knight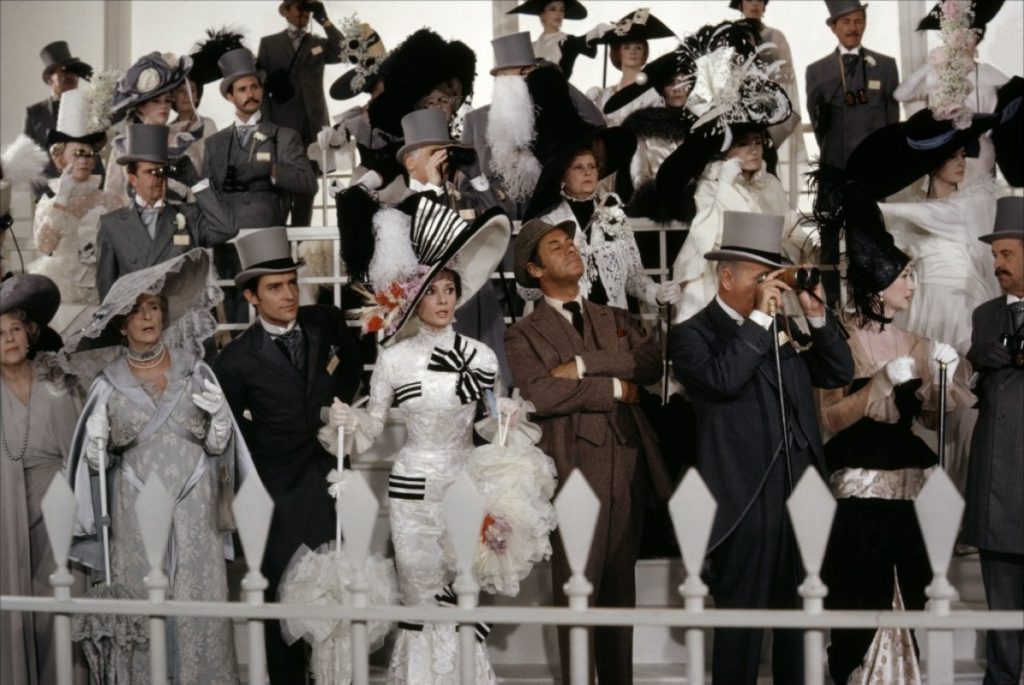 In the movie Paris When it Sizzles, William Holden, playing a struggling screenwriter, asks Audrey Hepburn: "Did you ever realize Frankenstein and My Fair Lady are the sat me story? One ends happily, the other doesn't." This is true. You would've thought, however, that as a movie musical, My Fair Lady would've been the one with the happy ending.
My Fair Lady, as you recall, tells the story of a poor cockney flower girl named Eliza Doolittle (Audrey Hepburn). She's taken in by stodgy, misogynistic phonetics professor Henry Higgins (Rex Harrison) who's made a bet that within a short span of time, he can teach her diction and manners enough to pass as a lady at an upcoming embassy ball. 
He pulls it off, and wins the bet. Then completely forgets about Eliza. When she runs off, hurt and scared about her uncertain future, Higgins panics. Maybe he needs her around after all- that his feelings for her are more than curiosity about a sociology experiment. When they next meet, however, she stresses that she'll do just fine without him. She'll find her own way now, and this is the last he'll ever see of her. And so she leaves. She doesn't have security, but she does have her freedom.
Despondent, Higgins returns home. He relishes the idea of Eliza failing at life and crawling back to him, but he still pines for her. Alone, he turns on the recording he made of an early encounter they had, when she was still the rough flower girl. That's all he'll ever have of her now.
Except Eliza comes back to him. All that talk (and singing!) she made at their last meeting, about how life goes on perfectly well without Higgins, is just tossed out the window. He's thrilled to see her, of course, but Higgins immediately course-corrects and demands that she fetch him his slippers. Fade out. 
Charlotte Alter, writing for Time Magazine, wrote an article defending My Fair Lady on occasion of its 50th anniversary in 2014: "Choosing the man doesn't make My Fair Lady a sexist movie; it makes it a movie about a sexist time." She points out that a destitute Eliza had nowhere else to go at the end, and that "given the choice between an emotionally abusive man and destitution, she chose the man."
A fair point. No one would point to Edwardian England as a high point for women's or social equality, and for many who lived then, they had to make hard choices to survive. But My Fair Lady isn't a serious treatise on the conditions the working poor had to live in at the dawn of the 20th century. It's a musical fantasy. And as such, the audience is perfectly willing to accept the notion that when Eliza walks out on Higgins at his mother's house, she's earned her newfound status, and any happy ending that comes with it. When she reappears at the end just to fetch his slippers on command, it is a huge comedown- even from where she was selling flowers on the street.
And for all of My Fair Lady's other faults, it's not George Cukor's best work. It's too long by half- too many musical numbers just endlessly repeat the same points- or have no point to them at all (I'm looking at you "Get Me to the Church On Time!"). There's no life to any of the direction or framing. Harrison really sinks his teeth into the material- but he had played the part on Broadway so often, he could probably do it in his sleep. For her part, Hepburn's performance is energetic and lively- but her dubbing during the musical numbers is so obvious to the point of distraction. 
And the movie doesn't seem to care about Eliza's performance at the ball either. We never see or hear her engage anyone with conversation. She merely stands straight, smiles, and allows others to lead her by the hand around the room. Eliza performed well enough to fool another expert, but we don't get to see that scene play out. I guess we needed to save the runtime for another song from Eliza's dad.
Still, My Fair Lady ended happily for Cukor. It was a huge hit, and his work on it won him several major awards, including the Director's Guild Award and his Academy Award for best director. It was his first Oscar win, after having been nominated 4 times prior. Audiences responded to it as well, making it one of the biggest box-office successes that year. It was his last major work, and all of the awards and accolades it earned were long overdue for a career that stretched since the dawn of sound cinema.
Contemporary audiences still respond to it. Roger Ebert named it as one of his 'Great Movies' and it still sports an audience score of  90% Fresh on Rotten Tomatoes for what that's worth. The movie has its charms- the scene where Higgins takes Eliza to his mother's box at the horse track is hilarious. It's just that the end- just those final moments- completely upend the story the movie's been telling to that point. The villain gets his way at the end of My Fair Lady and I don't think anyone is going to end up happy.
Dinner At Eight
1933, MGM, dir. George Cukor
by Jim Tudor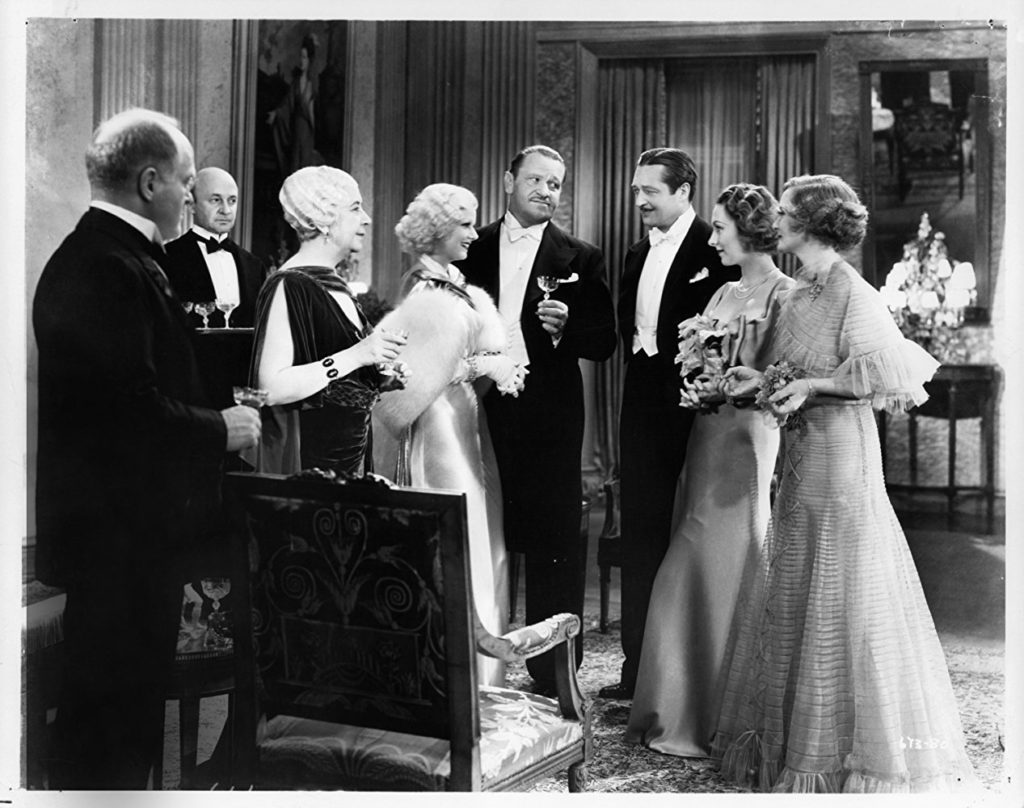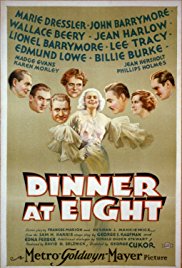 Like its characters, 1933's Dinner at Eight seems to have its priorities a bit mixed up.  For an ensemble comedy/drama with not one but two Barrymores (John and Lionel), silent-era star Wallace Beery, and the meteoric platinum super star of the day, Jean Harlow, it seems all the more shocking that the top bogging goes to… the aged, baggy-eyed, rotund Marie Dressler??  
It's true, the witty and precise Dressler steals any scene she's a part of.  And it turns out that she's got a pretty rich history as a performer, complete with extreme peaks and valleys, before finally attaining great popularity on screen when the talkies came in.  And so, friends, I suppose we then have an admission inside an admission- not only had I never seen George Cukor's early career solidifier Dinner at Eight, but I'd never even heard of Marie Dressler.  Shame, shame all around, as this is a movie star like none other- even if her time in the spotlight was brief.  Dressler died the following year, 1934.
Anyhow, Dinner at Eight is something to see.  It's not exactly the uproarious comedy I was expecting, perhaps unfairly, due to its inclusion in a "Classic Comedy" DVD set, right alongside the screwball classic Bringing Up Baby.    Yet, with Herman J. Mankiewicz (of Citizen Kane fame) co-adapting the stage play co-written by playwright George S. Kaufman (You Can't Take it With You), there's no shortage of both chuckles along with unexpectedly effective pathos.  
Cukor directs Dinner at Eight with maximum efficiency, not stopping to establish any kind of directorial imprint.  He embraces the opulence and flamboyance of these wealthy characters as they toil about in the lap of luxury, which Great Depression audiences flicked to.  However, it should be noted, that whether intentional or not, when the MGM lion roars at the beginning of this film, it sounds more like a rumbling belch.  Was this the first instance of the now-common practice of filmmakers messing with studio logos in order to set an immediate tone?
Much ado is made of the title dinner, a formal affair planned the nines by a dithery society wife played by Billie Burke (Glinda the Good Witch).  Despite the heartbreaking infidelities and congestive heart failure of those around her, she projects her own dinner-related stress first and foremost.  (Again, priorities!)  For the rest of the winning cast, they've got their own affairs, alcoholism, failing finances and suicides to silly their want to attend.  No one wants to come to this stupid dinner, particularly since it's seven straight courses of MacGuffin.  But just because they wish they could stay away doesn't mean we should.  I'm glad enough to have finally made this dinner date.
Romeo and Juliet
1936, MGM, dir. George Cukor
by Lydia Hardy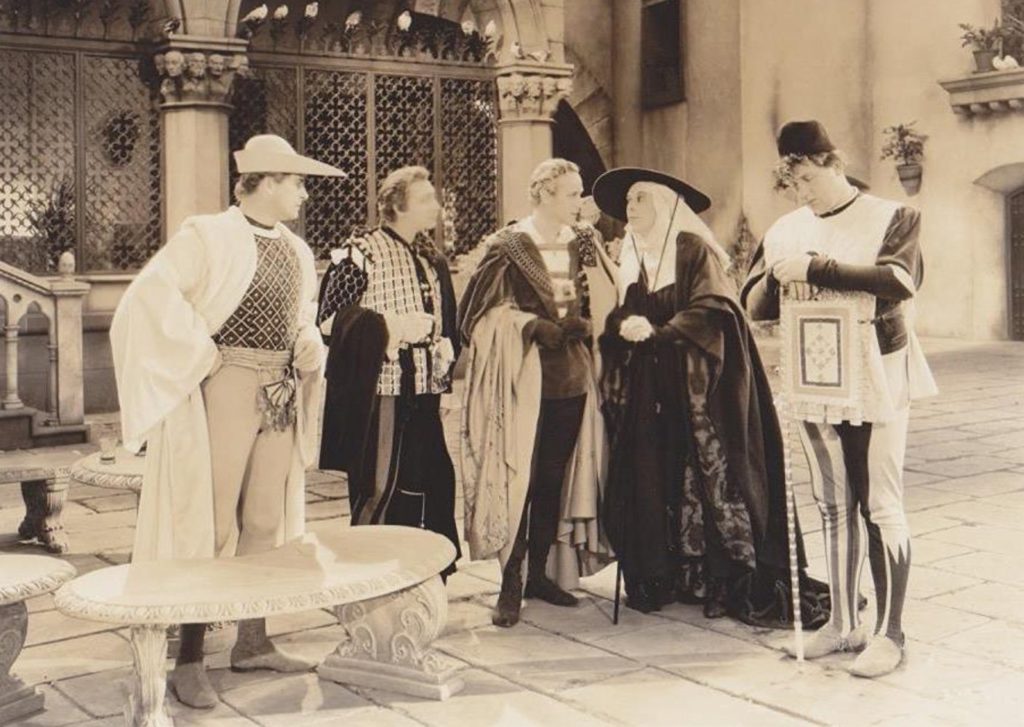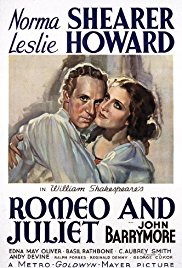 Once, before Hollywood decided that Romeo and Juliet needed to be modernized to be entertaining, producer, Irving Thalberg decided that mainstream audiences were capable of metabolizing Elizabethan farce and tragedy. He spent five years trying to get his project funded and when he finally did, he set about making a film with a two-million-dollar budget in order to give Shakespeare the platform he deserved.
The films costumes and sets are detailed and elegant but not extravagant, except in the case of Norma Shearer's multiple jewel bedecked gowns and headdresses, but that's as it should be. She is, after all, Juliet. The script is a graceful adaptation of the play, faithful yet well-tailored.
Where the movie fails, is in its casting, with two major exceptions, Basil Rathbone as Tybalt and Edna May Oliver as the Nurse. Leslie Howard and Norma Shearer at 43 and 34, were far too old to play the star-crossed lovers, though such a choice would be much less noticed on stage (and far be it from me to complain about Leslie Howard in tights, at any age). And at 54, John Barrymore was also too old to play the farcical, foul-mouthed Mercutio, though he does give a rousing performance, he comes off a little less mischievous than he should, simply by virtue of being a too mature for the part.
Basil Rathbone's performance as a smug, hot-headed Tybalt is a brief and beautiful gem in this star-studded extravaganza. His menacing smirk steals nearly every scene he appears in, and of course Tybalt has some of the best lines of the play.
Edna May Oliver's comedic gifts are on bold, beautiful display in her role as the Nurse. Shakespeare's side characters are fertile ground for comedy when played right and Oliver doesn't miss a beat.
The movie does itself a disservice by allowing its side characters to fizzle out toward its dramatic end. Though the loss of Tybalt, Mercutio and the Nurse could not be helped, Friar Laurence played by Henry Kolker is far more absent than the story requires him to be and the movie fairly maims his part.
For all his efforts, including the enlisting of drama coaches and academic advisors, Irving Thalberg's hopes were disappointed. The movie was less than well received by critics and its revenues did not compensate for its hefty budget. Despite its miscast roles, this film is delightful, a faithful adaptation of Shakespeare infused with Hollywood glamour and just enough humor and sex to make it fun, its exactly the kind of film a theatre nerd dreams about and only a true theatre nerd could have made it so.