When Bible Belt and Queer Oasis Collide
I am intrigued by the picture of Eureka Springs, Arkansas, created in The Gospel of Eureka, the new documentary from Michael Palmieri and Donal Mosher.  The problem is that I'm intrigued the way I should be after seeing the trailer for the film, and I've already seen the film. The Gospel of Eureka is more tone poem than narrative, and while it's engaging it left me with more questions than answers about how this tiny town in the Bible belt is home to both The Great Passion Play and a loud and proud queer community.  The impression left by this film is that the Christians and the queers of Eureka Springs not only get along, but that there's significant overlap between the two communities. I hope that's true: I would find it encouraging. But I'm from the Bible belt myself and I know that there's still typically more friction between conservative Christians and LGBT folks than we see here.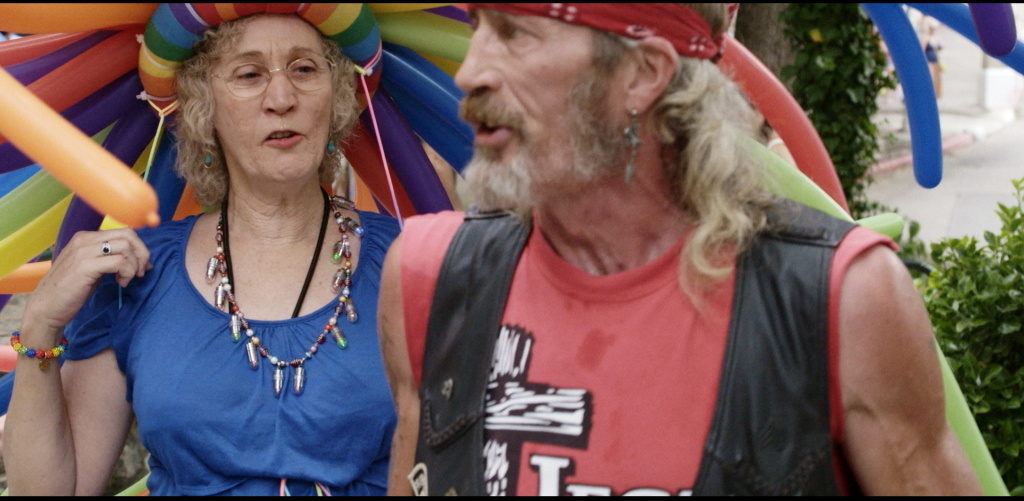 If Eureka Springs has somehow transcended the typical, I'd like to know more about how that came to be.  But that story isn't told in The Gospel of Eureka. In fact, it's not really a story at all so much as a series of vignettes, many of them setting scenes from The Great Passion Play alongside scenes from a drag bar called Eureka Live Underground.  The unavoidable comparisons – see drag queens and the theatrical Jesus both wear costumes and makeup! – seem a bit gimmicky and forced. I will give Palmieri and Mosher credit for not putting their thumbs on the scale too much, though. The Passion Play seems a bit underwhelming, production-wise, but the performers are not mocked.  Unfortunately, they're also not introduced to us in any depth. Other townspeople also remain enigmas, particularly an older trans woman shown several times with her husband. We learn nothing about her except that she identifies as Christian and experienced a horrible attempted exorcism when she was a teenager (which makes it more impressive that she still identifies as Christian).  The film's two central characters are Walter and Lee, an aging gay couple who own the drag bar. They, too, identify as Christian, though they disagree on points of doctrine (Lee is still worried about avoiding hell; Walter no longer believes it's real). Their story, although only superficially told, provides the movie with it's emotional core.
Trans artist Justin Vivian Bond provides voice over narration for The Gospel of Eureka.  Bond's lyrical delivery partnered with some lovely cinematography gives the film a certain sweetness that leaves one hopeful that maybe it is possible for gay and straight neighbors in Christian America to love one another.  But I suspect the story of Eureka Springs is more complicated than what we see here.