Billy Eichner Rom-com is Out and About
DIRECTED BY NICHOLAS STOLLER/2022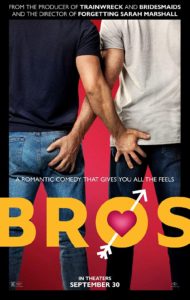 Is Billy Eichner feeling the pride of having finally married together a truer, more nuanced view of gay male relations and the classic Hollywood romantic comedy? Perhaps, as he does indeed have something to celebrate. Bros, the new movie which he co-wrote and stars in, is a far better-than-not outing. While far from perfect, Brosmakes its intended mark and scores some solid laughs along the way.
That said, I'm not sure how his character would feel about all of it. Eichner plays the irritable and irascible Bobby Lieber, a forty-year-old podcaster and museum curator. Like most movie podcasters, Lieber has cultivated a following thanks to his blunt pronouncements regarding his life as a gay man in New York City. His one-liners are as sharp as his truths, prompting callers to interact live on his show. Because in movies, podcasts and radio shows are often the same thing.
Bros clumsily all but forgets about the podcast once its early segment wraps, but it serves to establish that Lieber is honest and open about his bad attitude.  He's quite aware and vocal about it having been cultivated as a result of having been sidelined, demonized, pandered and condescended to his whole life.  In expressing how most gay people have reason to be this way, he's made it clear that he has little use for the niceties baked into the mainstream version of LGTBQ+.  (Gay weddings are just a "heteronormative repackaging"; Pride events are annoyingly cheerful, Queer Eye is overcooked, "love is love" is a lie, etc.).  It ain't all rainbows, and monogamy definitely ain't for him.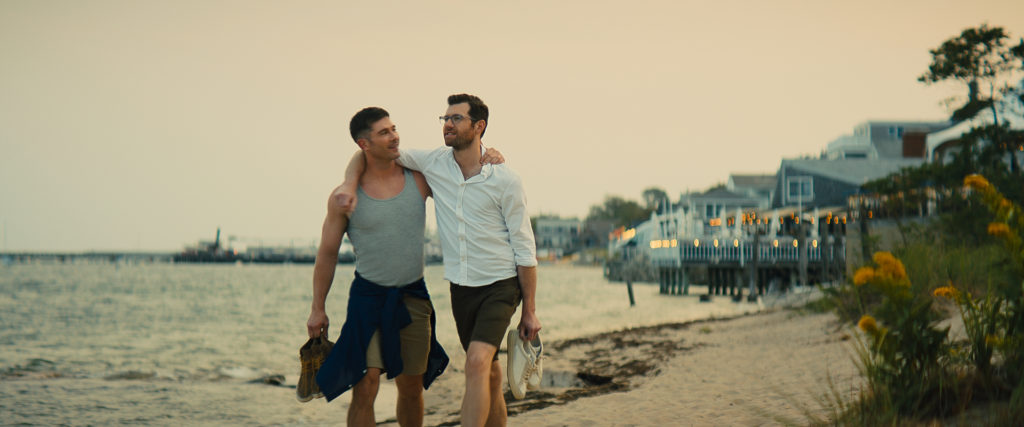 But, this being a traditionally plotted rom-com, we know how that will end up. The whole point of Bros is obviously to bring as many blatant LGTBQ+ realities, views, debates, and concerns to the age-old form. Who knows, maybe it'll be as eye-opening to "certain people" as Eichner in recent interviews suspects it will be. Many of those details certainly were for me. The R-rated Bros (co-written and directed by apparent straight guy Nicholas Stoller and produced by Judd Apatow) makes of point of making as many statements as it can while not forsaking it as a character piece. The no-frills look and feel of the film is akin to any other NYC rom-com, but this isn't a gay When Harry Met Sally.
Bobby is going about his unsatisfactory Grindr-fueled life of awkward hookups with strangers and attending sweaty large dance gatherings frequented mostly by shiny shirtless "meatheads". Then, Bobby meets Aaron (Luke MacFarlane). Aaron is indeed shiny and shirtless, but he proves to be no meathead. There's something different about this hunky smart, funny, clever lawyer in a backwards ball cap, but… dammit, where'd he go?? Aaron has a tendency to just disappear, Batman-style.
After an Apatow-esque number of failed chats and denials, Bobby and Aaron find themselves spending a lot of time together. Aaron takes up residence in his own little corner of the movie, which is overstuffed already with quirky guest stars (including Ts Madison, Bowen Yang, Symone, Jim Rash, and Harvey Fierstein. It's funny that Debra Messing shows up playing herself to spoof her own prominence as a big leftie doner, but Bobby's breakdown that triggers her response is clunky comedy at best).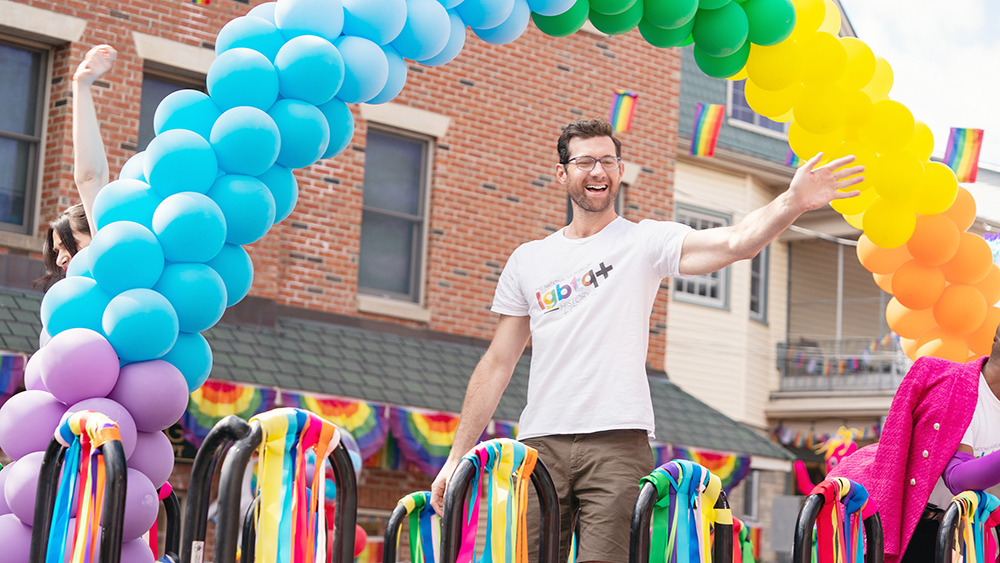 Also eating up a lot of time is Bobby's driving quest to raise $5 million to open a new LGBTQ+ museum, complete with a bickering board of consciously diverse directors and controversial "gay Lincoln" exhibit in the offing. (Nothing like fundraising to land Bobby on a Pride parade float). In between all that, the two-plus-hour Bros makes yet more time to amusingly target LGTBQ+ Hallmark movies (Bobby hate-watches "A Holly Polly Christmas").
Bros is the very rare film that progressives will be glad to see abysmally fail the Bechdel test. It's hard to hold Bros' ultra-predictability against it, as a big part of its modus operandi is to broaden the narrow spectrum of what types of people get to be the focus of rom coms. What it can more easily be criticized for is that, in all its rambling, it commits the third act sin of so many comedies: losing sight of being funny in favor of focusing on the plot. Meh. That Eichner is so magnetic as the film's central deeply flawed-but-funny concave-chested curmudgeon is truly the film's saving grace. There's a lot of him in Bros (in more ways than one), a movie that despite its message-y shortcomings, is quite a bit of fun and not an unlikely new classic of the it's genre.