The True Story of Separated Triplets Accidental Reunion
DIRECTED BY TIM WARDLE/2018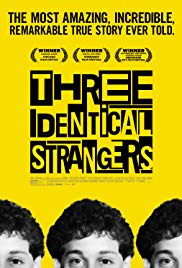 Three Identical Strangers tells a story that is both heart-warming and gut-wrenching, not to mention nearly unbelievable. The documentary, in select theatres this Friday, follows a set of triplets who were separated at birth and adopted by three different families.
They were reunited at the age of nineteen when two of them attended the same college. The third was drawn out by an article published in a local newspaper. The three become immediately inseparable and the plot thickens at every turn. The wealth of news coverage that the story received at the time that the brothers were reunited gives it the nostalgia that makes for a satisfying documentary.
The triplets and their families and friends fill in the blanks with colorful narratives, filled with the kind of warmth and excitement you feel when your dad or grandpa tells you a story about their youth. Yet for all this comfort, the documentary's edge remains. At its heart it's a story about love and family, but also about ethics and the question of nature versus nurture.
As in any good documentary, hard questions are asked, but hard lines are not drawn. It's generally understood that the early sixties were a different time socially, especially for those with few rights to begin with i.e. children in general and orphans in particular, but the movie doesn't present an indictment of systems, eras or parenting styles. It sits you down for a quiet, civil chat in which events are reminisced, tears are shed and poignancy abounds. So, grab a cup of coffee and a box of tissues before you head into the showroom at your local theatre to see Three Identical Strangers.