Shake me, Shake me, Skyscraper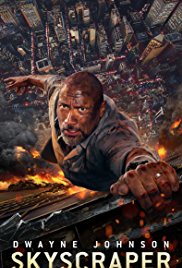 Directed by Rawson Marshall Thurber
Starring Dwayne Johnson, Neve Campbell, Chin Han
Released July 13th, 2018
Rated PG-13
What do you get when you cross The Towering Inferno and Die Hard?  Skyscraper!  No, not the 1996 film starring Anna Nicole Smith. I'm talking about the 2018 film starring Neve Campbell.  OK, Dwayne Johnson is the lead, but Campbell gets some cool moments that will have audiences cheering. Neve plays devoted wife and loving mother Sarah Sawyer, a military surgeon who speaks Chinese and will stab you with scissors if you mess with her family.
Dwayne plays former FBI hostage negotiator Will Sawyer, who hasn't picked up a gun in ten years. You know, since…that night. The night things went horribly wrong. I wonder what Will would do if he were put in a similar situation again? Would he freeze? Would things go horribly wrong again? I guess we'll never know. Unless we watch Skyscraper.
Now in business for himself as a security analyst, Will travels to Hong Kong with his family at the request of Zhao Long Ji (Chin Han), the mastermind behind The Pearl, the tallest superstructure in the world. Zhao hires Sawyer to make sure his skyscraper is safe and ready to be open to the public, although it's mentioned that he hired Sawyer because he was half the price of any other security firm. I guess you can't afford to build the world's tallest building if you don't pinch some pennies.
The Pearl is a very impressive building with an ultra-futuristic look and a bajillion floors of modern amenities. The Pearl's many floors are home to different sections, including a residential area, a very green garden area, and at the very top, a lookout area that features a hall of mirrors for some reason. During his presentation, Will explains to Zhao that his building is in fact the safest of its size in the world, especially because each floor has its own foolproof fire safety protocol that would ensure that any fire that broke out would immediately be taken care of and absolutely would not spread to any other floor. No chance. Don't even worry about it. It seems to me Zhao would already know this, since he designed the building, but maybe he just wanted to hire Will to make sure. Thanks, Will.
Sarah and the kids are set up in the residential area of The Pearl, the first family to move in. While Will works, they head out to look at some pandas. Because as the saying goes, "When in Rome, go look at pandas." But when one of the kiddos gets sick, Sarah heads back to The Pearl to call it a night. It's just bad luck that they get back at the same time as some individuals who would very much like to burn The Pearl to the ground. This team of firebugs is led by Kores Botha (Roland Møller), who has a reason for wanting the destruction of The Pearl, as silly as it turns out to be. Botha's point person outside of the building is Xia (Hannah Quinlivan), a fierce character who wouldn't be out of place in a John Wick movie.
Thankfully, Will has a particular set of skills that allows him to MacGyver his way through the building in a fearless attempt to rescue his family from these arsonists. Will is also an amputee and uses his metal appendage in thrilling ways to keep himself alive. It's a cool idea that I haven't seen before in a movie like this. And I appreciate the strong bond Will and Sarah have. It's always nice seeing a healthy marriage on screen and it's even better when the couple can catch up with each other moments after a bad guy has fallen to their death.
I didn't see Skyscraper in IMAX or 3D, but I imagine the forced perspective present in many shots would be neat to experience in those formats. The special effects are as good as you would expect, and The Pearl itself is a really cool building that I would totally visit if it existed in real life. The story doesn't offer any surprises, but Rawson Marshall Thurber's direction is sure, even if his script is slight.