Gerard Butler Returns With Another Paint-by-Numbers Action-Thriller
DIRECTOR: RIC ROMAN WAUGH/2023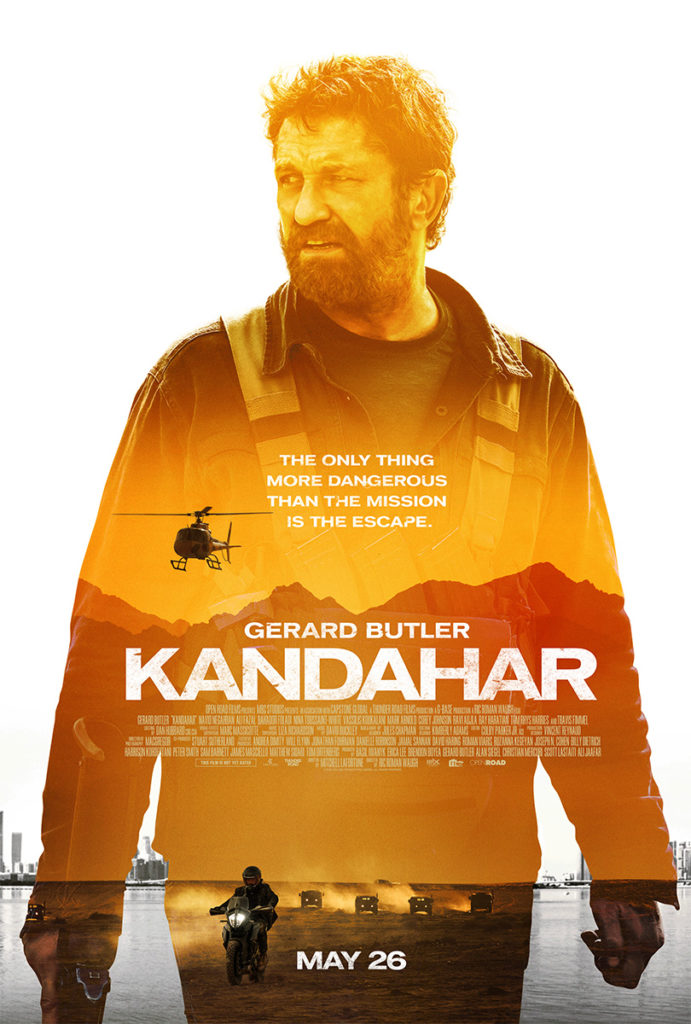 It's ZekeFilm's resident Gerard Butler Correspondent checking in.
I come by it honestly—I am the daughter of Butler's #1 fan after all, which is why I'm checking in less than five months after my last report. When I reviewed Plane in January, I noted Butler sells his capability in crisis situations and compared him to heroes of classic Westerns. Is it any wonder then that I thought of John Wayne and Arnold Schwarzenegger in Kandahar?
Kandahar's desert setting isn't the Old West but modern day Afghanistan, and again, Butler is again playing a generically-named good guy with a knack for saving the day with his generically useful combat skills. This time he's Tom Harris, an MI6 agent working with the CIA to thwart Iran's nuclear program. He's one plane ride away from attending his daughter's graduation in the UK, but just before his flight, Iran discovers his identity. From there he and his translator Mo (Navid Negahban) are on a race to Kandahar, Afghanistan, the last possible place his handler (Travis Fimmel) can get him on a flight out, but the 400-mile journey also gives the Iranian government, the Taliban, and a mysterious Pakistani assassin (Ali Fazal) 400 miles to kill or capture them before they reach safety.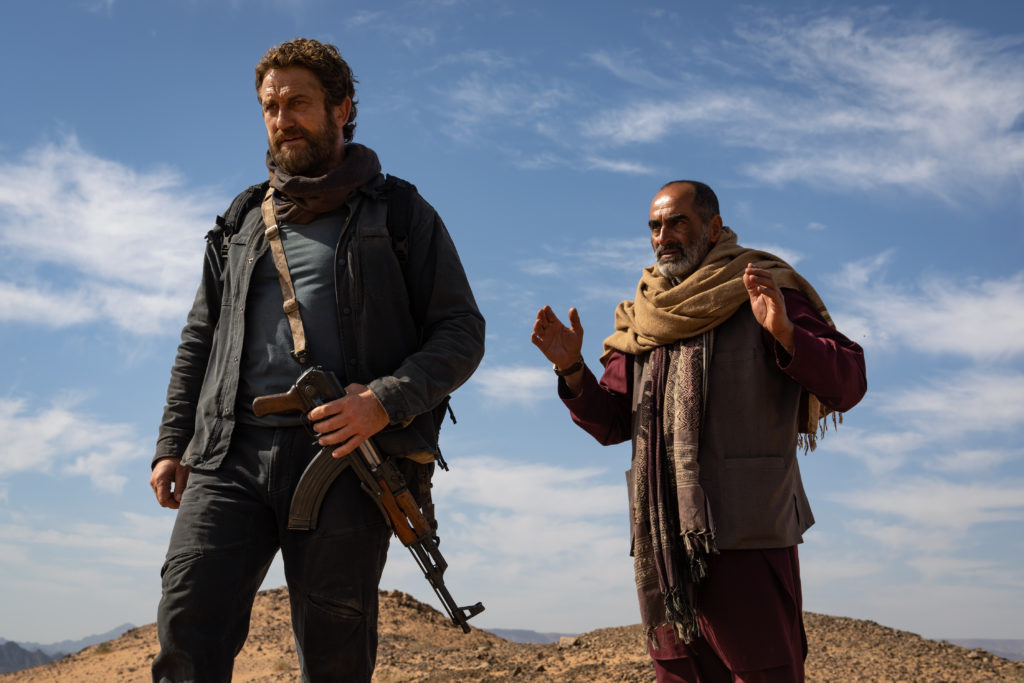 As you might expect from this paint-by-numbers action-war-thriller, I can't explain back to you the real world political implications of Kandahar. Its highest virtue is loyalty to friends and families regardless of nationality, religion, or profession, but when it begins to explore a gray areas like a journalist (Nina Toussaint-White) revealing Tom's identity when she leaks classified documents to expose WMDs, her thread just dissolves until it no longer matters. Kandahar is best when it focuses on its race across the desert, which is a plot engine more than thrilling enough to sustain a paint-by-numbers action-war-thriller. You know where else you've seen versions of this plot engine? In movies like Fort Apache, Predator, The Running Man, Stagecoach, and many others starring John Wayne and Arnold Schwarzenegger—this plot engine has been sustaining the action genre for decades.
Schwarzenegger is still active, but is Butler taking his mantle as our paint-by-numbers action star? Like Schwarzenegger, he broke out in an ancient action epic (Conan the Barbarian and 300, respectively), and though he's never been as zeitgest-y as Schwarzenegger—it's hard to beat the 1990-94 run of Total Recall, Kindergarten Cop, Terminator 2, Last Action Hero, and True Lies—he's nothing if not reliable. In the last decade, Schwarzenegger's top box office placement was 2015's Terminator Genisys (#31 domestically and #17 worldwide; total gross: $440 million). Butler's top finish was 2014's How to Train Your Dragon 2 (#17 domestically and #12 worldwide; total gross: $621 million). Not to be outdone by Schwarzenegger's supporting role in the Expendables franchise, Butler launched the Fallen franchise (total gross: $522 million across three films), which helped him land in both the U.S. and worldwide box office top 100s in 7 of the last 10 years. Schwarzenegger placed in those top 100s three and four times, respectively, though who knows how to measure the success of movies you only ever see at a Redbox kiosk? I wouldn't be surprised if Schwarzenegger's metric for the success of Aftermath, Killing Gunther, and Iron Mask was whether or not he paid his bills.)
Butler may not be associated with high art, and he doesn't vary genres as much as when he was dabbling in rom-coms. You could even mix up his films if you squint too hard: During the height of the pandemic, my dad and I meant to watch Butler's new film Greenland and accidentally watched his other natural disaster film, Geostorm—this mistake from his #1 fan! But if you're not competing for that #1 fan recognition, those low expectations may serve you well for Kandahar. Unlike Plane, the action is over-the-top without becoming silly, and unlike recent CGI-fests Fast X and The Little Mermaid, it looks surprisingly good. Its photography may not be on par with Lawrence of Arabia or even John Wick: Chapter 4, but don't discount how much better a real explosion in a real desert looks than a post-production explosion added after filming in front of a green screen. And if you're pleasantly surprised by Kandahar like I was, I've got good news for you: Butler has seven upcoming projects listed on IMDb, including sequels to Den of Thieves and Greenland. ZekeFilm's resident Gerard Butler Correspondent is signing off for now, but I'll be checking in again soon.