A Darker Sequel That Proves to Be Just As Heartfelt As the Original
Director: DEAN DEBLOIS/2014
In 2010, How to Train Your Dragon introduced us to Hiccup (Jay Baruchel), Astrid (America Ferrera), and the Viking clans that lived in the town of Berk. As Hiccup narrates at the beginning of the sequel, "Dragons used to be a bit of a problem, but now they've moved in", so we see a shift in the focus from an outside threat (dragons) to more of an internal one within Hiccup himself.
And so in How to Train Your Dragon 2, we pick up 5 years after the events of the original animated film.  Hiccup has earned his father Stoic's (Gerard Butler) respect, and is told that he is in line to be the new chief.  Just as in the first film, Hiccup still feels out of place, and caught between the pressure of what is expected of him by his father, as well as Vikings in general, and trying to discover who he truly is and what his calling is.  Hiccup isn't content to simply live the status quo.  He longs to explore, to discover new worlds, and take the unique opportunity he has been given of being a dragon rider with his dragon Toothless to do something no one else has ever done.  In short, he doesn't want to be the leader of his people.
While his friends engage in dragon races and Harry Potter Quidditch-type games involving sheep, Hiccup is often nowhere to be found, choosing instead to push the boundaries of what he is able to do as a team with Toothless.  Astrid is still his love interest, but thankfully, the new film puts this relationship on the back-burner to pursue a much more meaningful storyline involving events of his father's past and how they are now needing to be dealt with in the current generation of Vikings.
Without delving into spoilers, we get a greater sense of what has taken place in Berk in the past that caused them to hunt the dragons in the original film, and what caused the demise of Hiccup's mother. We also learn who the mysterious Drago Bludvist (Djimon Hounsou) is and how he is related to everything Hiccup is dealing with as he reconciles who he wants to be, with the responsibility of being the future leader of his people.
Once again, the animation is top notch, and the 3D version of the film helps provide simple depth that draws the audience members into the world rather than just being a gimmick for selling higher priced tickets.  That being said, a 2D version of the film would be just fine, especially for the younger viewers.  And while this is still a family based film, this sequel is much darker than the original in many ways.  The main villain here, unlike the dragon antagonists in the first adventure, is a person who does not have a conscious that one can appeal to. You see no real opportunity for change as you did in all the characters of the original movie.
In the first film, the townspeople of Berk had to face their fears and decide if they would put them aside as they discovered that peace and reconciliation were possible with the dragons they were fighting.  Here, however, Bludvist is simply a picture of evil.  An evil that cannot be reasoned with. As Hiccup has aged from a bright-eyed teenager, now as a 20 year old, he is discovering that evil exists.  And while we seek peace, we must always be ready to confront the evils of our day.  Bludvist represents this to Hiccup and the people of Berk, but smaller children might find it scary at times.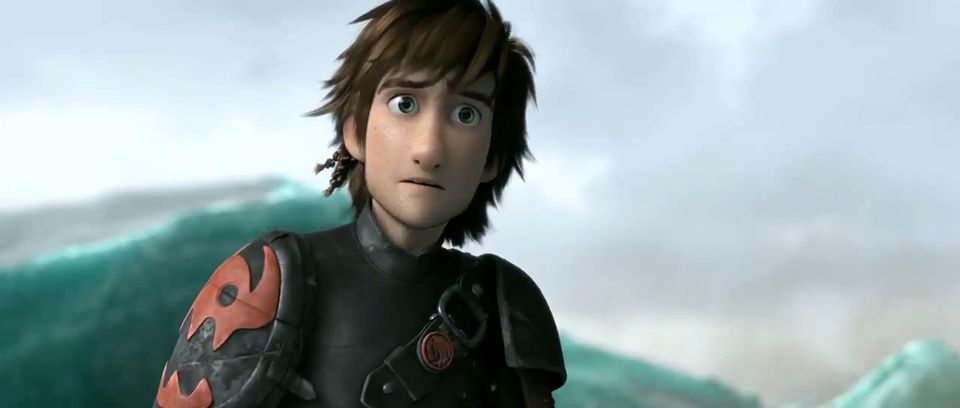 Much has also been made of the character Gobber (Craig Ferguson) and how one line of the new film is meant to establish him as one of the first openly gay characters in a mainstream animated film, following ParaNorman in 2013.  Writer-Director Dean Deblois, who himself is gay, felt that while this is a very subtle line in the film, it was both a "fun" and "daring" move to help the picture feel relevant.  How more conservative audiences will react to such a throwaway line in the film, will be a big test to the film's success in parts of the country where such a thing is not typically championed.
And while I have described some ways that the film is darker than the original, the heart of the story is very much intact, and so is the fun.  Cate Blanchett joins returning voice talents such as Jonah Hill, Kristen Wiig, Christopher Mintz-Plasse, and T.J. Miller.
The soundtrack is also good, featuring a new song from Sigur Ros singer, Jonsi, who did the wonderful soundtrack to Cameron Crowe's film We Bought a Zoo.  Sigur Ros' epic documentary film, Heima, was also directed by Dragon director Dean Deblois, and so this is a welcomed reunion that fits the film nicely.
In many ways, this is less of a sequel as much as the second chapter in an ongoing story.  Rather than simply having another adventure to go on as an excuse to bring us back to this world, we instead see a natural and organic development in the characters of Berk, primarily Hiccup, that flows directly from the events of How to Train Your Dragon.
How to Train Your Dragon 2 isn't as light and fun as the original, but the story is richer and as heartfelt as its predecessor.  Most importantly it will be an entertaining adventure for the family to share in and will leave you looking forward to catching more of Hiccup and Toothless' adventures on the Netflix series, or the recently announced How to Train Your Dragon 3.