Indicator's Limited-Edition box set Releases Havana-bound Santo vs. Evil Brain and Santo vs. the Infernal Men
BLU-RAY STREET DATE: FEBRUARY 14, 2023/INDICATOR (POWERHOUSE)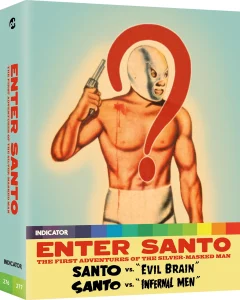 It's been said that not all heroes wear capes. In Mexico, they don't even wear shirts! Which, to some degree, explains the attire of the country's greatest crime fighter, El Santo ("The Saint"). More to the point, he's a Mexican wrestler- as evidenced by his trademark silver luchador mask, lack of shirt, and spandex trousers. Not just a Mexican wrestler- the most famous, beloved, and pop culturally immortal of them all. Not merely a character in the fifty-three-plus films and reams of photo comic books he's appeared in, Santo was in fact a real guy. (Named Rodolfo Guzmán Huerta, who's strict devotion to "the way" of the perpetually masked Lucha libre ["free fight"] wrestler gives The Mandalorian a run for his beskar). While he tagged out for good in 1982, El Santo continues to be honored with new stories, statues, and deluxe Blu-ray sets such as Indicator's double feature collectors set, Enter Santo: The First Adventures of the Masked Mexican Wrestler.
So then, the question must be… why did this Mexican icon make his personal motion picture debut in Havana? (Previously, actors played the wrestler in the handful of other films that attempted to feature El Santo as a character). Particularly, why go to 1959 Havana, smack during the height of Castro's revolution against then-dictator Fulgencio Batista? That has to do with the real-world plight of the film's producer, Jorge García-Besné, who was run out of Mexico due to a marital infidelity scandal. Cuba is simply where he took the show. While it's true that film production bristles at boundaries of any kind, perhaps a moment of consideration about shooting film in the middle of actual lethal back-and-forth shooting would've been a good idea…
Then again, had the production of the 1961-released films that came to be known as Santo vs. Evil Brain (Santo contra cerebro del mal) and Santo and the Infernal Men (Santo contra hombres infernales) lensed somewhere other than Havana, we'd be deprived of their most valuable aspect: their capturing of a Cuba in the midst of monumental transition. Not only was the small country about to trade one authoritarian dictator for another, but the cars on the road and many of the buildings were about to be, for better or worse, frozen in time. We are told in a brief text slide before both films that the Mexican crew members were forced back home with shooting incomplete. Perhaps the many long sequences of cars simply cruising around are intended to pad things out?
Best one can tell, the first film, Santo vs. Evil Brain, comes down to some sort of brainwashing plot that must be thwarted. Mainly, though, the film seems to be most about driving around Havana. They drive and drive and drive and drive, not unlike high school video students with a car and a desperation to hit a certain assigned running time. Immediately, El Santo is cornered by thugs in an alley, overtaken, and brought back to the diabolical Dr. Campos (Joaquín Cordero) for brainwashing. The plot is successful, and not unlike Hawkeye in Marvel's The Avengers, the hero is forced to spend his bona fide motion picture debut as an unwilling instrument of evil. What a way to get started. Fortunately, fellow wrestler El Incógnito is on the case, doing what he can to help local law enforcement get to the bottom of all this.
Which can't help but beg the question, just what are El Santo and El Incógnito doing in these movies, anyway? As in, why do they specifically do what they do on screen? As in, why the heck do these masked wrestlers of Mexico travel abroad and fight crime? That, dear viewer, is never made clear in any way. Just be glad that these guys are indeed on the case, always willing to run shirtless into any armed fray with the confidence that there's no problem that can't be solved with a good, swift punch to the jaw. In Infernal Men, a story told in flashback, El Santo finally gets to be the hero we expect. If only for that, it emerges as the slightly, slightly better film.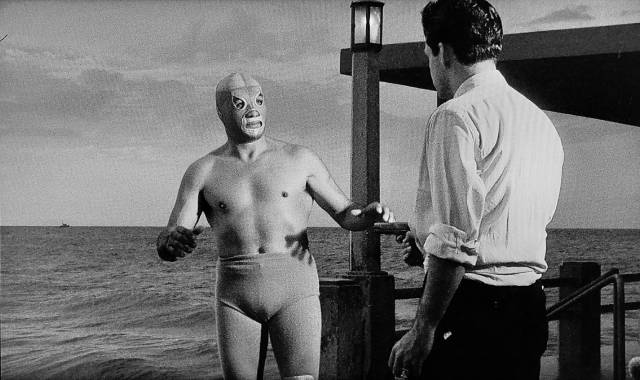 If you're a vintage car buff, getting the chance to sit back and observe the unbroken minutes of classically-sculpted gleaming tin driving around the sunny island in glorious monochrome is an opportunity second only to doing so in person. For the rest of us, such interminable sequences are indicative of the ascribed "carelessness" of these incredibly cheap, seat-of-the-pants productions. Like everything else about these films, having to sit through such painfully obvious padding (Evil Brain, even with these tactics, runs only seventy-two minutes. Infernal Men runs seventy-six minutes) is an experience alternating between comedically ineptly and torturous. (If Evil Brain is "a car movie", then Infernal Men is "a nautical movie", with lots of scenes on piers and a yacht).
If the ostensible plots of the two films differ, they share other immediately recognizable elements. Among these are shared cast members- not just El Santo, who's portraying himself on screen for the first time, but actor Joaquín Cordero (who is interviewed in a 2010 on-camera chat, found on the extras of the Evil Brain disc), as well as fellow wrestler El Incógnito (Fernando Osés), Enrique J Zambrano (as Lieutenant Zambrano), and the nice yet apropos-of-nothing sudden inclusion of sensual nightclub act Los Romero and Estelita. The movies end with literally the same exchange as the Lieutenant assures another officer that the departing El Santo (and El Incógnito) are "citizens of the world. Their duty knows no borders. They use masks to hide their identity for the good of all mankind." So, that explains it- not once, but twice.
Enter Santo: The First Adventures of the Masked Mexican Wrestler is an absolutely beautiful limited-edition two-disc, two-movie Blu-ray collector's set. Both of the initial Santo features, making their world debut on Blu-ray with new and improved optional English translation subtitles, are contained in an exquisitely thick, attractive slipcase. Santo vs. Evil Brain and Santo vs. Infernal Men bear brand new 4K restorations from the original camera negatives and their original mono audio. Filmmaker Nicolas Winding Refn, no stranger to taking on quality restorations of old oddball films, is credited with contributing to this effort.
While whatever effort and expense that's gone into polishing up these films (included in the US & UK 6000-unit limited, numbered set: an exclusive poster and a commendable exclusive eighty-page book of all manner of Santo-themed essays new and old) is fully justified in the name of Mexican film history and pure cultural anthropology, the lavish degree to which Indicator has gussied up this release teeters into embarrassing overcompensation. The milage, in this regard, of diehard Santo fans, will of course vary.
The disc bonus features are led by a third feature film, the 2011 documentary Perdida, by Viviana García-Besné. García-Besné is the granddaughter of Mexican early film luminary Jorge García-Besné. In Perdida, she explores her family's massive contribution to Mexican cinema, including initiating the Santo series. It's a deeply personal if also very amateur effort, in Spanish with English subtitles, and not always the easiest to follow. Accompanying it on the Infernal Men Blu-ray is a "Perdida image gallery", composed of a collection of stills from the Calderón family. On the other disc, there is a fascinating recent locations tour of Havana, revealing just how little the landscape has shifted since 1959's filming, and the revolution. Indicator is smart to lean into whatever personal connections these films muster amongst surviving crew family, particularly those like Viviana García-Besné who's so committed to connecting the historical dots of her family, however inglorious a portrait they may render.
Make no mistake, these are truly lousy films, a most inauspicious start to the sprawling legacy of Santo's cinematic output. While the superstar wrestler's place in Mexican culture (not unlike that of 007 in England, were 007 a real person playing a crowd-pleasing action surrogate) will never be on the ropes, it does seem like something of a minor miracle that his movie career went anywhere following his trepidatious time in Havana. Still, the Lucha libre in silver Lycra lives on, luminously so. The attractive efforts of Indicator on behalf of Evil Brain and Infernal Men demonstrate that much.