Sins Of The Mother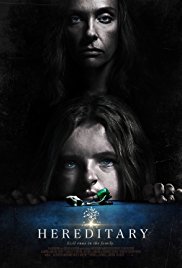 Directed by Ari Aster
Starring Toni Collette, Gabriel Byrne, Ann Dowd
Released June 8th, 2018
Rated R
Grief can manifest itself in a myriad of ways. In its throes, one can become obsessive toward certain things and detached from others. Grief is a monster that strangles the soul, leaving us gasping for air. Grief, and the actions that derive from it, is the focus of Hereditary, the feature film debut of writer/director Ari Aster.
There is a scene midway through the film concerning a fatal accident that is as arresting as any I've seen in cinema. Aster is more interested in the aftermath of the unspeakable than the actual act and many times during Hereditary we are forced to endure the process and pain of characters working through the unspeakable. It's heady stuff that makes Aster a talent to watch, even if I wasn't completely satisfied with his debut.
Annie (Toni Collette) is grieving the death of her mother, Ellen. Ellen was a secretive woman who came to live with her estranged daughter's family at the end of her life as she dealt with health issues in her old age–some physical, some mental. During Annie's eulogy, she describes the difficulties she endured over the course of her life with her mother, while noticing strangers in attendance giving her knowing nods and odd smiles. Who are these people? How did they know her mother?
Toni Collette sinks her teeth into [her] part and never lets go, even when the audience is shaking to get free.
Back at her house, while Annie is cleaning out her mother's belongings, she comes across books on the occult and spiritualism. Annie realizes her mother remains a cypher for her even in death. Creepy strangers showing up at your creepy mother's funeral is creepy and finding occult books among your deceased mother's belongings is creepy, but it's worth noting that Annie lives in a creepy house, with a creepy treehouse, and a creepy family. The creepiness is there from the beginning. She's starting from a creepy point. And things only get creepier from there. As a matter of fact, it's fair to say all hell breaks loose.
Annie is a miniaturist by trade, meaning she creates tiny dioramas and displays of various locations, buildings, and scenes from life. Her husband Steve (Gabriel Byrne) becomes increasingly frustrated with her as she slowly loses her grip on reality and thus neglects her work, for which she is being paid and is under a looming deadline. Their children, the teenage Peter (Alex Wolff) and younger Charlie (Milly Shapiro) are caught in their mother's heartache crossfire. After a few seemingly chance meetings with a woman named Joan (Ann Dowd), Annie eventually comes to the conclusion that her family faces danger from supernatural forces and goes to great lengths to protect her family.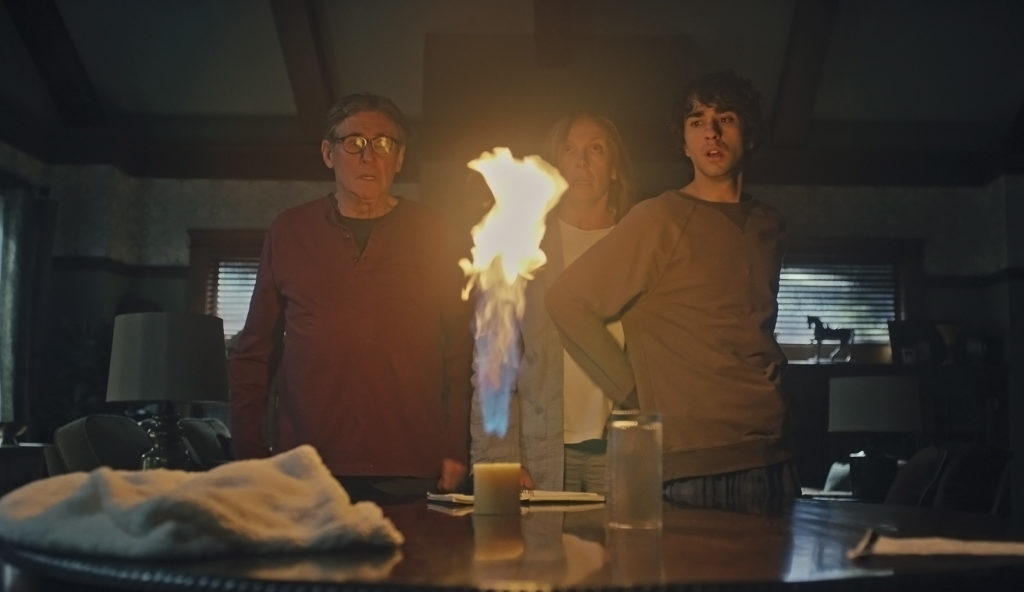 Annie is a great character for a talented actor to sink their teeth into and that's exactly what Toni Collette does in this movie. She sinks her teeth into the part and never lets go, even when the audience is shaking to get free. I sincerely hope the Academy of Motion Picture Arts and Sciences recognizes her incredible work in this film, as Collette deserves to be showered with accolades during the coming awards season. The movie, however, is not as satisfying as Collette's bravura performance. With a strong influence of H.P. Lovecraft and elements that bring to mind such iconic horror films as The Shining, The Omen, TheVVitch, Pet Sematary, and The Babadook, it's disappointing that Hereditary isn't as good as the sum of its parts. It's a more shocking affair than scary, with scenes that will make you squirm in your seat rather than make you yell out loud.
I don't mind the slow burn of methodical horror films and the use of a steadicam can be a good thing, but my lord does Hereditary take its sweet, creepy time. This two and a half hour film could have easily been ninety minutes and benefited from it. What should have come across as horrifying becomes tedious and slips into laughable pretension at the conclusion of this overwrought exercise in terror.