More Than a Princess, 1956 – 2016.
Three ZekeFilm contributors, Max Foizey, Erik Yates and Jim Tudor share their personal recollections, thoughts and feelings on the passing of Carrie Fisher.
*****
Max Foizey
Beloved global icon Carrie Fisher has died at 60. She drowned in moonlight, strangled by her own bra.
Of course that last bit isn't true, but it's something Ms. Fisher wanted her obituaries to include, and who am I to deny her this wish?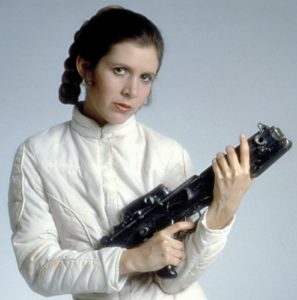 I was in a retail store when the news broke. My phone started buzzing with text messages from many different numbers, all letting me know the news. It was like a family member died. I soon realized it felt this way for many people in the store.
I walked from aisle to aisle as people were finding out, all looking at their phones. I heard young women in shock, saying "Princess Leia is dead!" I heard older men mutter "Carrie Fisher's dead" in quiet disbelief. I watched young men run panicked to the toy aisle to buy the latest Princess Leia action figure before they sold out.
Carrie Fisher was many things to many people, usually all at once. Thrust into worldwide fame via Star Wars as Princess (later General) Leia Organa (nee Skywalker), Fisher became established as a scene-stealing actress, sought-after script doctor, bestselling memoirist, and advocate for mental health awareness.
Carrie Fisher was many things to many people, usually all at once.
Princess Leia taught countless young girls that they could be as in control and badass as any boy. I can tell you she taught boys the same fact about women. Fisher's portrayal of Leia is different in each Star Wars film. Fierce, playful, and bold in the original trilogy, carrying the weight of a galaxy on her shoulders in The Force Awakens. There was never before a character quite like her represented in science fiction, and she greatly impacted and influenced generations.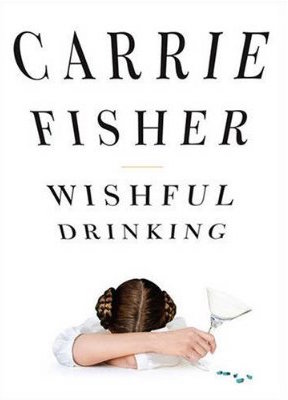 As much of a Star Wars fan as I am, I will always consider Fisher first and foremost a writer. Her books are incredible works of acerbic wit and hard-earned wisdom. I don't know of any other writer who could wield self-deprecation as well as she did.
Many of the films you love had her stamp all over them, whether you knew it or not. I'd love to see a complete list of the films she 'doctored' over the years with improved scenes and dialogue.
Mental illness is something society still doesn't know how to talk candidly about, and for most of her career through her books and interviews she bravely kept that conversation front-and-center.
On the press tour for The Force Awakens, she was a joy to behold, leaning into questions about her weight, her looks, her mental health, all with her no-BS filter. These were the standard entertainment show sexist questions no one would dare ask Harrison Ford or Mark Hamill, but she handled them with aplomb.
The whole world was touched by her work, and the whole world is sending love to her mother, sisters, brother, daughter, and her therapy dog, Gary Fisher.
To quote Max Von Sydow (as Lor San Tekka in The Force Awakens) "To me, she is royalty."
*****
Erik Yates
From the very first Star Wars, we had our first princess for the modern age.
While she simply uttered the phrase "Help me Obi-Wan Kenobi, you're my only hope", which launched Luke and Obi-Wan's mission, and thus the entire Star Wars phenomenon, Leia was no damsel in distress. As a young child, I of course thought the princess was beautiful, but more importantly, we got to see a princess who was strong – a leader, a fighter – who had wisdom and who fought for ideals and others, even at her own personal danger. This was the type of hero our world needed.
And while she is best known for that iconic role, I'm always partial to her antagonistic role in the comedy classic, The Blues Brothers. Over the years, she would continue to show up in films that are still warmly remembered by the public such as When Harry Met Sally, Austin Powers: International Man of Mystery, or The 'Burbs. She was also equally known for her substance abuse and mental health struggles. Rather than succumb to them, however, she showed many how you can survive and thrive, even in the midst of the struggle.
We got to see a princess who was strong – a leader, a fighter – who had wisdom and who fought for ideals and others, even at her own personal danger. This was the type of hero our world needed.
She became a well respected writer, both in terms of novels and memoirs, and also with scripts. She refused to be defined by the role that introduced her to public, even though she was already well known to the industry having been the child of Eddie Fisher and Debbie Reynolds, but she didn't shrink away from it either. Her return to the character of Leia in Star Wars: The Force Awakens only helped solidify her standing in the new pop culture. As a seasoned General, her princess was still, much like Carrie Fisher herself, a warrior for the things she believed in. This is still the princess role model that is needed in our world today.
With her participation in recreating her younger self in this year's Rogue One, she relaunches the Star Wars story for a whole new generation, and by extension has the opportunity to again be the princess we need for the modern age. Carrie Fisher once wrote that she wanted it to be reported that she "drowned in moonlight, strangled by my own bra". While her actual death might not have been as poetic as that description, the film roles, the causes she championed, and the person she was will be seen as the work of art she hoped for. And I like to think that Han Solo rubbed off on our princess in that as we collectively state our love for her in her passing, she'll have looked at us with confidence and uttered a simple: "I know".
*****
Jim Tudor
As the news broke, I was literally sitting in the multiplex with my family watching the latest Star Wars film, Rogue One. As Erik mentions above, the movie ends with a de-aged Carrie Fisher as the A New Hope era Princess Leia. For this aging first generation Star Wars fan, the timing, completely unbeknownst to me in the moment, couldn't be more apropos. Either that, or the news couldn't be more undercutting.
Fisher was a force of nature in real life, commanding the spotlight in her own time and on her own terms.
When my brother and I collected and played with Kenner Star Wars toys as kids, Leia was one of my characters. As the character wore her hair in braids in two of the three Star Wars films of my childhood, I always thought of Leia that way, not with the famous cinnamon roll buns hairstyle. I believe that Fisher herself could appreciate that. I also hope she'd approve of me honestly saying I was never attracted to her in the metal bikini. That outfit was cheap and demeaning to the character, and I felt rightly embarrassed for Princess Leia in those moments. I was much more the Oola the Dancer type.
As many on this day have lamented, this is one 2016 celebrity death that truly hurts. I admit that it's compounded by the uncertainty of how this effects the current Star Wars trilogy, which Leia is, to some-yet-to-be-revealed degree, a continuing part of. Maybe I'm guilty of mourning a prematurely lost General Leia rather than the actress Carrie Fisher, I don't know.
But that's not altogether true. Fisher was a force of nature in real life, commanding the spotlight in her own time and on her own terms. No, she did not take good care of herself, a factor quite likely contributing to her famous mother Debbie Reynolds outliving her own daughter. But Carrie Fisher, in her own smart and self deprecating way, made another career of that, as well. Tell-all books like Wishful Drinking and the novel Postcards from the Edge were the gold she milled from the fodder of her own bumpy personal life. Just this month, Fisher decided it was a good idea to tell the world about an on-set affair she has with co-star Harrison Ford during the filming of the original Star Wars. As a fan, that's not the kind of information I was looking for about my favorite movie. Even Fisher confessed to Terry Gross to being unable to stop herself from writing that book (The Princess Diarist).
But did we really want Fisher to put a lid on it? No, I don't think so. She was hilariously self-deprecating and observational. Her wit and talent were the most evident parts of her unfiltered outbursts, often targeting her own body parts, her legacy, and showbiz on the whole. Her answers were rarely what made politically correct culture comfortable, but can one beat this response to a nervous parent about what to tell kids regarding the infamous metal bikini in Return of the Jedi: "Tell them that a giant slug captured me and forced me to wear that stupid outfit, and then I killed him because I didn't like it. And then I took it off. Backstage."  That's the actual quote. And, it's great. The quote was just one of many during her 2015 Force Awakens press blitz, something her personality utterly dominated. Clearly, the incident with Jabba the Hutt would not be the first or last time she killed in the face of demeaning circumstances.
And now, she's gone. Another 2016 death statistic for Facebook to blame the year for. If we're going to look at this that way (and it's hard to resist not to), let her untimely exit be the end of it. She was a strong, empowering personality (for everyone, not just little girls) who made her mark on our galaxy, and beyond. She gave life to the great heroine of my generation. And she didn't care what we thought about any of that. Just as it goes in Rogue One, her legacy at the very end of a dark and trying time (that's turning headlong into yet another) must somehow leave us with that vital thing worth clinging to: Hope.