A Spoiler-Free Consideration of the Latest Adventure in a Galaxy Far, Far Away…
DIRECTED BY RIAN JOHNSON/2017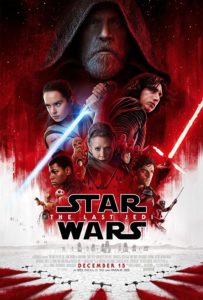 There's nothing better than a great Star Wars movie. And this is a great Star Wars movie.
In the interest of rightly remaining spoiler free, I'll put forth that, generally speaking, The Last Jedi pulls off many things that The Force Awakens (the official Star Wars "Episode" prior to this one, for anyone living under a non-levitated rock) had a clunky time with. Part of it may be that Force Awakens director J.J. Abrams had a far more combustible situation on his hands; introducing a new generation of characters (among them, Daisy Ridley's Force-ified Rey, Adam Driver's fit-prone villain Kylo Ren, John Boyega's reformed Stormtrooper Finn and Oscar Isaac's hotshot X-Wing pilot Poe Dameron) while dishing up a Hutt-sized helping of original trilogy nostalgia.
But, despite a continuing chorus of complainers that his film is too much a rehash of A New Hope, (actually not one of it's weaknesses,) popular sentiment tells that Abrams managed to overcome his odds. That said, there is, nonetheless, evidence enough to question his understanding of the spiritual side of Star Wars. His version of the Force was more like a manifestation of mutant super powers than a convergence of the universe's living energy. Any necessary mysticism remained at arms-length, even as that arm might've gotten lopped off at any moment.
Thankfully, Last Jedi writer/director Rian Johnson has no such difficulty. Though the "rules" and specifics of the Force have been a bit of a moving target over the course of seven previous episodes, plus an off-shoot movie and a few animated television series, it remains a solid-enough concept. Even in its deliberate gestalt-like vagaries, The Force has always been, and remains, the firm foundation of the Star Wars galaxy. When it comes down to it, it's the franchise's own devotion to that ancient religion that keeps things going.
There are no out and out bad scenes in The Last Jedi, and there are numerous moments that deeply matter. For the first time since the Disney acquisition of Lucasfilm, there's a true sense of beginning-to-end cohesion within the screenplay, and it translates to the screen. Always active but with room to breathe, this film makes better usegood versus of its requisite nostalgia and callbacks than any Star Wars film to date. Johnson displays a hint of a wicked streak, sometimes targeting moments, things and anticipations we've been cued to be precious about. It's clear that he cares as much as any fan, but won't be held captive by the past.
On the whole, though, The Last Jedi is a film that is very much about the process of grappling with what should be left behind and what is worth holding onto. Not to beat a dead tauntaun, but Johnson's structure and pacing reveal The Force Awakens to be the (admittedly satisfying) clunky warm-up act that it is.
Johnson's story structure is wisely reminiscent of The Empire Strikes Back, forgoing a Death Star-type plot device in favor of keeping our heroes on the run, all the while checking in with Rey and Luke Skywalker (Mark Hamill, giving his wonderful all) as they navigate his newfound surliness and life in exile. Unlike, say, Dagobah, Luke's sunny and green home of the first Jedi Temple and of the sacred texts (glimpsed at the closing of The Force Awakens) is not an unpleasant place to be holed up for a while, doing some lightsaber training and whatnot.
Carrie Fisher, in her final turn as Leia Organa, gets significantly more screen time than in the previous film. Which isn't just sentimentally good – Leia needs every second she can get to keep the Resistance afloat and on the run, amid her fleet being on the wrong side of a hot pursuit, quickly dwindling manpower, and a dire fuel shortage. Fisher's daughter, Billie Lourd, also gets more to do this time around. A nice touch.
Evil grandmaster Snoke is introduced in the withered flesh this time around, with Andy Serkis performing to his usual level of motion-capture marvelousness. Domhnall Gleeson gives an archly amusing mustache-twirling performance as the First Order's General Hux. It is Adam Driver, however, who steals the show. In his second outing as Kylo Ren, the far-fallen son of Solo, Driver commands every scene he's in with his own unique flavor of sensitive intensity.
The biggest disconnect from its predecessors, though, may be the nature of the humor throughout.
Rather than the than the series' traditional dry sarcasm, this entry is more flip and more quippy, which, considering the bang with which the film starts, may take a moment or two to settle into. Most of the good lines go to Oscar Isaac, with a less expected character pulling into second place. Those concerned that the heavily marketed porg creatures are the new Ewoks can, however, relax.
The longstanding scuttlebutt has been that The Last Jedi picks up immediately where The Force Awakens left off. This is not quite the case. The story gets down to business soon enough in answering whether or not Luke takes back his old lightsaber. But first, some staple Star Wars action! Rollicking and robust, Johnson's introductory sequence threads the needle for what's to come.
Before that, we have the opening crawl. Last year, a friend of mine floated the question of what the Episode VIII crawl could possibly be if the movie does indeed start not only on the heels of Abram's predecessor, but possibly even overlapping with it. The answer is… it's a crawl that reads a lot like Episode VII's. Episode IX, however, should not have this problem at all.
There are of course moments and developments that fans will debate and carry on about for years to come. Several are likely to be played out as social media memes before opening weekend is over. But dealbreakers, they are not. The implication these days, both within fandom and the marketing alike, is that an official Star Wars episode is Important. Ideally, they're important enough to warrant an entire spin-off movie some forty years later, detailing a minor piece of information briefly mentioned back then in one scene. It's tantalizing to think that The Last Jedi could, one day, a long time from now, spawn a Rogue One all it's own.
But I digress… Our minds need to be on where we are, what we are doing. Over and over again, in instances great and small, we are shown that characters might not be who we expect, want, hope, or need for them to be. And again, like The Empire Strikes Back, it suggests that tyranny is something that must be continually survived as opposed to triumphed over. Yet, for the seriousness of its themes, and the potentially crushing consequences of seeing them through in some instances, The Last Jedi maintains the energy, fun and charisma that people hope for in this series. It's a movie of subverted expectations and odd reassurances, with as many surprises as any film this year.
Are there nits to pick? Of course. There are a few modern visual techniques that feel, to these older eyes, a tad too flashy for Star Wars. A bit too Rian Johnson-2017, as opposed to classic Lucas-style storytelling, which Abrams did a better job of sticking to. Some may take issue with the zoo of new space creatures and critters running around throughout this movie, or the handling of Star Wars newcomers Laura Dern and Benicio Del Toro, each introduced as key players in this latest desperate race against time. (Resistance newbie Rose, played by Kelly Marie Tran, however, fares much better.)
But the biggest sin, in this fan's strict opinion, is how Johnson, more than anyone prior, opts to break Lucas's locked-in storytelling form with a few overt flashbacks. With galactic history piling up and a nearly forty-year gap to fill for some of these characters, it's all but an inevitability that this edict would be violated sooner or later. That Johnson is the one to do so, in as restrained a manner as possible, is something I suppose we should be grateful for.
In the harsh light of the twin suns, though, all is forgiven. True Star Wars fans understand that we must accept, if not always appreciate, the occasional silliness, the tide of melodrama, the artifice of certain animation, and/or the deliberance of minor tonal shifts. The series has always been nothing if not a paean to cinema itself – a rooting that sets it apart from the vast majority of "geek culture" filmgoing, as directly adaptation-based as most other such movies are. The biggest adaptation going on in Star Wars at this point is adaptation of itself. Before that, it stemmed from all of movies. And before that, lest we forget, epic myth.
As in life, it's all of a piece. A beautiful, ugly, bombastic, diverse, unfair, mysterious, magical, mundane, struggling, heartwarming, heartbreaking, eternal piece, that must be survived together. Even now, as the series ascends into more of a multi-media empire than it's ever been prior, it's still possible to see the originating wonder-spark of a galaxy far, far away in the eye of a boy racer from Modesto who one day stared up into a silver screen and found himself Star-struck.
The Force is indeed strong in this one.
This review originally posted December 12, 2017 at ScreenAnarchy.com.