Viola Davis Thrills in Action Epic for Fans of Wonder Woman and Black Panther
DIRECTOR: GINA PRINCE-BYTHEWOOD/2022
When Wonder Woman was released in 2017, it led to conversations with my girlfriends about how moving it was to see a female cast in a superhero blockbuster. I heard more than one story about women tearing up, and it wasn't until I was in the theater I realized I had never seen an action sequence starring only women before.
The smartest thing about The Woman King is it taps into the thrill audiences felt in Wonder Woman and in Black Panther when female warriors led the charge. In this instance, though, we are watching history come alive, not a comic book. Nawi (Thuso Mbedu) dreams of becoming one of the all-female Agojie warriors in the African kingdom of Dahomey (present-day Benin) in 1823. First she must pass the trials to prove she is worthy, but the Agojie general, Nanisca (Viola Davis) is unconvinced she can. Nanisca reports to a young King Ghezo (John Boyega), who faces two major pressures on his rule: the neighboring kingdom of Oyo expects regular financial tribute, and the European traders expect regular delivery of slaves. Dahomey is one of the most powerful nations in Africa, but it is at a political precipice. If the King makes the wrong move, they could be overpowered or fall into destitution. It's a good thing Nanisca and her super soldiers are ready for battle—after all, their skills are mad enough to inspire superheroines like the ones in Black Panther.
Another version of this film could have been a capital-G Great Awards Season Contender. The story of the Agojie (also called Amazons by Europeans) and their role during King Ghezo's reign is akin to the stuff of Braveheart and Lawrence of Arabia: a fight for justice and freedom, unlikely odds of success, and highly choreographed action. Viola Davis has the pull to keep a large ensemble unified in her orbit, and the attention to detail in the costumes, makeup, and hairstyling is so authentic and complex I'm glad I saw them clearly on a big screen.
But unlike those Best Picture winners, The Woman King is most interested in creating exciting action and inspiring its audience. Nawi's journey begins more like a sports movie in which she needs to show her prickly coach why she deserves to be on the team—a trope Prince-Bythewood nailed in her feature debut Love & Basketball—and then goes through a Rocky training montage before the final match. On the home team, she's playing with MVPs like Izogie (Lashana Lynch, cementing she has the chops and charisma to be a top-tier action star after Captain Marvel and No Time to Die), who files her nails into talons to blind her opponents. The visiting point guard of the European slavers (Hero Fiennes Tiffin) refers to the Agojie as the "bloodiest b—ches in Africa" to make sure he's an uncomplicated villain. In my screening, the audience cheered and clapped multiple times at the end—there's no tie or overtime here.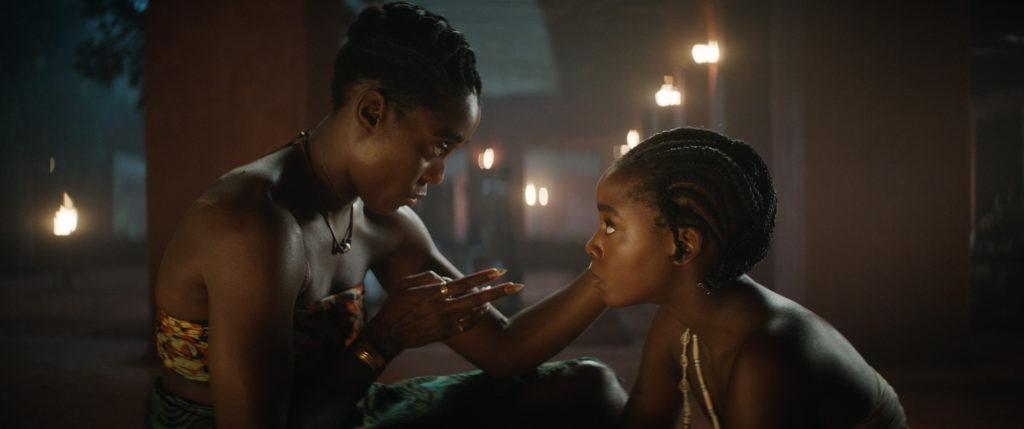 That does mean thematic opportunities are left on the table. The first half of the film is weighed down with clunky expository dialogue, and reading up on the real history shows details were altered to gloss over thorny moral issues, such as making Boyega's king more conflicted about selling people to preserve his prosperity. Jordan Bolger plays a first-time visitor to his mother's homeland of Dahomey, but because because his father was European, he is traveling with a group of Portuguese slavers. Though he does grapple with his biracial identity, he spends most of his screen time as shoehorned love interest. 
Even with those missed opportunities, The Woman King is a rare gem. As I watched, I racked my brain trying to think of Hollywood movies about African history not set in ancient Egypt or about Nelson Mandela. Afterward and with the the aid of Google, I could only think of five major titles from the 21st century: Blood Diamond, Hotel Rwanda, The Last King of Scotland, Queen of Katwe, and A United Kingdom. (If I missed any, please note Google was little help. If you search "movies about African history," the first two results are Hidden Figures and One Night in Miami…) If the script had been more open to ambiguity, we might be discussing this historical epic until the Oscars, but perhaps it has done something more valuable: It told a story that will be brand new to most viewers in an accessible way.
Considering your local multiplex has shown 6 different guys playing Batman on the big screen in the last 30 years (not to mention all the Jokers), what a treat! Davis makes a meal out of this snack of a character, and it's a thrilling presentation of history I suspect is not taught in most American schools. If I saw The Woman King at 12 or 13, I would think it's a capital-G Great film, which I only mean as a compliment. (Note: Characters are working through trauma associated with slavery and sexual assault, but the depictions are not so graphic as to deter families with mature kids.) Novelty wears off, but when used well, it can be a game changer for the audience—just ask Black Panther and Wonder Woman.