Daniel Craig Clocks in for Her Majesty's Secret Service, One Last Time.
DIRECTED BY CARY JOJI FUKUNAGA/2021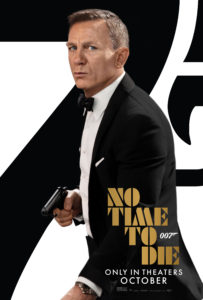 007 is not what he used to be. But then, with the series pushing sixty and the lead actor not far behind, how could it be? No, this time around, 007 is altogether different in ways beyond even that. For one thing, 007 is not James Bond at all.
But fear not, Bond devotees- No Time to Die, the twenty-fifth proper outing for everyone's favorite super-spy, is very much a film about Bond, James Bond.  You know his name; you know his number. That classic designation, however, has been re-assigned by MI6.  The new 007 is a resourceful West African woman named Nomi (Lashana Lynch).  Indeed, much has changed in the five-plus years since the previous installment, 2015's Spectre.  
As directed by prestige filmmaker Cary Joji Fukunaga (Beasts of No Nation; HBO's True Detective, season one), No Time to Die shines as one of the finest entries in the venerable series.  It firmly joins the ranks of 2006's Casino Royale and 2012's Skyfall, settling the five-film Daniel Craig cycle as a pattern of odd numbered films = good/even numbered films = not as good.  Though at an astonishing 163 minutes, No Time to Die is in fact the longest Bond film yet, it is truly a relief to report that the length is never felt.  Although No Time allocates plenty of time for action set pieces, it's the first time in very long while (maybe ever?) that none of them feel superfluous.  The pacing, for a Bond movie, has an appropriately mature feel about it- while also wrought with high-stakes tension.
Bond, now retired and living far off the grid following a bad split with his recent love, Madeline Swann (Léa Seydoux), is forced back into action to deal with an engineered bioweapon that has fallen into the hands of villain Lyutsifer Safin, played with an understated slipperiness by Rami Malak (Bohemian Rhapsody).  Insofar as COVID-19-era coincidences go (No Time was completed prior to the global pandemic, forcing its delay by a good year and a half), both the conspiratorial angle of a deadly sickness being intentionally cooked up in a secret lab as well as the notion of selflessness and sacrifice of one's comfort being the only way to combat it are hard to overlook.    But coincidences they absolutely are… marking No Time to Die as a film with an eerily astute gauge of the cultural winds.  This is the sort of vague semi-prophetic work that should demand our astute consideration.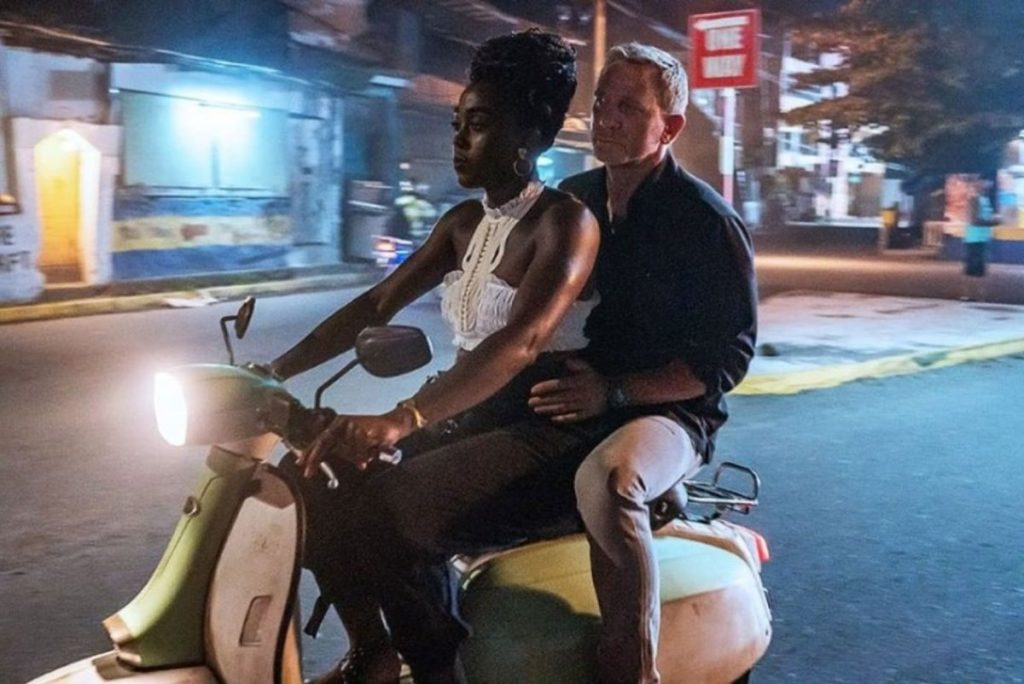 The notion of James Bond settled down and in a committed relationship shouldn't seem completely foreign, as he's been down that road at least twice previously. Eva Green's Vesper Lynd in Casino Royale, and Diana Rigg's Teresa Bond in On Her Majesty's Secret Service are both pretty unforgettable, for 007 and for fans. (Fittingly, both of these films are referenced heavily in No Time to Die).
Even still, Bond's reputation has been firmly ensconced in Hugh Hefner-era male chauvinism.  Like The Rolling Stones, another 1960s icon that's still going strong, much of Bond's sexual shenanigans of the past land today with considerably less charm, if not an outright thud.  (Director Fukunaga has called out a Connery-era Thunderball coupling as "basically rape").  When your brand is long rooted in untethered male libido (to put it politely), how does one adapt to a more refined age?  The 007 franchise has been grappling with this matter well before #TimesUp.  As far back as 1995's GoldenEye, Judi Dench's M called Bond "a sexist, misogynist dinosaur. A relic of the Cold War".  As he replies, point taken.  Nevertheless, only now is the series truly exploring what the character looks like with long term attachments and certain fixed morals.
Daniel Craig, in his much-ballyhooed swan song as James Bond, is, dare I say, brilliant in the part. Much as been made of the fact that Craig had to be lured back for this one last outing, and in terms of what could persuade him to do it again, the world is not enough. But whatever fortune he was paid for No Time to Die, it is well earned. Craig serves up the ultimate final course of his continued re-imaging of 007 as a more sensitive cold-blooded government assassin. This final chapter in particular resonates with the tension of Craig's tightrope walk between heartworn weariness and dedication to the greater good- however convoluted it can get. Film award season voters, do not overlook this definitive, bold performance.
While there will always be those who prefer a carefree and flippant Bond, the character achieves his greatest resonance when tragic.  Along for support is the usual crew of familiar faces, including Ralph Fiennes as M (uttering what is, one believes, the first f-word in the franchise history), Naomie Harris as Moneypenny, and Ben Whishaw as Q.  Also in the mix are the familiar faces of Jeffrey Wright, Christoph Waltz, and Rory Kinnear, as well as newcomers Billy Magnussen, Ana de Armas, David Dencik and Dali Benssalah.  Ana de Armas (Blade Runner 2049; Knives Out), though only on hand for a single extended sequence, makes quite the impression in her designer dress and handling of Bond.  Oscar winning cinematographer Linus Sandgren (La La Land) and the ubiquitous composer Hans Zimmer make their double-0 debuts with straight-ahead assurance.
The triumph of No Time to Die is that it's fully in step with the necessary and compelling evolution of the series and its main character while never abandoning the tropes that define the series.  (Even the sluggish Billie Eilish title song works in the context of the picture).  The Daniel Craig era has always been about digging deeper into Bond's own psyche, demons, and past.  Here, we roll back momentarily to the dire events of his first film before blowing them out and moving forward.  In terms of broader notions, All in all, it can't help but flag up how the spy game may well be a snake eating its own tail; a self-perpetuating engine of isolation, paranoia, and death.
Eon's decision to embrace a continuous approach to 007 is fully in keeping with the contemporary age of "shared universe" film franchises, but also prestige television.  Like any good prestige series, it's all been building towards a proper conclusion.  As carefully scripted by legacy 007 screenwriters Neal Purvis and Robert Wade as well as Fukunaga and, quite curiously, Phoebe Waller-Bridge (Fleabag), No Time to Die boldly and fully imbues true emotional consequence into a series known for (and sometimes hobbled by) it's cold detachment. If that sounds like 007 is just not 007 anymore, well, he's not.  But Bond is still very much Bond.  It's great to experience Daniel Craig's return Her Majesty's secret service, one last time.