The film maintains the heart of the beloved story, but its release date guarantees this bull is going to be slaughtered in the box office arena by el matador, that is Star Wars: The Last Jedi
Directed by: Carlos Saldanha/2017
Animated film director Carlos Saldanha has brought us the films Rio, Rio 2, Robots, and several of the Ice Age films, and now he has brought to life the beloved children's book "The Story of Ferdinand" by Munro Leaf (1936).  Everyone's favorite passive bull, who likes to sit on a hill under a cork tree and smell the flowers instead of fighting like the rest of the bulls in Spain is now a computer-animated feature length film.  In 1938, Walt Disney did an Oscar-winning short film simply titled Ferdinand the Bull, winning for Best Short Subject (Cartoon), but it has never been turned into a feature length film until now.
One of the reasons for this is of course that the source material is a very short children's book that can be read in just a few minutes.  Beloved by everyone (a little hyperbole, but I'm not far off), "The Story of Ferdinand" has never been out of print since it was first published.  20th Century Fox's Animation Studio and Blue Sky Studios is taking a gamble on this film knowing that there is a potentially huge built in audience for this story.  They are also risking much to build an entire back story that exists for the film version that doesn't get mentioned in the pages of the book.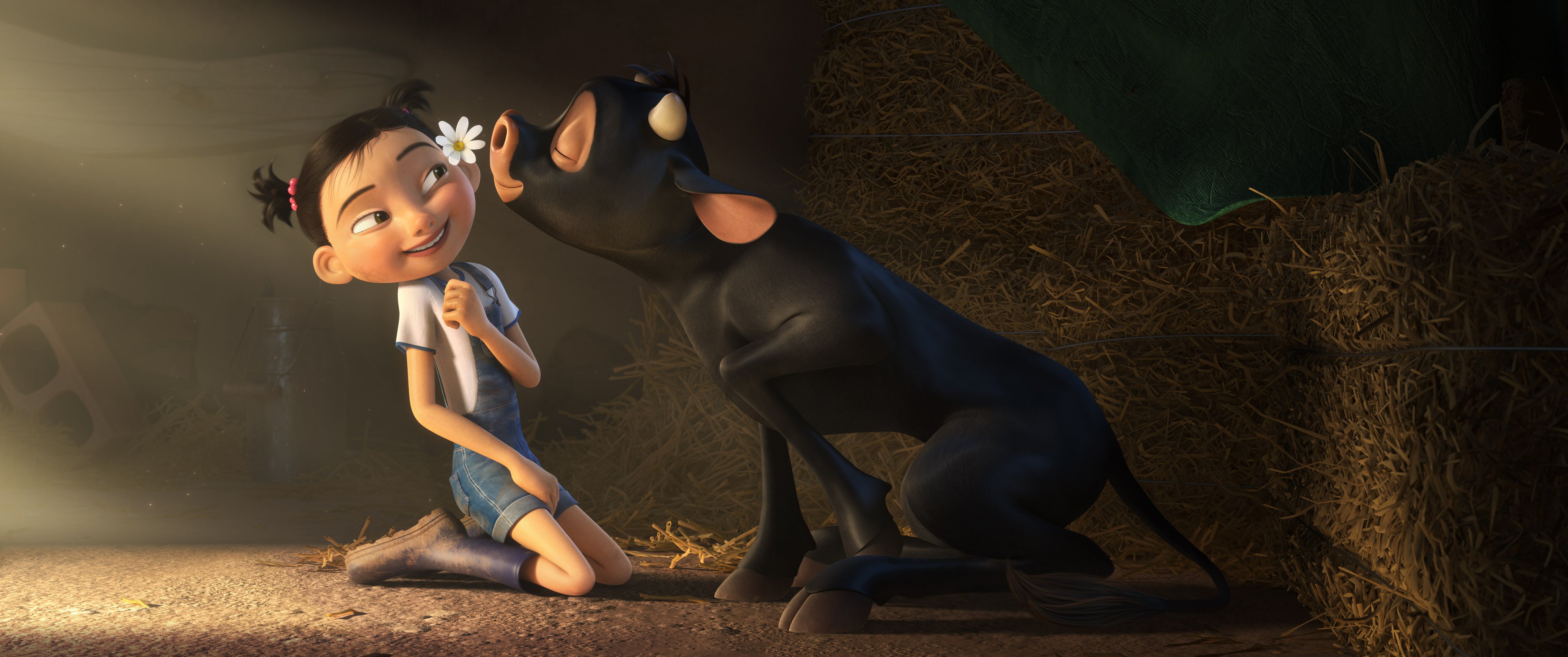 Questions I had going into the screening of this film ranged from "how are they going to stretch this story to 90 minutes?", to "will it keep the heart of the original story that we all love?".  The answers are a mixed bag.  All in all, Ferdinand keeps the heart of the original story and tells a wholly new backstory without alienating the built-in base.  It also seems to reinforce the notion that Big Sky Studios has found a formula that is good for profit margins and isn't really interested in pushing the envelope artistically.  As long as the audiences show up enough to satisfy the budget, it will be seen as a success and more similarly-approached animated films will be put in the queue for development.
The other huge question I had for the studio is regarding the chosen release date for Ferdinand.  If you aren't plugged into the culture too much these days, you might not know that Ferdinand is opening up against perhaps the largest film of the year in Star Wars: The Last Jedi.  On one hand, this is a classic studio Jedi fight as 20th Century Fox, the studio that first brought us 1977's Star Wars, and every sequel/prequel prior to Star Wars: The Force Awakens, is choosing to pit Ferdinand against their older extremely successful film franchise.  A franchise that went to their rival studio, Disney, when Disney purchased LucasFilm.  Ironically, like Darth Vader defeating Obi Wan Kenobi, the student has become the master, as Disney has finalized a deal this week to buy 20th Century Fox, and may be the studio that oversees the eventual Blu-Ray release of Ferdinand, as well as any future sequels (depending on Blue Sky Studios' contract with 20th Century Fox and how it plays out).
Given that Star Wars is sure to swallow up almost anything trying to open this weekend, Ferdinand's potential success, that is primarily dependent on families, may see a large chunk of its built-in audience having to choose between a computer-animated film about a lovable bull, from a middle-level animation studio, and the cultural zeitgeist of our time which is Star Wars.  To be blunt, it isn't even going to be a contest.  Like the bulls fighting in the arena in Madrid, they can pretend that they have a shot at winning, but ultimately it can only go one way.  In the book, Ferdinand found a way to live through his experience in the arena by simply not fighting, choosing to stop and smell all of the beautiful flowers being thrown down on him from the crowds.  Unfortunately, if Ferdinand the film lays down to keep from being run through by Star Wars' box office, it will surely be the death of Ferdinand, the film, and all of its franchise potential the studio was clearly banking on.
The film features former WWE wrestler, John Cena (Trainwreck) as the voice of Ferdinand, and the always lovable and funny Kate McKinnon (SNL, Ghostbusters) as a goat named Lupe.  The basic story is that Ferdinand is raised on a ranch known for training the greatest bulls in Spain who go on to fight in Madrid, if they are chosen by the Matador.  When his father is chosen and never comes back, Ferdinand escapes, only to find a life on a wonderful flower farm where he is loved by a young girl named Nina (Lily Day and Julia Scarpa Saldanha-as young Nina).  When he has to stay home from the annual flower festival, due to his monstrous size, he decides to crash the festival anyway (he loves his flowers), leading to him being captured, after the town feels threatened by him. In a cruel twist of fate, he is sent back to the very ranch he escaped from.  There he must face his old childhood nemesis Valiente (Bobby Cannavale-Ant-Man), and decide if there is ever a time when you should fight.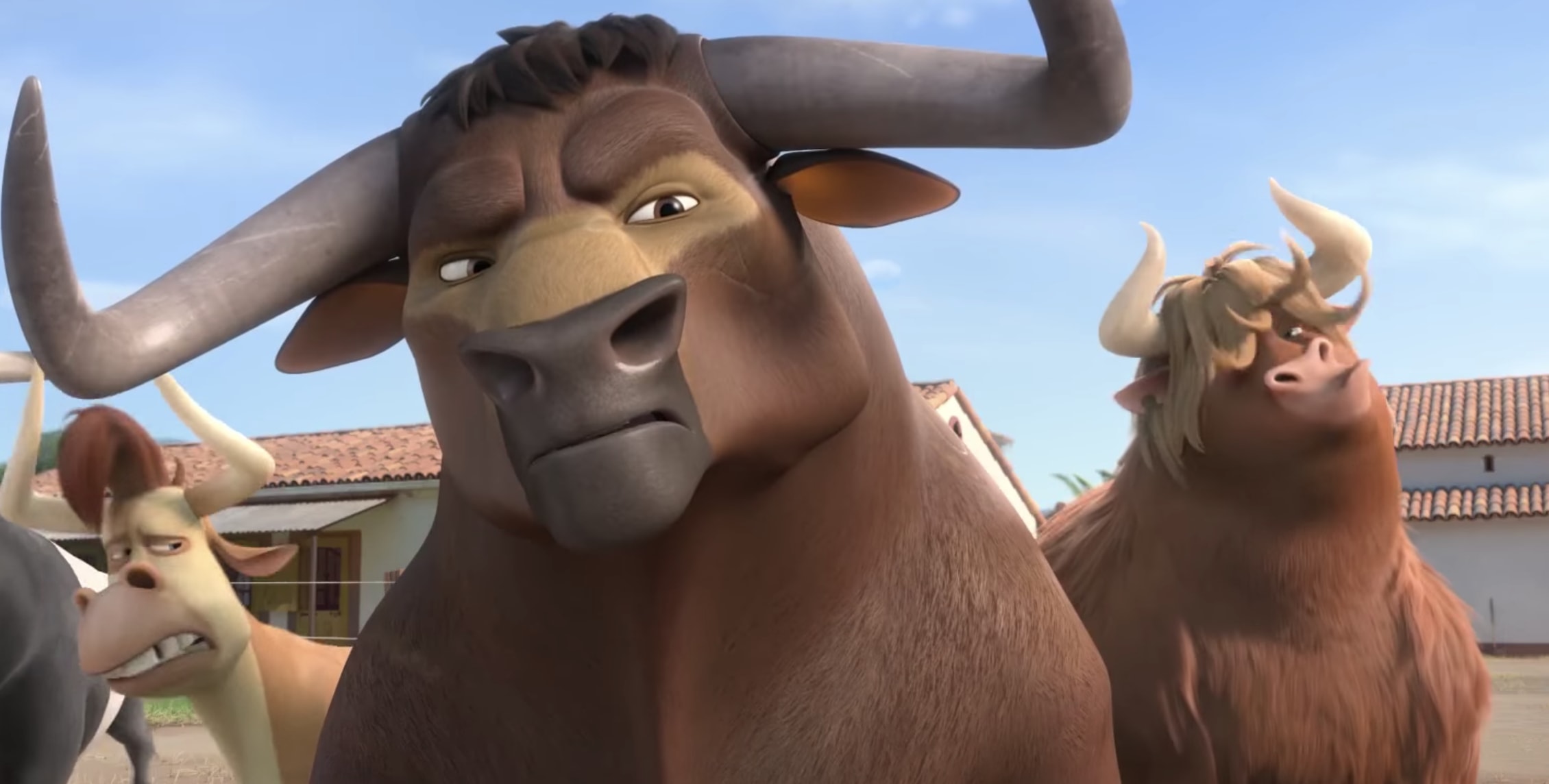 John Cena does a good job with the voice work, and I think that younger kids will especially like this film.  Ferdinand has its moments, and provides some nice nods to the source material, while developing its own identity in the process.  The animation is hardly groundbreaking, and the narrative arcs are pretty predictable, even if you aren't familiar with the story the film is based on.  That being said, on the whole, it is enjoyable enough, but largely forgettable.
Ferdinand has always been a lover, not a fighter.  The film has a great message that is encapsulated by Ferdinand when he says throughout the film, "just because I don't fight, doesn't mean I'm scared".  It is a nice sentiment, but I'm afraid it will be drowned out by the tidal wave of Star Wars.  Maybe when the studio pitted an animated film like Ferdinand against Star Wars, on purpose, declaring like Luke Skywalker in The Empire Strikes Back with a false bravado, "I'm not afraid", they should have listened to Yoda's response of "yeah….you will be.  You WILL be.". Had they heard that message and responded by maybe thinking about February as a nice time to put this film out, this film would have had a shot of surviving the arena like its protagonist.