Daniel Craig, Rian Johnson & Co. Make the Definitive COVID-Era Comedy
DIRECTOR: RIAN JOHNSON/2022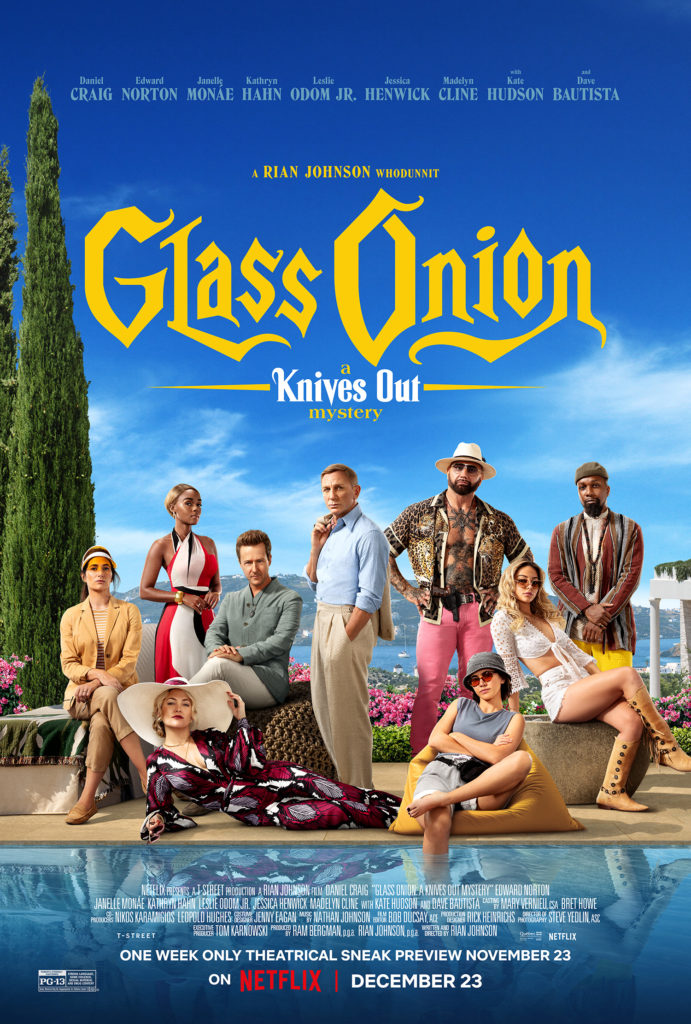 One of the themes of Glass Onion: A Knives Out Mystery is if it seems too good to be true, it probably is. The irony: This sequel is actually just that good. 
I joke there's only one movie about Groundhog Day because it's perfect. (Christmas, Thanksgiving, and Valentine's Day, keep 'em comin' until one captures your essence so precisely filmmakers don't see any way to top it!) In that spirit, let's put a moratorium on movies about living through the COVID-19 pandemic—Rian Johnson has already made the perfect one. When the next generation asks why they've heard 2020 felt confusing and chaotic, I'll cue up Glass Onion because it will be more efficient and effective than my string of repetitive stay-at-home anecdotes. And like Groundhog Day, it's not just a clever concept—it's a clever comedy of characters I know I'll want to watch again when that next generation asks. 
For those of you unacquainted with 2019's murder mystery Knives Out—which begs the question, why?—this budding franchise follows the cases of Detective Benoit Blanc (Daniel Craig). In Glass Onion, he receives an unexpected invite to a billionaire's private island off the coast of Greece. His fellow guests: model Birdie (Kate Hudson) and assistant Peg (Jessica Henwick); influencer Duke (Dave Bautista) and girlfriend Whiskey (Madelyn Cline); Connecticut governor Claire (Kathryn Hahn); and tech genius Lionel (Leslie Odom Jr.). Their host: tech and media mogul Miles (Edward Norton). The surprise attendee: his estranged ex-colleague Andi (Janelle Monáe). What we know before they do: Miles's one-of-a-kind mansion nicknamed the Glass Onion won't just be the setting of a murder mystery party but the site of one of their own murders.
Like Knives Out, this sequel pays homage to classic whodunnits (the many versions of Agatha Christie's And Then There Were None come to mind, as does Evil Under the Sun), but much fun comes thanks to its many surprises—I will not be the one to spoil them. What won't surprise you if you saw Benoit Blanc's last adventure: Johnson has assembled a cast of ringers. If you loved Justin Timberlake in The Social Network, you'll love Norton's Mark-Zuckerberg-meets-Jeff-Bezos-meets-pick-your-favorite-billionaire type with the charm those guys wish they had. Also charming: Hudson's ditzy model-turned-lifestyle guru, whose comedic timing steals almost every scene she's in. (Bring on the Hudson-aissance!) Baustista, Cline, Hahn, Henwick, Monáe, and Odom Jr. (doubling up on this genre after 2017's Murder on the Orient Express) know when to play coy and when to play up the comedy, though it's difficult to describe without spoilers. Holding together the disparate personalities is Blanc himself, whose cryptic teases into his life outside of his work continues to intrigue. Though his back story is a mystery to us, Craig knows exactly who the man behind the "Kentucky fried, Foghorn Leghorn drawl" is, and, unlike the archetypal suspects around him, is creating a character so distinct it's difficult to think of anyone similar in the history of cinema (if for no other reason than I can't think of one who could rant about the inanity of the board game Clue).
Though writer/director Johnson is working with archetypes of murder mysteries and of our present day culture, he doesn't write the mogul, lifestyle guru, influencer, or environmentally conscious politician as one-notes. The Knives Out series (and much of whodunnit history) is based on tension between the haves and have-nots, and political discussion is inherent to the genre. What is truth? Which leaders can we trust? How do we spot specious intellect? How do we make decisions in a culture where personal conviction holds less sway than public opinion? As I'm sure we'd all like to forget, our political discussions in early 2020 were always heated and usually unproductive, and neither the conservative nor the liberal characters survive this weekend without criticism. And because Johnson is asking questions fundamental to human nature, setting this story in the very recent, very turbulent past doesn't feel like trying to jump on a hashtag or to create provocation for its own sake. Yes, the tendency to name drop and seek credibility by attaching ourselves to names and brands with influence has reared an especially ugly head as we live more of our lives online, but it's behavior as atavist as murder. 
Knowing how Hollywood works, we eventually will get the middling melodramas flattening the tragedies of COVID, and we'll also probably get a semi-decent procedural drama explaining how the vaccine was created under extreme stress. ("We need more time!" one of the scientists will exclaim in the trailer. "We can't wait any longer! People are dying!" our impassioned, above-the-title lead will scream back.) We might even get paranoia thriller about hunting for the source of this new coronavirus in the style of Alan J. Pakula. But we don't need any of those genre exercises after getting one so audacious, funny, and well-crafted. Glass Onion is a bolder, more confident follow-up to the 2019 hit, with a number of plot points in direct conversation and subversion of the original. And though some Netflix productions look cheap, this isn't one of them—I couldn't describe the complexity and marvel of the Glass Onion without several more viewings, and Jenny Eagan has created more costumes as memorable as Chris Evans's cozy knits. Glass Onion will perhaps be the definitive pandemic movie because it captures the specific moment in time so well, but even better, its timeless insight means it will outlast our specific moment.