Chloé Zhao's Feature Debut is Still a Bleak but Beautiful Tale of Sibling Love and Loyalty
DIRECTED BY CHLOÉ ZHAO/2015
BLU-RAY STREET DATE: OCTOBER 5, 2021/KINO LORBER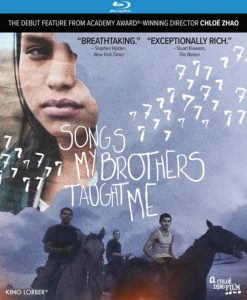 It's entirely fair, even expected, to come away from filmmaker Chloé Zhao's debut feature, Songs my Brothers Taught Me, unsure of its design and execution. Is this momentary depiction of one family's life on the South Dakota Pine Ridge Reservation scripted, a documentary, or some invisible blend of the two? While a scene-by-scene director's commentary track would be absolutely handy (if equally demystifying) in breaking down the structural what's-what of this solitary and subtly striking film, the film's new Blu-ray edition, alas, doesn't offer that.
But that's okay- the lack of in-depth breakdown can just as easily be considered reflective of the "rez life" (a term glimpsed on the young people's clothes throughout) depicted: contained, idle, bleak, dismissed, and hopelessly adrift from its own rich, indigenous traditions. Among the most impacted by the infliction of such directionlessness are the young men of the reservation, every one of them seemingly unable to imagine himself as anything other than a professional bull rider in the local rodeo. Via words and deeds (and lack thereof), the case is clear that waywardness is impeding the lives of the adults and young adults more than the very young. In this context, the film's title, "Songs my Brothers Taught Me", bears a sad and sullen angle. In a community where it seems no one has enough to do, too many figurative devils have come to roost.
Songs my Brothers Taught Me is obsensibly about Jashaun Winters (Jashaun St. John), the younger sister of teenage Johnny (John Reddy), who becomes increasingly sullen when she overhears of his intentions to follow his career-oriented girlfriend (Taysha Fuller) to Los Angeles. Though Johnny occupies much screen time in his own right, it's Jashaun's perspective of the starkness of the reservation- barren, apocalyptic, even- that consistently comes through. Yet, even still, Zhao is never betraying the inherent timeless beauty of the land, the sky, and yes, even the people. Everyone.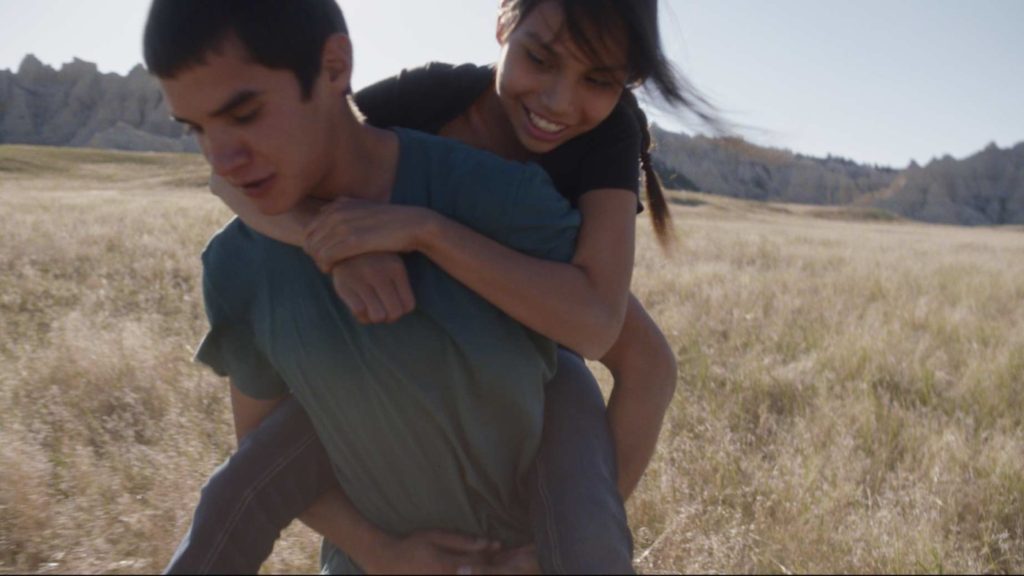 The still-young Zhao quickly emerged from a quality gauntlet of film schooling as the instantaneous best of the Malick emulators, is fully taken with fragmentary editing, magic hour interior drama, and human struggles of nature versus nurture- and the fragile beauty of all of it. The difference is that no one runs their hand through sun-dappled wheat in a Zhao film. In this one, though, someone runs his hand across crackled dirt. The director has certainly come a long way since this 2015 debut, having helmed a groundbreaking Marvel Studios film, Eternals, and collected Academy Awards for Best Picture and Best Director for 2020's resonant Nomadland.
Longtime ZekeFilm contributor Sharon Autenrieth, however, had the benefit of sizing up Zhao in 2016, on the promising heels of Songs. In her write-up for her now-completed #52FilmsByWomen series, Sharon seized upon the tropes that have solidified as Zhao's auteur trademarks:
"The film is so naturalistic, so restrained, that I had to remind myself a couple of times that I wasn't watching a documentary of what life is like on South Dakota's Pine Ridge Reservation. I was also surprised to find that the movie was directed not by a Native American filmmaker – it had so much the ring of authenticity – but by an immigrant to the U.S., Zhao having first lived in Beijing and London. Maybe it serves Songs My Brothers Taught Me that Zhao doesn't carry the weight of history that most of Americans feel when we hear about conditions among Native Americans. The usual suspects are here: alcoholism, family instability, generational poverty; but there is no emotional manipulation in this story of two Lakota adolescents trying to grow up whole in a broken environment."
Indeed, the place is infected with parasitic vice, the kind that eats into a community of the chronically marginalized. Amid that tragic weight, an enduring humanity persists. It's something that we can now safely refer to as the Zhao-ness it all; the simultaneous prodigious yet contained concurrents of her filmography. It's all here in it's mundane but ethereal presence: lonely, stark beauty of uninhabited or barely inhabited nature; the interior and exterior plights of the untethered people who wander it; their generations-deep systemic and cyclically inflicted wounds; the unique, undistilled existential burden of the female; the spiritual weight of mere survival and the human costs of simply carrying on.
Timed to coincide with the theatrical release of Eternals, Kino Lorber has released a breathtakingly beautiful Blu-ray edition of Songs my Brothers Taught me. Deeply intimate yet richly expansive, it is a film that simply belongs on the format (Blu-ray still the best in home video presentational quality, barring the 4K disc format). Among the disc's extras we find deleted scenes, a short and quite vibrant 2015 festival interview with Zhao, and even a blooper reel.
Going back to Sharon's piece on the film, she sums it up excellently: "The naturalistic acting in Songs My Brothers Taught Me is set within the stark but beautiful Dakota Badlands – with the characters and their environment perfectly echoing back and forth the same worn dignity. Chloé Zhao has made a lovely, sad, yearning film about children trying to escape a snare not of their own making."