Scorsese Investigates the Osage Murders with DiCaprio, De Niro, and Lily Gladstone
DIRECTOR: MARTIN SCORSESE/2023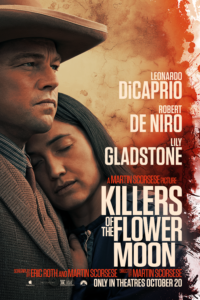 The Osage in 1920s Oklahoma are dying, never in the same way twice and never inciting an investigation. But is that because there isn't any suspect behavior or because law enforcement isn't interested in finding any suspects?
Killers of the Flower Moon is less about murder and more about the lies we tell ourselves, about talking about both sides of our mouths, and about the discrepancy between our public and private lives. Director and co-writer Martin Scorsese (in only the eighth narrative feature he's written in his six-decade career) uses the camera to shoot historical photographs and compose scenes through doorways and windows. Our life stories are all about how we frame them, and the many boxes his characters carry remind us of the secrets we stow away from others and from ourselves. 
Speaking of boxes, Ernest Burkhart (Leonardo DiCaprio) proves time and again in the 3 ½-hour runtime he's dumber than one full of rocks. (Or perhaps we could use his own words: "dumb as a washboard.") After World War I, his uncle, cattle rancher William Hale (Robert De Niro), takes him in. Ernest falls for Hale's avuncular guise, denying or justifying the mammon-fueled murders of the Osage because he can't believe his uncle would do anything immoral. DiCaprio is older than Burkhart's actual twenty-something age, which is not make-or-break but is also not not distracting. Watching a 48-year-old drift as a post-war veteran and fall into his uncle's schemes suggests more a willful ignorance than a naïveté that leaves room for sympathy like in, say, Catch Me If You Can or Gangs of New York. Casting Timothée Chalamet, Mike Faist, Lucas Hedges, or Tom Holland may have changed our perspective on Ernest based on age alone, but because DiCaprio reminds us yet again he's one of the century's most compelling screen actors, it's easier to embrace his performance. He has often played vulnerability, but here he's showing us a new shade of cognitive dissonance.
Even more impressive than watching the slow-burn unraveling of Burkhart and Hale's crimes in Fargo fashion is Lily Gladstone, whose quiet command is no easy feat next to scenery-chewers De Niro (not not playing for a Trump comparison) and DiCaprio. As oil fortune heiress Mollie Kyle, she plays a different kind of cognitive dissonance: a prelapsarian optimism even when confronted with a barrage of death. Her youth with her mother and three sisters (including standout Cara Jade Myers) recalls the idyllic parts of Little Women; when her community begins to lose members, she can't fathom the source of poison is right in front of her. Like The Departed, Flower Moon is a story of good vs. evil hidden by chicanery, pawns, and patrons. 
Though I have no complaints about the pursuit of historical accuracy—especially for a story deserving widespread awareness—it's possible this film identifies too many of these pawns and patrons. As you'd expect, Flower Moon is very good filmmaking—authentic costumes, peerless cinematography, propulsive score—but it is also very 3 ½ hours. (I made the mistake of checking my watch when I thought we were wrapping up only to discover we still had an hour to go.) Like this summer's three-hour epic Oppenheimer, the final third turns into a legal investigation litigating the behavior of preceding character drama, this time with the help of lawman Jesse Plemons. For both films, it's the slowest third. By the time John Lithgow and reigning Best Actor Brendan Fraser show up, it seems more for checking a Scorsese project off their bucket lists than narrative necessity. The phrase "excellent, as always" applies to everyone involved in Killers of the Flower Moon, though I would have had no complaints if I had left wanting more.